Kombustion RZR Pro XP 4 Smurfette
Named for kids, but built for adult's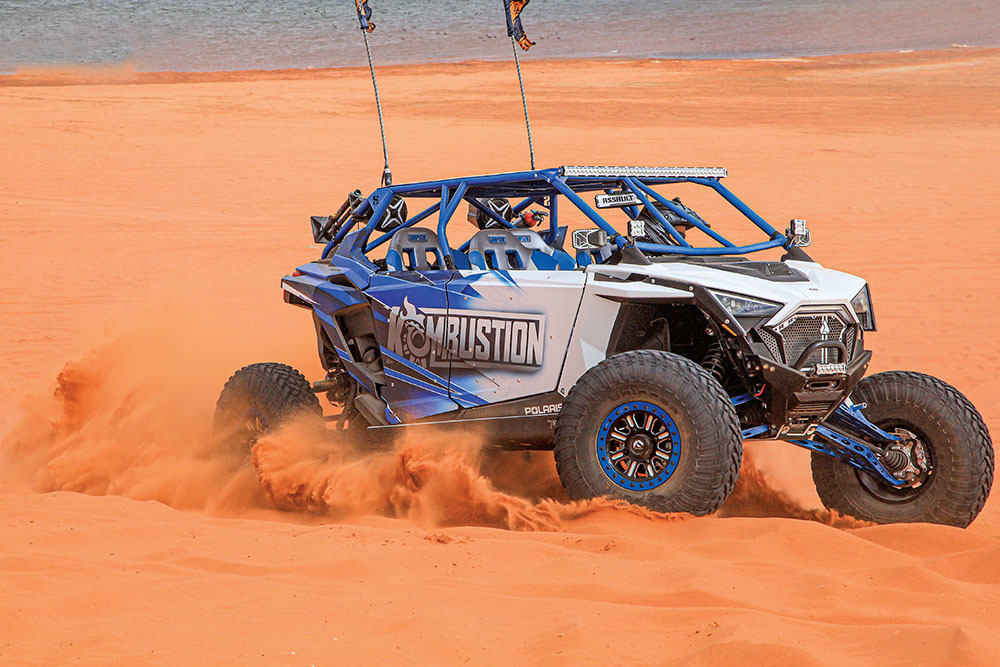 Most of us are lucky to get a new UTV. An even smaller number can personalize that new machine in just the way we want. Once we make that sort of financial and time investment, we are committed to that machine. Travis Gardner is a major force behind Kombustion Motorsports near Salt Lake City, Utah. For the good of the business, he needs to have different projects to keep up on new developments in technology. Plus, his customers are frequently taken with his personal machines, and they decide they want that package right then without waiting for the parts to arrive and the build to get completed. They prefer to start having fun immediately. I guess they figure Gardner can wait for a new project to be completed.
Gardner had a sweet Can-Am X3 Max, and he wanted to have us shoot it. Before we could get together, a customer had talked him out of it. He wanted to replace it with a four-seater, but he felt it was time to get close to the Polaris RZR Pro XP 4. Since "stock" is a bad word at Kombustion, Gardner chose to start with the normal model without the electronic suspension. The finished product is a true beauty ready for any challenge. During the build, Gardner dialed in a dirt tire and wheel combo with DOT-rated tires to accompany the turn-signal kit and Utah license plate. But, he included sand paddles and their own wheels as well.
HIGH AND WIDE
At this time the production RZR Pro XP 4 is a 64-inch car, but for the type of driving that Gardner likes, that was too skinny. A call to HCR corralled a RZR Pro XP Elite long-travel, high-clearance suspension kit with optional OEM Polaris RZR Turbo S axles and hubs. This kit adds 4inches of width to each side. The added width bumps the actual travel a little, and ground clearance goes up 1.25 inches in front. The rear trailing arms add 3 inches of clearance.
Before the arms went on, a SuperATV frame stiffener and gusset kit was installed. To finish up the suspension required Assault +4-inch heavy-duty tie-rods and super-strong LM UTV ball joints. In the rear, Assault Turret sway bar links help out.
Gardner was able to use the stock Walker Evans Velocity shocks, but they needed to be modified and have the spring rates dialed in for the new arms by ZBros. The added track width is great for stability, but it also allows the 35-inch Fuel Gripper tires to use full travel without contacting the body at any point.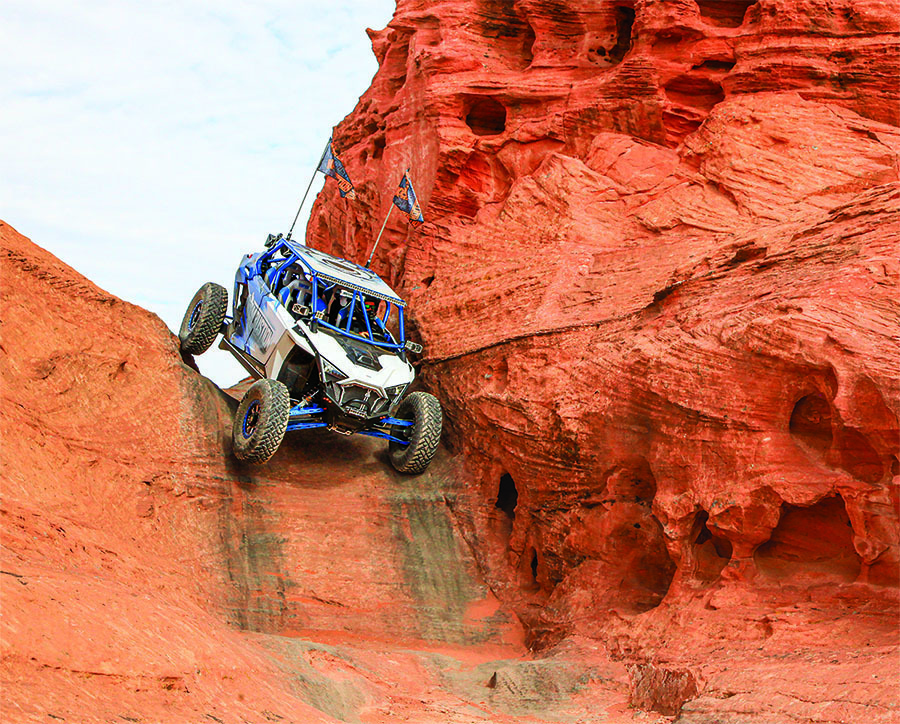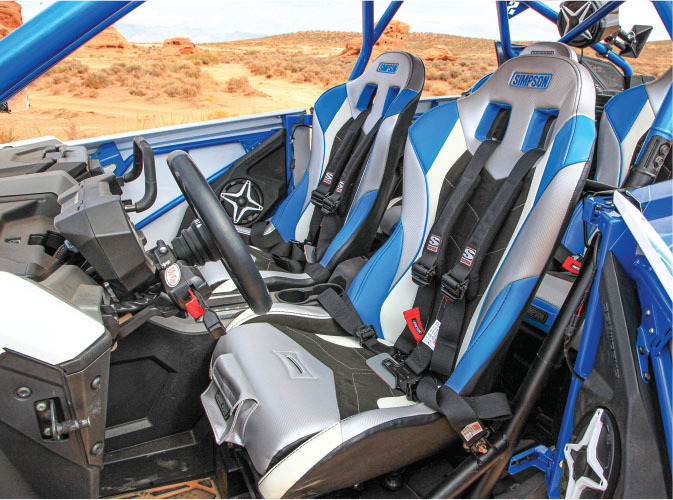 The Gripper tires have the longevity Gardner needs for connecting trail heads on rural pavement, and they are great for rock crawling and dirt trails. Part of the reason for the 35-inch tires is added ground clearance for rock-crawling Utah trails. To bulletproof the suspension with the large tires, Garner used Sandcraft limit straps.
CAGEY
Since the car is driven hard, Gardner opted for an SDR shorty roll cage and full Hi-Bred doors. The cage and doors radically change the look and profile of the Pro XP 4. The doors were added with SDR door bags. Further advancing safety are 4-point Simpson harnesses with pads and four Pro Sport seats. The seats are available in custom colors, and Gardner went with a combination of black and white with silver and blue accents that look fantastic with the light blue cage and suspension parts. The color combo is carried into the Kombustion wrap and Fuel wheel beadlock rings. This car truly stands out.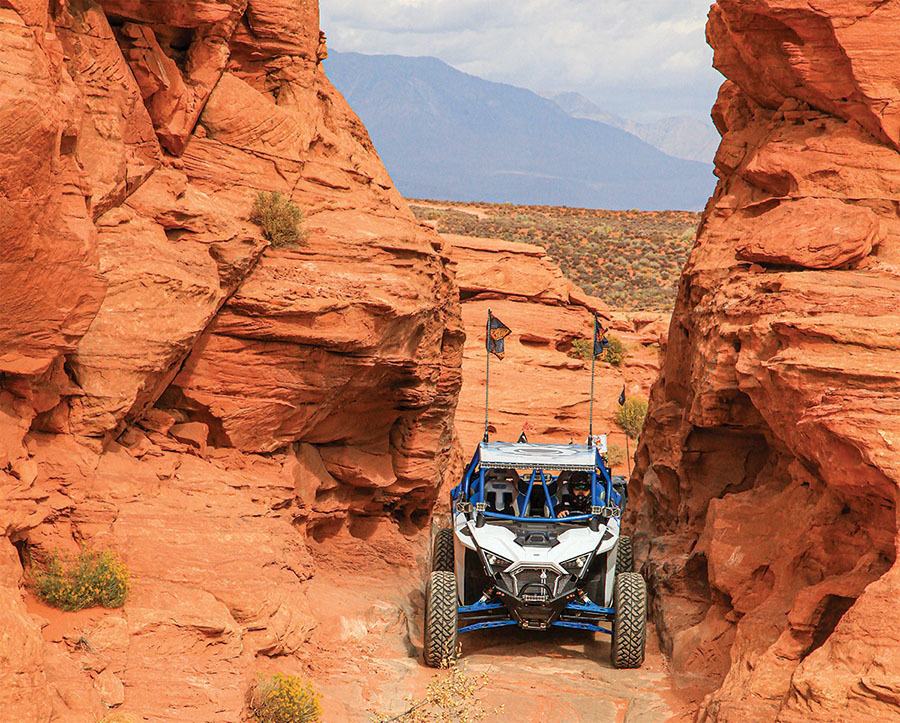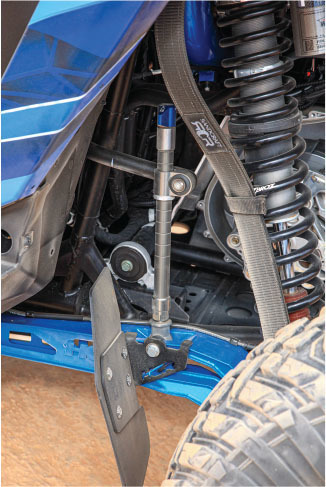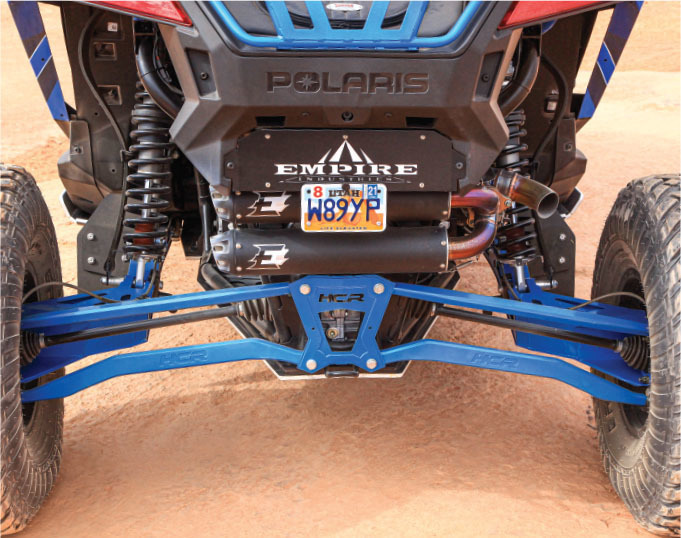 POWER FOR THE PEOPLE
The Pro XP 4 is a big car now made wider and taller with suspension and tires. Plus, it carries four people, so more power is welcome. The mods were kept simple. Evolution Powersports has a package with big injectors, a Maptuner ECU and launch control. Force Turbos has an aluminum cold air-intake tube that won't collapse when hot like some Pro XPs experienced with the 2020 model. Added to that is a Force Turbo's pre-airbox high-flow intake. On the other side of the engine is an Empire Industries dual slip-on exhaust mated to the Evo Shocker electric cutout exhaust. An Ibexx clutch kit dialed in the package for the 35-inch tires.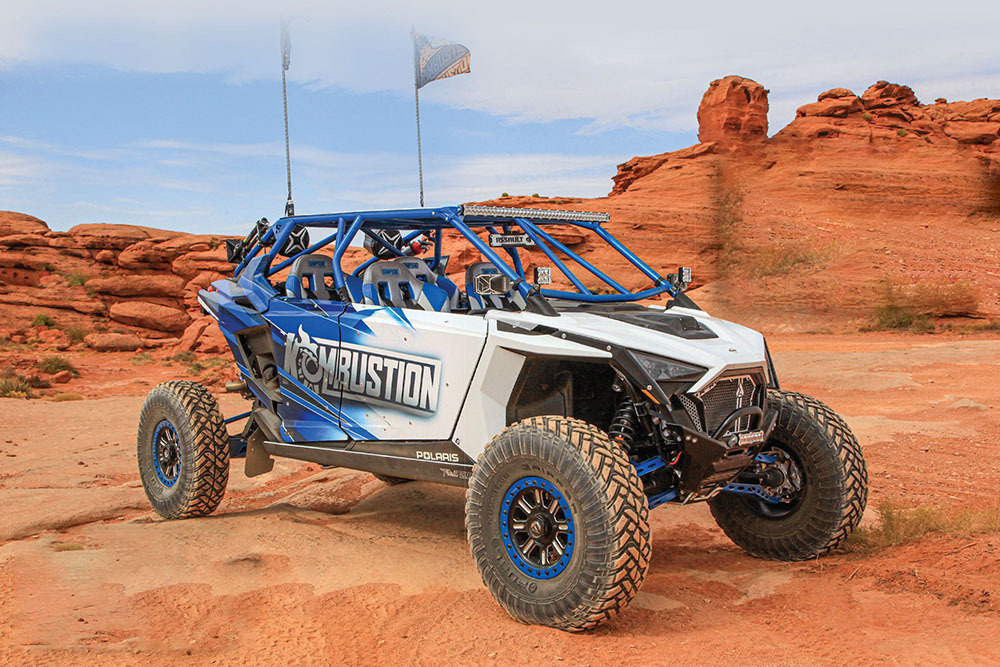 CREATURE KOMFORTS
Kombustion likes its cars detailed, and there are countless small details that set the car apart. There is the heated seat option for those Simpson seats, plenty of mirrors and nice items from Assault, as well as millions of candlepower in Heretic Studios light pods and light bars. Inside the car are Mod Quad lighted switches and an LED interior light from Safeglo Whips. The actual whips are from 5150 Whips. Wiring kits from XTC tie everything to the electrons.
Speaking of comfort, there is a massively powerful SSV Works stereo and speaker package installed for tons of tunes. One of the small touches is the Apex Performance 3.0 Rapid Precision valve stems for all five tires. Flip a lever and the tires automatically drop to a preset pressure for off-road!
PEACE OF MIND
You don't want to leave a car like this beside the trail, so Gardner carries an Assault toolkit, a JackDaddy jack system and a fire extinguisher to deal with routine but unforeseen problems on the trail. It also has a handy SuperATV winch for emergencies.
ON THE TRAIL
While the Smurfette has all the looks of a show car, the action photos prove that this car is used. Gardner was more than willing to hit the hard lines Sand Hollow has to offer. The long and wide wheelbase, ample ground clearance and large-diameter tires are excellent advantages for a majority of the trails we hit. Between HCR and ZBros, the car stays composed, stable and as surefooted as you hope for on difficult trails. You are wrapped in comfort and safety in the passenger cabin. We love the Simpson seats and the feel of the Assault steering wheel. For Sand Hollow, the Fuel Gripper tires are mixed. They are great on the pavement, grab huge traction on the rocks and stick in the dirt, thanks to closely spaced tread blocks. The rock trails are connected by ultra-fine sand, and the Grippers are not their best there, but that was a fact that Gardner accepted to be prepared for the trickiest parts of the terrain.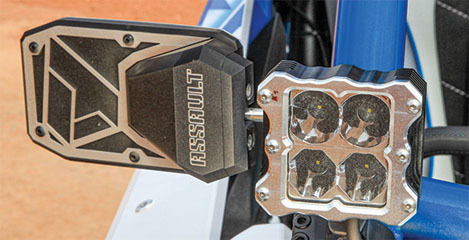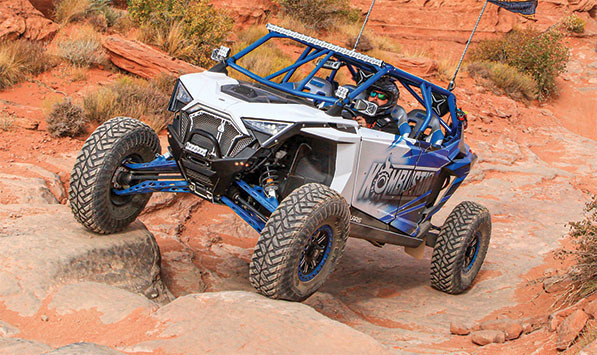 WRAPPING UP
It takes a strong overall concept and clever design work to get an off-road machine to look so clean and striking. This car has a great look, but, more important, the performance to live up to the look. Kombustion could build you one, or you could do like others have—badger Gardner until you take this one home with you. Think of it as four-wheeled adoption.