Kombustion RZR Mayhem
Nothing is over the top!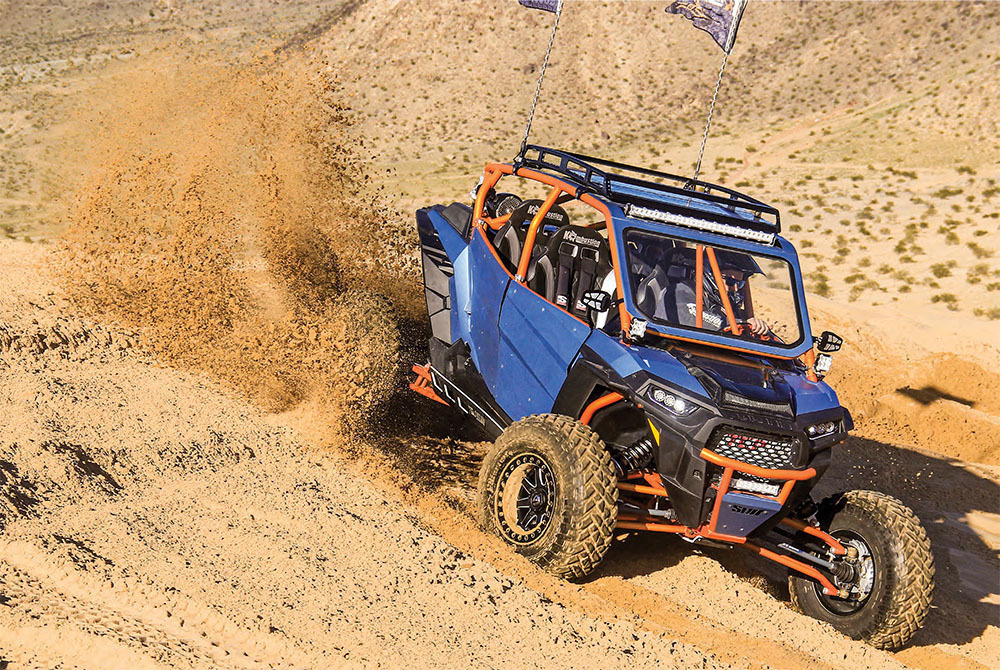 Kombustion Motorsports builds have graced the pages of Dirt Wheels in the past, and their impressive machines are just too nice to not feature here and there. Travis Gardner took on a 2017 Polaris RZR XP Turbo four-seater and changed its appearance, form and function to create a stylish yet offroad-worthy showpiece that is a mix of overland and dune styles. Sand is generally the favored terrain for this RZR, but we found it lurking around the desert, rocks and random dunes of Johnson Valley, California. There are a lot of aftermarket add-ons to Project Mayhem, so strap into your seat and enjoy the ride!
CHANGING FORM
Most all highly customized projects go through a hefty tear-down period. UTVs are quite difficult to wrench on at times due to the vast amount of parts involved in comparison to an ATV. There are multiple seats, larger components, and a web of finely fit plastics that must be carefully removed. Kombustion has a large shop where they spend work hours tearing down, rebuilding or simply servicing UTVs off all makes and models. So, when it came time to tear down and rebuild, it had a quick turnaround.
Every nut and bolt was removed, the engine pulled, and the entire car disassembled so the frame could be powdercoated an Illusion Orange by Armor Coatings. The cage, doors, bumpers and more were also coated. From there, Kombustion began the engine modifications and install. They went with Evo Powersports to gain a lot more power through a Stage 6 Sandblaster Big Turbo kit. Evo's Captain's Choice cutout exhaust, silicone charge tube and blow-off valve aid in producing 215 horsepower to the wheels with the help of 110-octane fuel.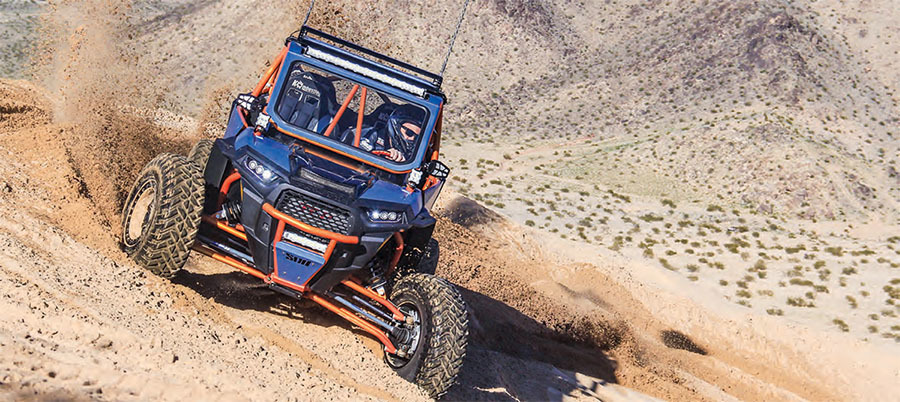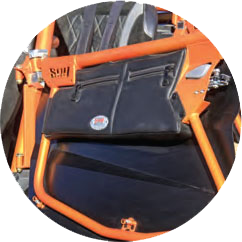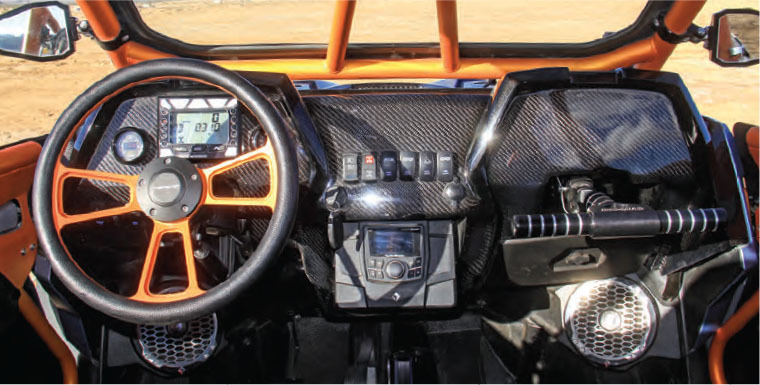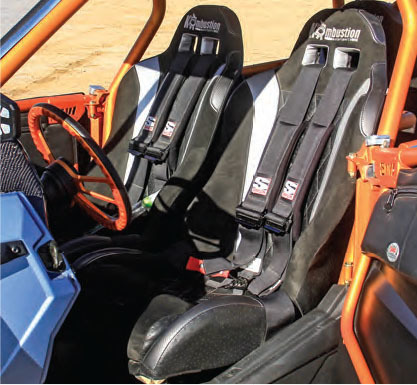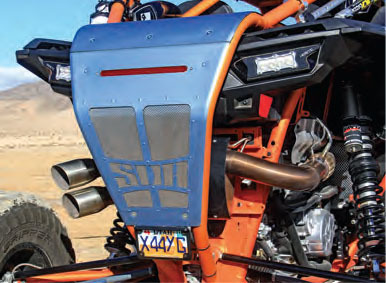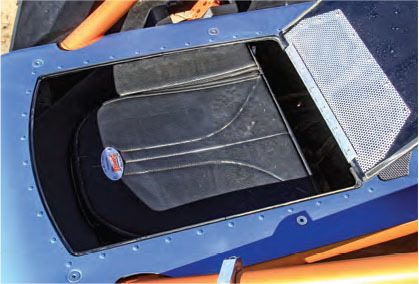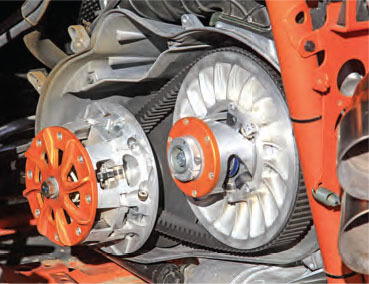 In order to manage temperatures through the engine and turbo system, a TCP Performance intercooler and radiator kit were installed. STM Powersports provided the completereplacement billet aluminum Rage 8 primary and Tuner secondary kits (again machined from billet and available with or without raised cooling fins on the outside of the outer clutch sheave) that are tuned to use 32-inch tall tires. A GEN3 bearing carrier from Sandcraft RCR and a phased and balanced drive shaft from Axis Drivelines made it onto "Project Mayhem."
HANDLING HELPS
Travis built this machine to drive fast and hard. Stability and sporttuned suspension are needed to take a heavy machine through terrain at high speeds. A long-travel kit from Fireball Racing widened the track width by seven inches in the front and the rear. The front A-arms were also designed to push the wheels forward an inch. This rake increases high speed stability, but will slightly hinder tight turning ability. Rhino 2.0 axles from SuperATV found their way on Mayhem. The shocks were then re-valved and re-sprung to tackle the increased weight of the new parts by ZBroz Racing.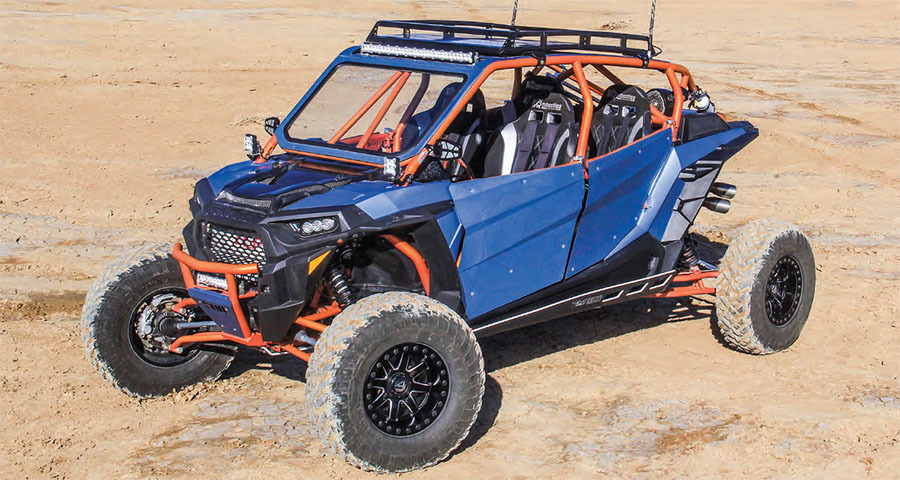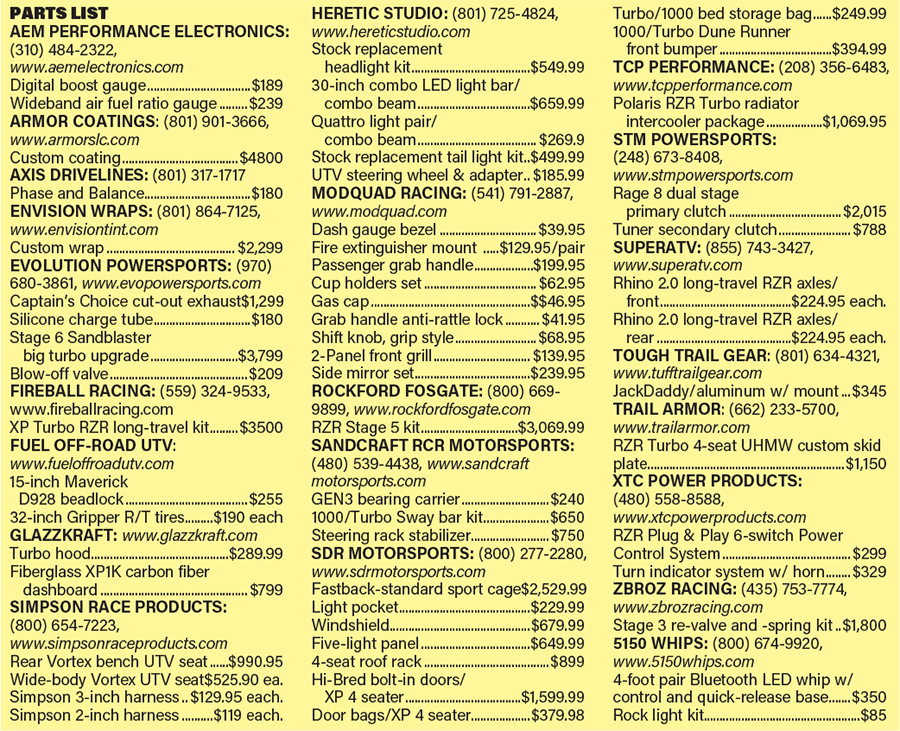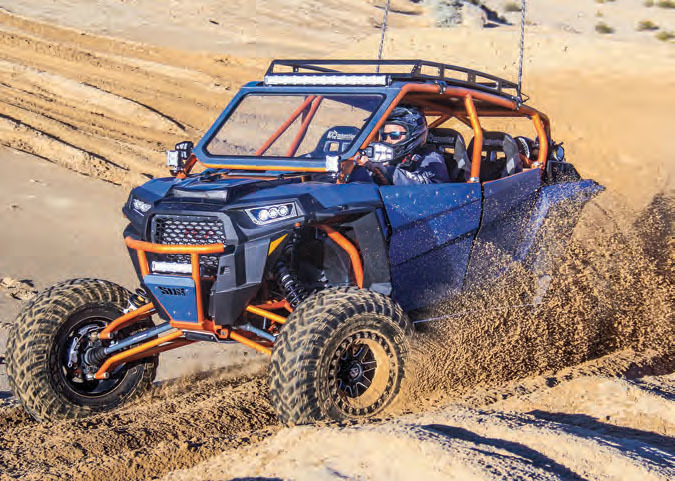 A sway bar kit from Sandcraft RCR found its way onto Mayhem. A steering stabilizer was also installed. The stabilizer reduced unwanted tracking and keeps the wheel where you need it without hindering tight turning performance.
THE NITTY-GRITTY
Wiring has always been a hassle for some of our builds, but Kombustion makes it look easy. They mounted up a Stage 5 sound system from Rockford Fosgate that is powerful and clear. Next, they fitted a beautiful GlazzKraft carbon fiber dashboard where AEM Performance gauges where wired up, and a XTC Power Products Plug & Play 6-switch power command system routed power to new switches. They also installed XTC's turn indicator system with a horn since the streets of Utah allow UTVs to drive them legally.
An abundance of SDR Motorsports parts were installed, which includes a Sport cage, doors, bumper, door bags, bed storage bag and roof rack. All of these parts either protect the machine and its passengers or store items conveniently. Then the plastics could all be reinstalled on the front and rear to house more electronics. Travis picked out Heretic stock replacement head and tail lights, a 30-inch LED light bar mounted on the SDR cage, and a pair of Quattro LED lights. The last of the electrical came in the form of 5150 rock lights and Bluetooth 4-foot lighted whips that change color via remote control.
WRAP IT UP
Before the awesome 3D-style Envision wrap could be installed, Project Mayhem had to be topped off with a few more products. Kombustion mounted up parts from ModQuad. This includes their dash gauge bezel, fire extinguisher mounts, passenger grab handle, cup holder set, gas cap, grip style shift knob, front two-panel grill and their side mirror set. A JackDaddy from Tough Trail Gear was mounted to the RZR.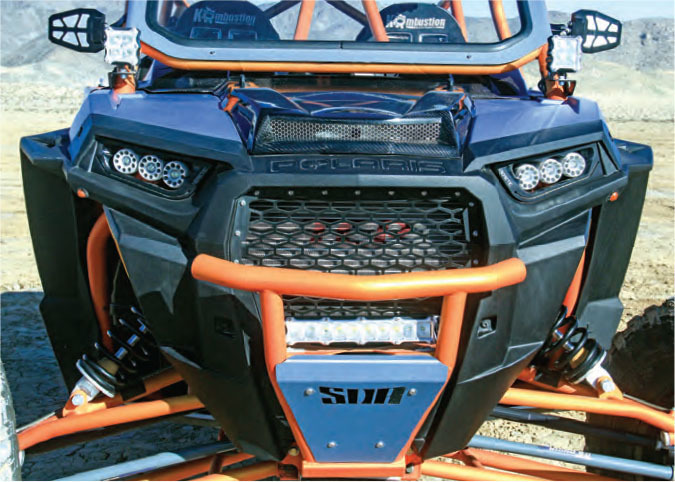 Inside the RZR is a steering wheel and adapter from Heretic Studio. Behind that are Simpson wide-body Vortex UTV seats for the driver and front passenger with 3-inch harnesses. The rear Vortex bench seat gained 2-inch harnesses from Simpson Racing. The bottom of Project Mayhem is protected by Trail Armor custom UHMW skid plates.
HEAVY & HEALTHY
Taking one look at Project Mayhem filled us with good and bad thoughts at first. The color scheme and overall style of the RZR excites, but it looks a bit heavy and sluggish. The reality is, there is nothing sluggish about this four seater, it's sprightly and quick. Horsepower increase, quality clutching and smooth suspension quickly altered the initial perception of Mayhem. Fuel Off-Road Maverick 15-inch beadlock wheels with their 32-inch-tall Gripper R/T tires provided added ground clearance, and a rock and road-durable setup with awesome traction.
Sitting in the build provides a heightened sense of protection thanks to the SDR components, and Simpson seats are quite comfortable as usual. The true impressiveness of this Polaris RZR build lies in the details. All of the ModQuad accessories, impressive lighting from Heretic, dash and hood from GlazzKraft, and much more let this machine stand out from the rest. One of our favorite pieces of the puzzle is the 3D-style wrap from Envision. They were able to achieve this look by first placing thick Kombustion logo decals on the SDR door panels and then the final overlay of the blue wrap. The orange powdercoating from Armor Coatings works well with the blue to make Project Mayhem eye-catching! Kombustion Motorsports does some great work. Give them a call at (801) 674-2451 for more info on what services they provide!