Kombustion RZR S Overlander
Toys on top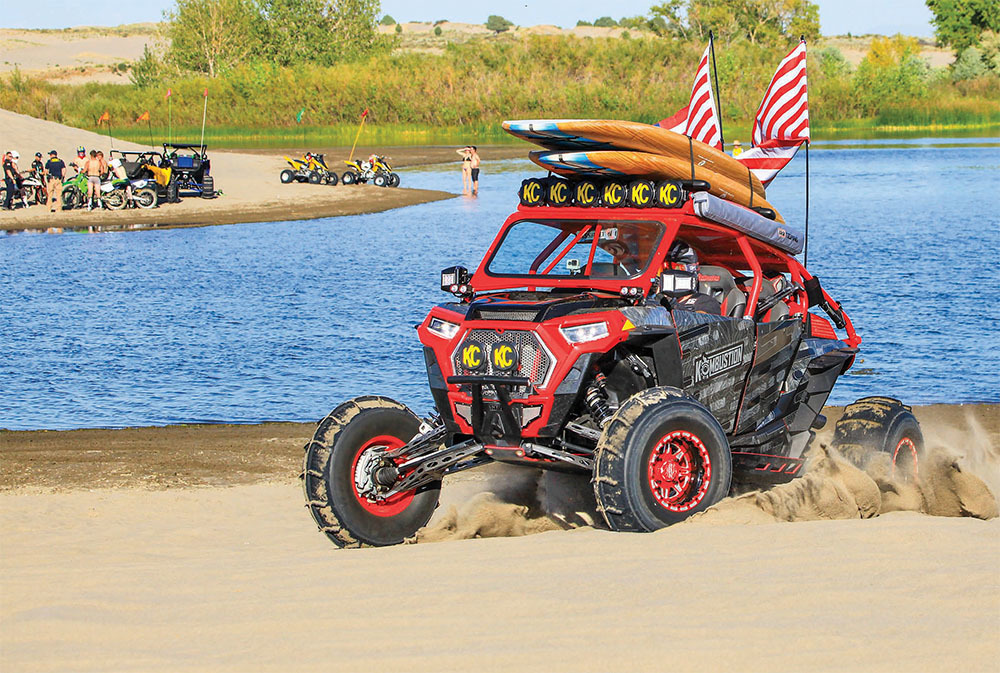 You know that Hair Club commercial where the spokesman claims that he doesn't simply own the company but he is also a client? The same applies to Travis Gardner and Ryan Flanders. Together they own Kombustion Motorsports in Salt Lake Valley, Utah. And like the guy from Hair Club, they not only build trick UTVs for customers, they are customers. A few years ago we experienced rock crawling in Flanders' Polaris RZR XP 1000 4. Since then he and wife Kristen have had a pair of two-seaters. But when the RZR Turbo S came out in a four-seater, Flanders felt the need for a new project.
Like many people we have encountered, Flanders was excited by the concept of a self-contained adventure rig. Unlike most people, he has the skill, knowhow and connections to make it happen in reality.
CHANGING FORM
Like all of the Kombustion projects we have sampled, the techs didn't let the "adventure" side of the project get in the way of performance and safety. Ryan had the misfortune to tumble his wife Kristen's Can-Am X3 with a stock cage, so he doesn't mess around with safety. He started with a Sandworks cage with a built-in rear bumper, front intrusion bars and a glass windshield. Sandworks also incorporated a roof rack and a 2-inch hitch receiver into the cage. Up front there is an SDR Motorsports Dune bumper, and the cage was fleshed out with SDR Hi-Bred doors with door bags.
Another SDR bag is in the bed. A RZR Turbo S 4 already comes with four bucket seats and harnesses, but Ryan felt the need to insert four Simpson Pro Sport seats and harnesses to boost comfort, style and additional safety.
SUSPENSION TIME
A Turbo S 4 comes stock with sublime computerized Fox suspension, but HCR has recreated the stock 72-inch suspension arms in HCR style but with the stock geometry. Helping the suspension connect the power to the ground are Method Race Wheels 409 wheels with Tensor DS tires for off-road driving. In the dunes where we shot the machine, the wheels are truly beautiful red-anodized OMF Performance FL1 three-piece wheels wrapped in 32-inch comp-cut Sand Sports SxS tires from Fullerton Sand Sports.
Since this is an adventure build, and "adventure" is a year-round exercise, winter traction is ably aided by Kimpex snow tracks.
MORE POWER
Just as the Turbo S is equipped with great suspension, it also has a pretty great engine that makes a lot of power. Past Kombustion cars have chased power to the extent that they required 110-octane race fuel. Extensive adventures might require gassing up at rural stations that have never heard of race gas, let alone have it dispensed from a pump. As usual, Kombustion went with Evo Powersports to gain more power, but they stayed away from the Stage 6 Sandblaster Big Turbo kit. Instead, they stuck with bolt-on parts such as Evo's Captain's Choice cut-out exhaust with electronic actuation, silicone charge tube, a blow-off valve and a V-Flow intake boot to produce more power while still allowing the car to run fine on filling-station fuel.
KOMBUSTION RZR S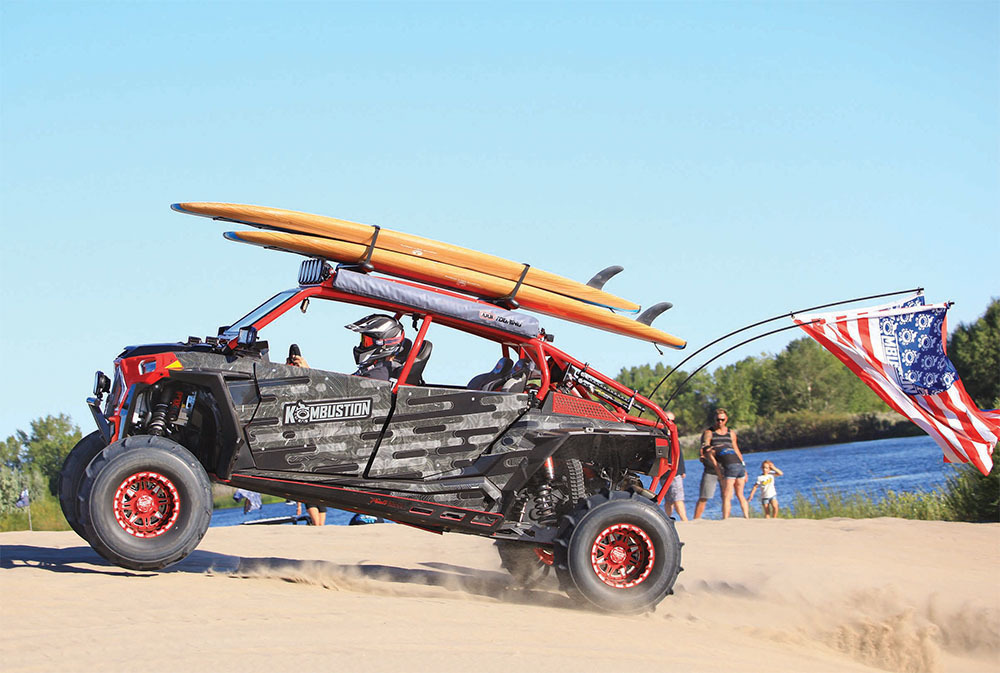 Aiding in the power delivery is an Ibexx-modified clutch that incorporates everything the company offers.
PERFECTING THE PACKAGE
There are a number of detailed items that may not be vital for performance and reliability, but do make the car a very nice place to be. While the 5150 whips do aid the look of the machine, they also have a significant safety aspect. This build has both lighted whips and daytime whips. The daytime whips have giant Kombustion American flags that are visible from a long way.
Spread around the car are an Assault steering wheel, grill, shift knob, center rear-view mirror and a great flip-up spare-tire rack. To aid those parts in enriching the look of the car are the Glazzkraft carbon fiber hood and dash kit. Adventure happens at night, so the car is covered in KC HiLiTES products, including a giant 39-inch light bar, rear pod lights and pod lights mounted to the front bumper. Providing even more rear view and light are Sector Seven billet side mirrors with integrated LED lights. Cleverly, the mirror lights shine straight ahead and to the side to illuminate trailside hazards or turn entrances.
Ryan can run the car with all four Simpson seats or remove the rears. The seats mount to the stock, quick-release seat-slider mounts. Or, the rears can be popped out and replaced by Tusk rear cargo racks from Rocky Mountain ATV. The cargo racks also mount to stock seat bases, and they make the rear-seat area a flat cargo platform with multiple tie-down points.
A large commitment was made for entertainment via an SSV Works Kicker five-speaker plug & play stereo system specifically designed to work with the Polaris Ride Command system that is stock on the Turbo S.
MANAGING ELECTRONS
Further lighting changes are courtesy of a WD Electronics street-legal kit crafted to integrate with the stock Turbo S accent lights. The stereo install and all the lights were made easy and clean with XTC Power Products wiring harnesses. Remembering that this is an adventure build, there are three unique products from ARB USA that are not ordinary UTV products. Two of those—the 12-volt cooler and on-board air compressor—also need to be wired into the electrical system with help from XTC. The final ARB item is a cage-mount awning!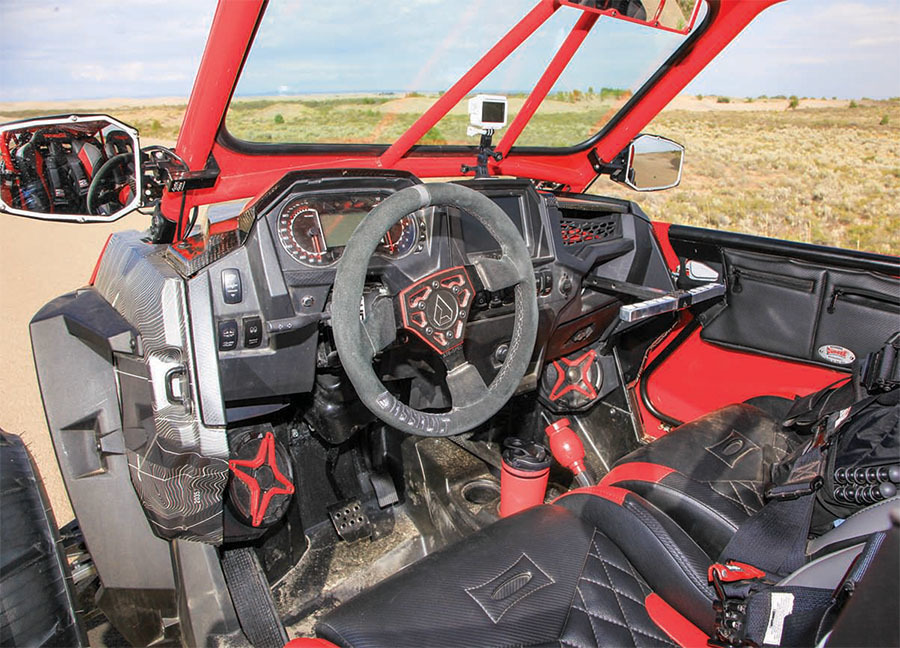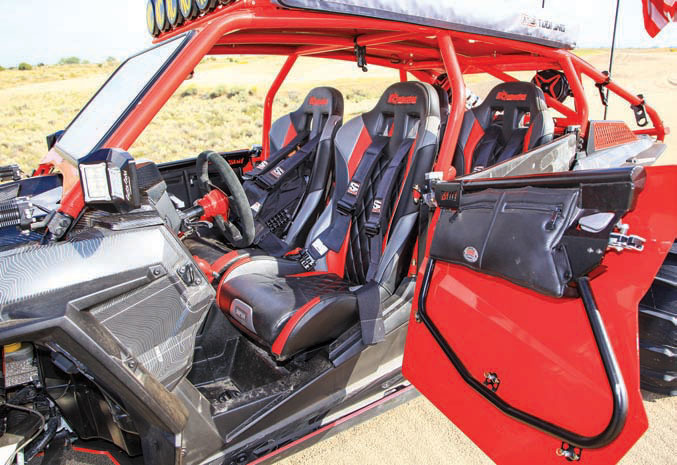 LOOKING GOOD
Kombustion always builds a good-looking machine. In addition to the many great-looking accessories, a number of parts made a trip to Armor Coating in Salt Lake City for durable color. Topping that off is a custom Kombustion wrap.
ALL ABOUT FUN
Truth be told, Ryan Flanders didn't do a lot of "overlandingtype of adventures in this machine. Sure, the car is set up to travel to a destination, let you set up camp and stay, then return home. Flanders has a wife, a family and a comfortable toy hauler, so for the most part the adventure was limited to aggressive driving in all weather conditions. Outings that used the adventure accessories were more like fun tailgate parties with food in the cooler and music bumping from the stereo. And, as seen in the photos, the cage-mounted rack even holds standup paddleboards.
The bottom line is that this build is about performance, comfort and, most of all, fun. Just seeing the car jump with the paddleboards made us smile. The cooler is always cold, and without dealing with ice, you always have the option of food and a cold drink, and with the awning you can enjoy it in the shade. Then you can offload the paddleboards or other recreation equipment and enjoy the fun that you had more fun driving to. This is adventure that we can embrace. The RZR Turbo S 4 is an amazing machine that is super capable and comfortable stock, but this build takes everything cool about the stock machine and makes it even better! Kombustion Motorsports does great work. Give them a call at (801) 674-2451 or go to www.kombustionmotorsports.com for more info on what services they provide!