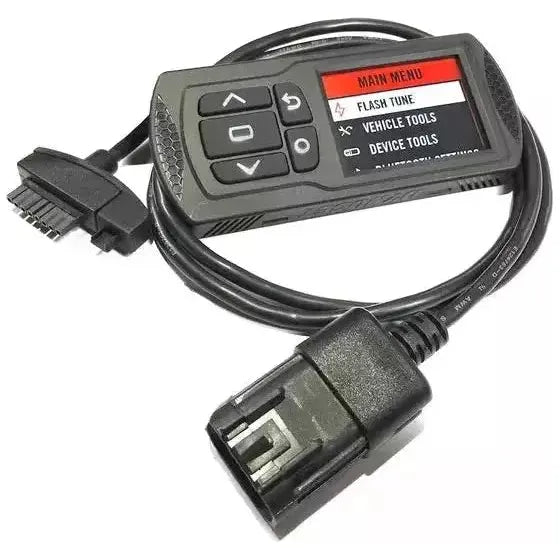 Yamaha YXZ Custom Tuned Power Vision
If you are looking for an easy to use ECU tuner loaded with the most badass custom tunes on the market, you've found it!  This DynoJet Powervision is a very simple, yet effective device that programs your ECU in a few minutes, and easily allows you to switch between tunes, or return to the factory tune.  The Powervision has the advantage over other ECU tuners as it actually reads what's inside your ECU before tuning.  This ensures the correct tune is being loaded, making it a very safe device.  The AA custom tunes deliver the most possible power gains.  With our expert knowledge of throttle by wire ECU tuning, we are able to get around factory limiters, make a more responsive machine, and of course create more horsepower and torque.  Our tunes are loaded on the Powervision just for your machine, so all you do is open the box and download them into your ECU. See below for even more features of our custom tunes.
Level 1 Tune: Built for the OEM exhaust or slip-on muffler and 91-93 octane. Gains 5-6.5 RWHP.
Level 2 Tune: Built for an aftermarket full exhaust (header & muffler) and 91-93 octane. Gains 12-13 RWHP.
Race fuel tune 95-100 octane maxes out our timing curve to where we see peak power. This gives you another 3-4 RWHP on average over the pump gas tunes.
Why AA tunes over others?  We have been tuning UTV's for a long time, longer than almost anyone in our field going back to the 800 RZR.  Tuning a UTV properly is not an easy task as you have so many variables at one time.  We spend the time to wheel dyno (with actual UTV tires) correctly per modification, and have advanced ECU calibration knowledge to do so. We also develop most of our supporting mods so we know everything works correctly, and build parts to fit the vehicles needs.  Lastly and honestly the most important; we then back up our results with real world data logging on local trails and our facility on 110 acres.  It's this combination that truly makes the difference and why AA normally has a faster vehicle with the same or less rated tune horsepower.
Tuner works with any current YXZ 1000R model **Will not work with an ECU that has previously been bench flashed**

Big horsepower gains! The factory timing map is very detuned on the YXZ which allows us to easily wake things up
Quicker throttle response and power delivery
Throttle by wire tables are modified for better response, especially in high range. Low range throttle mapping is a little better, but still left mild for good crawling. 
Full throttle/power in reverse (factory limits reverse throttle)
AA's wicked timing curve built for 91-93 octane fuel
A great fuel curve that gives much better low end (as well as all around) power as the factory map is very lean in key areas.
Accelerator enrichment is optimized for better fueling and vehicle response when stabbing the throttle
Fan on/off temp lowered to 194/185 degrees Fahrenheit (Stock is 208/200)
Speed limiter removed
Rev limit at a safe 10,745 RPM (Stock is 10,504 RPM)
Very easy to use tuner that can also check and erase most trouble codes
Easily data log 25 parameters with 1 push of a button and review on your windows computer later
No mess of having to send in your ECU, and a safer way of programming your ECU (easily go back to stock tune)
Mount using the supplied dual lock Velcro
More tunes are coming, if you have any specific needs please let us know!
VEHICLE FITMENT
Yamaha YXZ 1000R