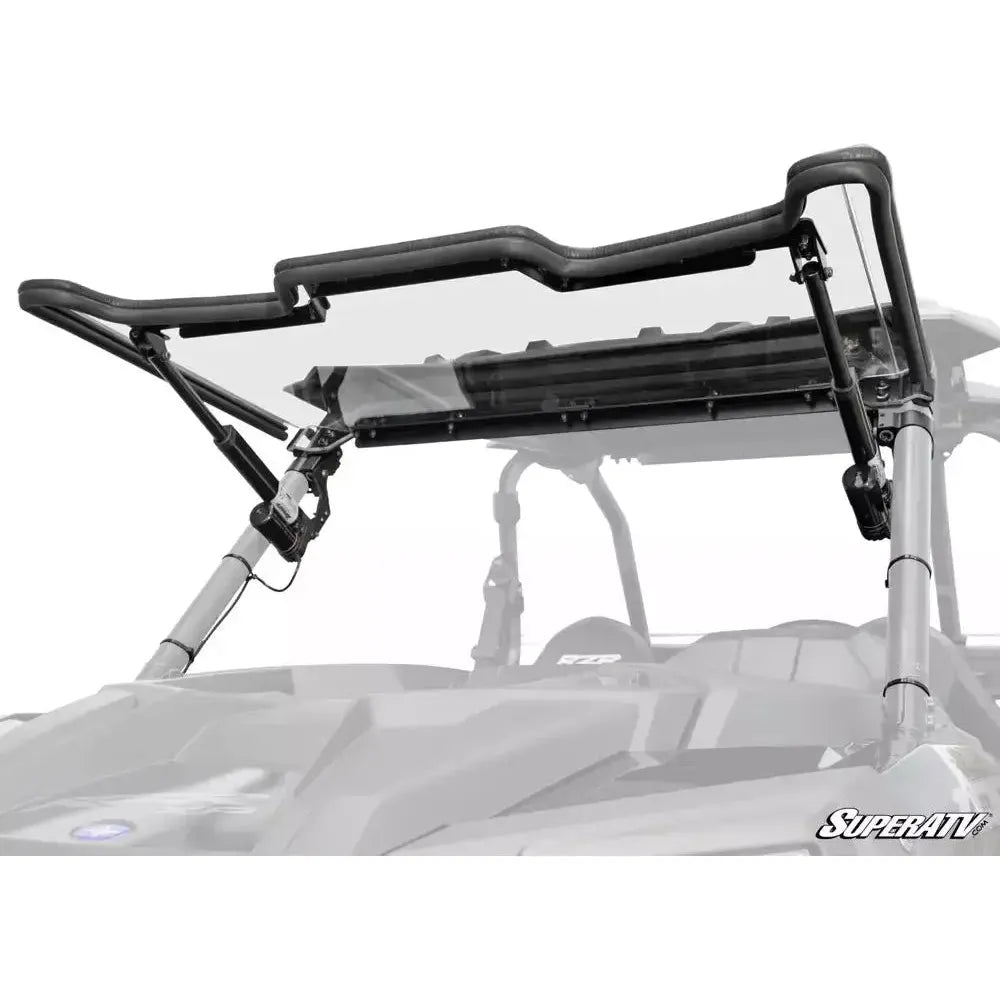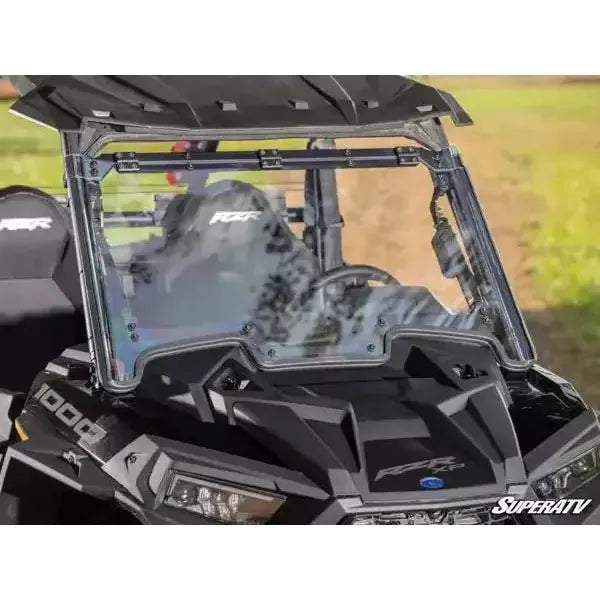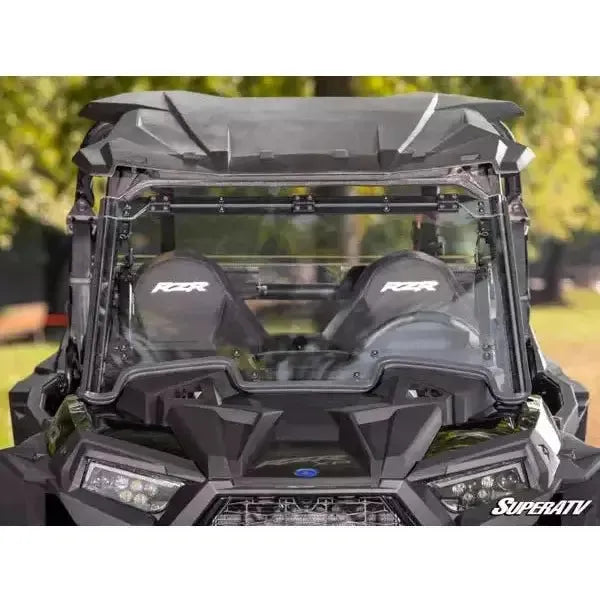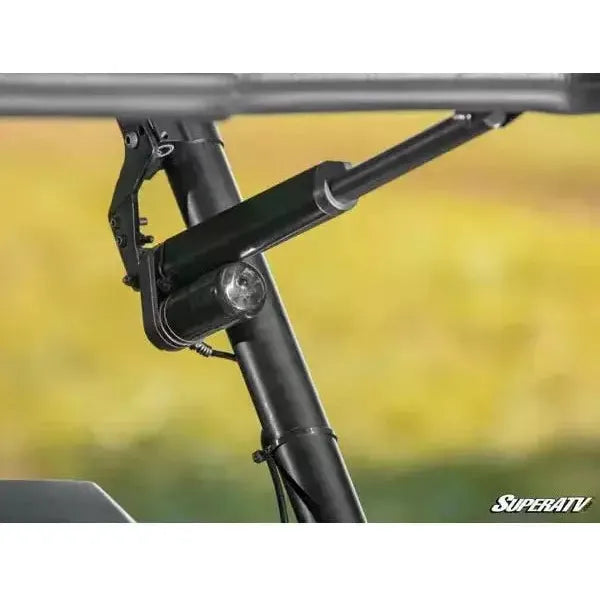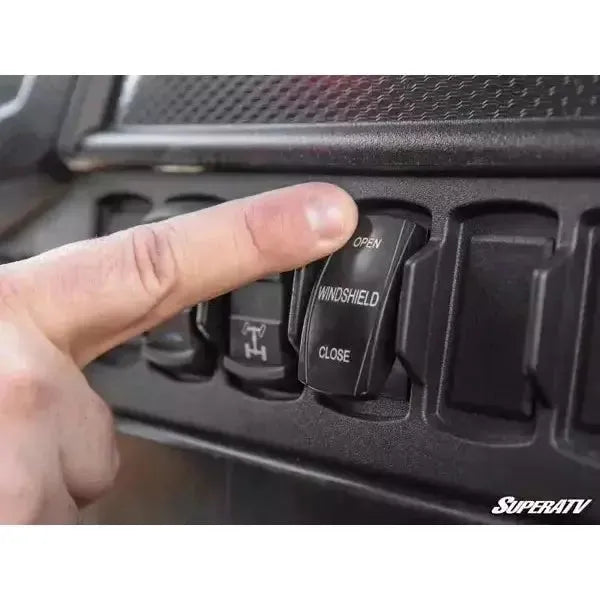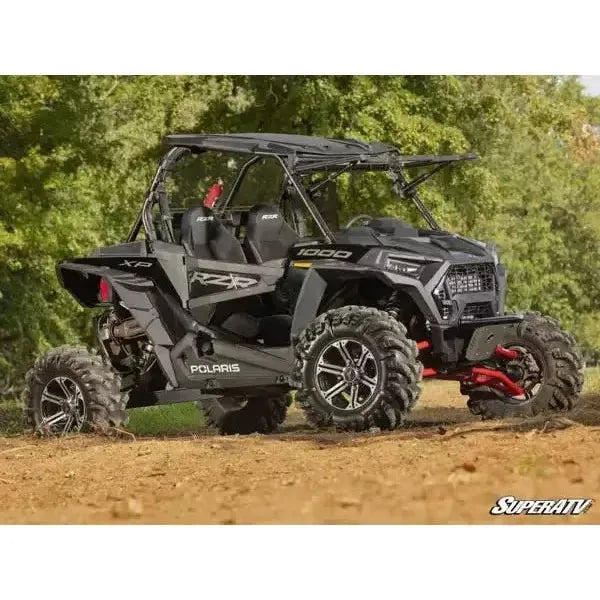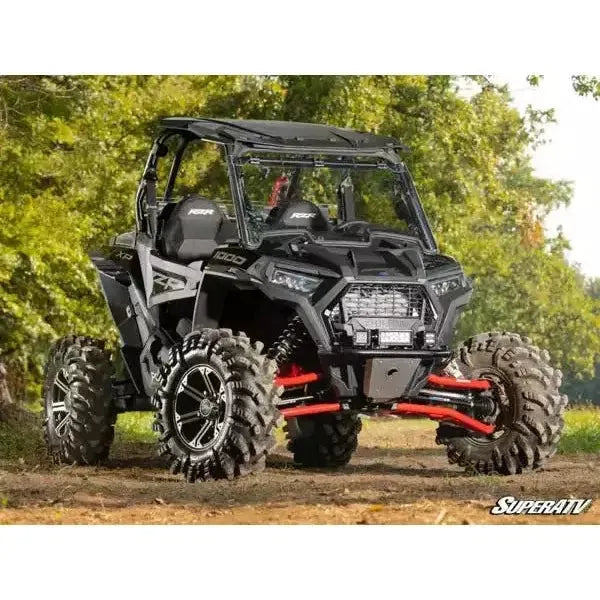 Polaris RZR XP Turbo MaxDrive Power Flip Windshield
Powered and Practical
Sometimes the weather turns south when you're just trying to wheel in your Polaris RZR XP Turbo. Don't stop the ride! With SuperATV's MaxDrive Power Flip Windshield, you can close, open, or set it to any position in between without slowing down. All it takes is the push of a button. It's easy, it's practical, and you'll be comfortable no matter what.

Only the Best Parts
From top to bottom, this RZR flip windshield is built with only the toughest parts. From the high-strength electric actuators to the heavy-duty clamps, nothing is half-assed. Our actuators are so tough that you can keep the pedal floored over every massive whoop and count on them to hold the windshield in place. Plus, it's partially preassembled so you spend less time in the garage. You get a secure, rattle-free windshield that will keep you comfortable on every ride.

Made With Polycarbonate Strength
With a windshield made of 1/4" polycarbonate, you won't have to flinch every time a rock flies at you. It's 250 times stronger than glass, so it'll take more than a rock or branch to crack it. Polycarbonate is built to last.

XR Optic Hard Coating
With polycarbonate combined with our proprietary XR Optic Hard Coating, this windshield is unstoppable. The invisible, scratch-resistant coating is applied to both sides to protect against hazing and deterioration. You'll have crystal clear rides for years to come.

Made by Experts
SuperATV consists of the most experienced windshield designers and manufacturers in the industry. We strive to set the bar for quality and innovation. If you're looking for the best you can get, this is it.

WARNING: This product can impact machine operation. Customer and/or user is responsible for ensuring that this product is compatible with their machine as currently configured, properly installed, and understands any impact this product has or might have on the machine's operation.

⚠ California Proposition 65 Warning ⚠
WARNING: This product may contain a chemical known to the State of California to cause cancer or birth defects or other reproductive harm.
Features:
Flips open with dash-rocker-controlled electronic actuators
Can be opened to any position for full airflow control
Made of 1/4" polycarbonate—250x stronger than glass and 25x stronger than acrylic
Utilizes our proprietary XR Optic Hard Coating
Fits the contours of your cage and hood perfectly
Comes partially preassembled for easy installation
Can be used with soft or hard tops
Made in the USA
VEHICLE FITMENT
Polaris RZR XP Turbo : 2019-2021
Polaris RZR XP 4 Turbo : 2019-2021
NOTE: Not compatible with aftermarket intrusion bars
INSTALLATION