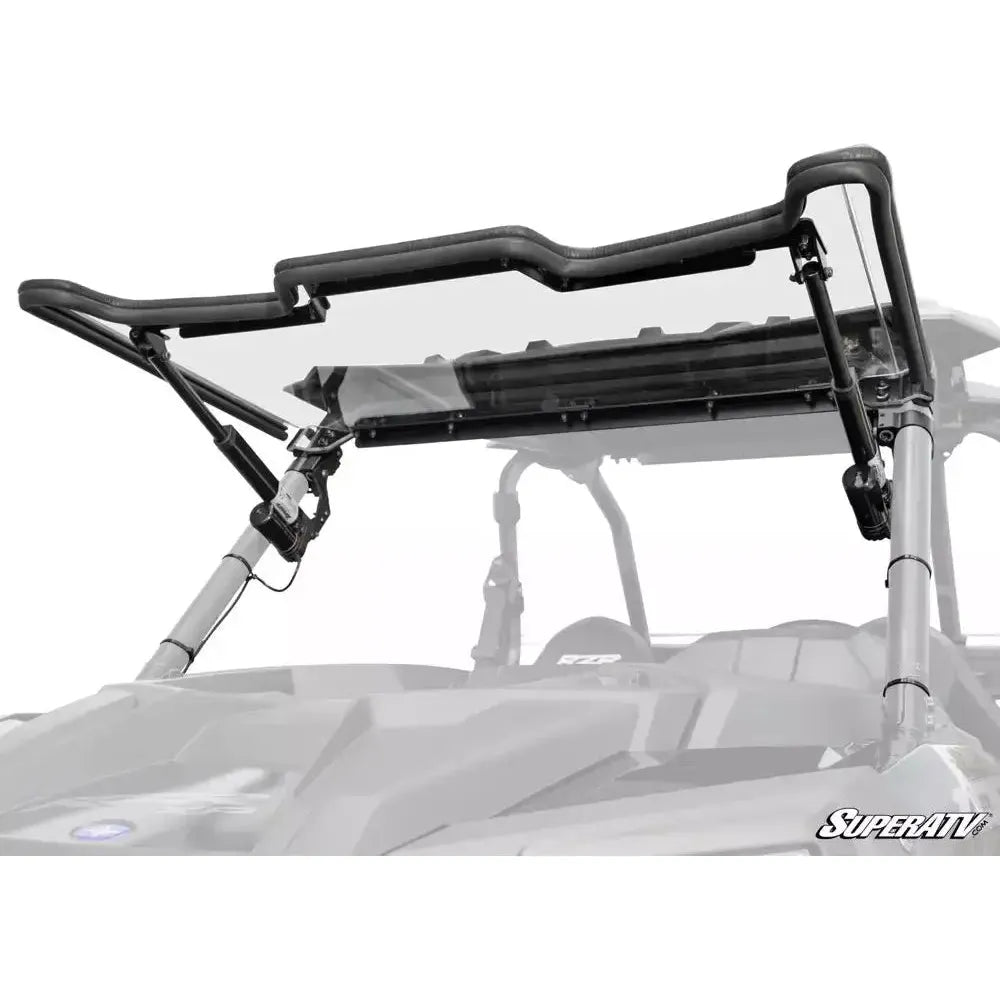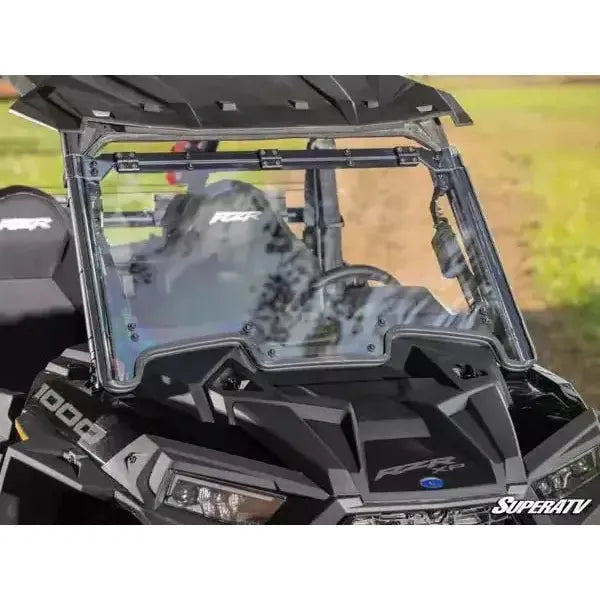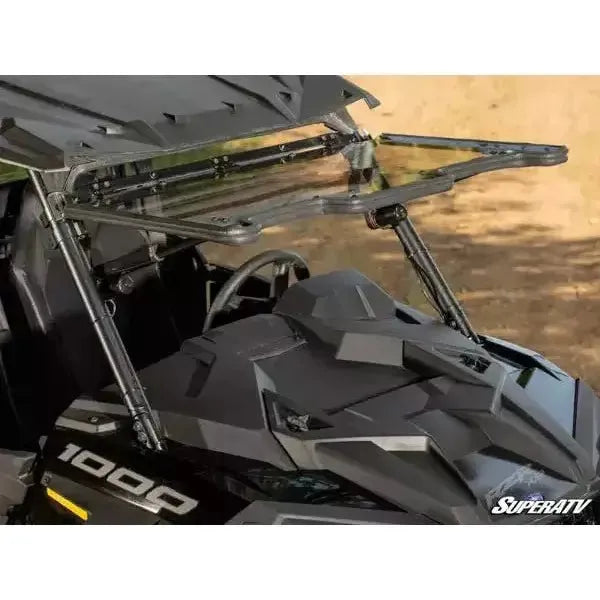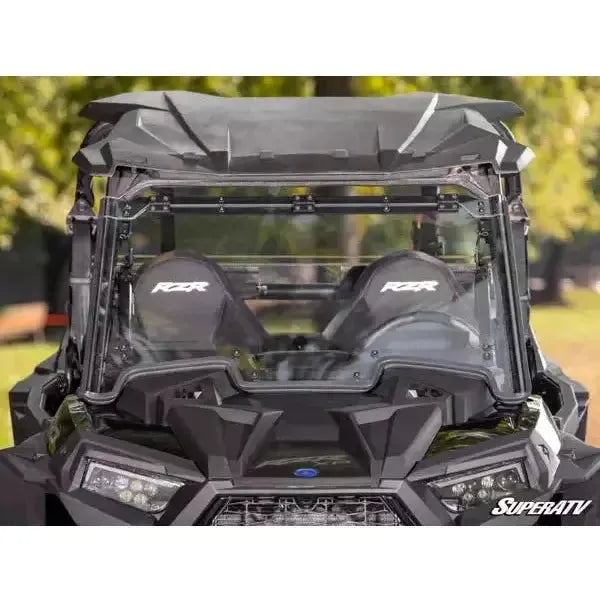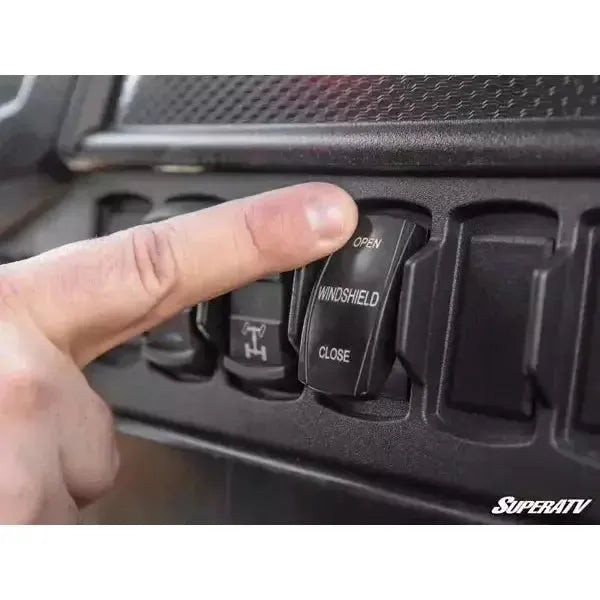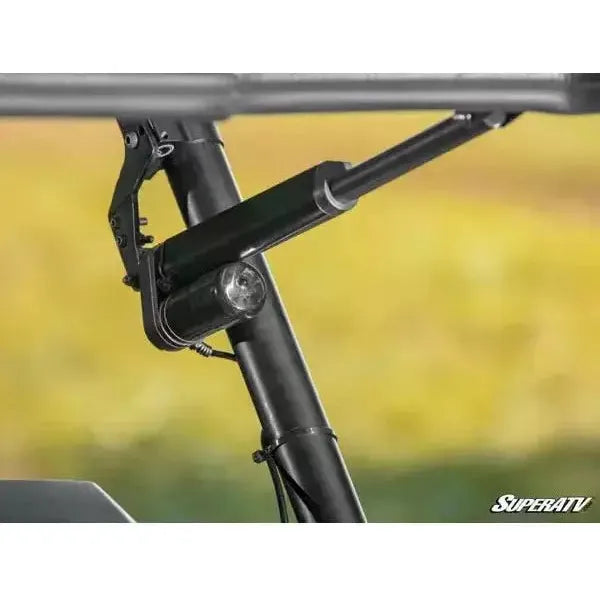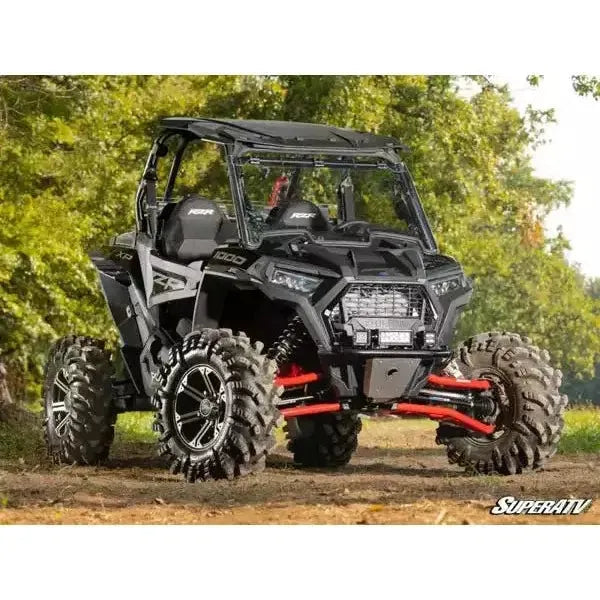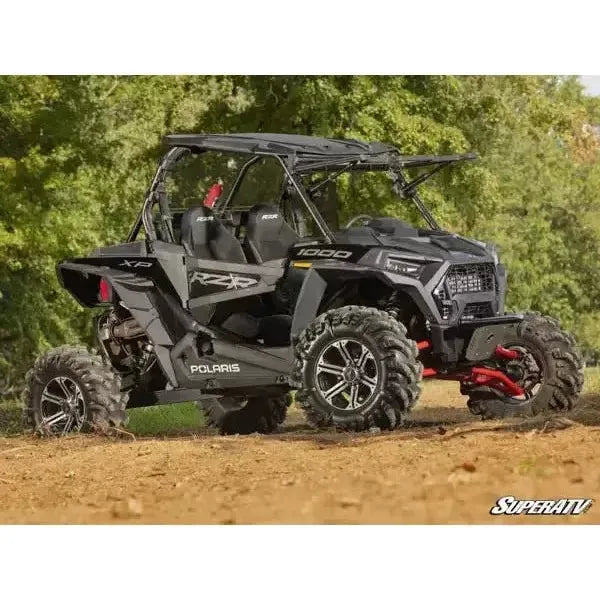 Polaris RZR XP 1000 MaxDrive Power Flip Windshield
All-Weather Windshield
You've been planning to hit the trail for days, but now it's Saturday morning and it's pouring rain. Don't let the weather hold you back. Instead, equip SuperATV's Polaris RZR XP 1000 MaxDrive Power Flip Windshield to turn your UTV into an all-weather machine. You can position it to be fully opened, closed, or anywhere in between with easy-to-use electronic controls added right to your dashboard. Our precision design gives you a snug fit with no annoying rattling or noise. Practical, versatile, and easy to install—you won't find a better windshield.

Easy to Install
We include everything you need to get your windshield installed right the first time. That includes full-color instructions with actual pictures of the process, not just drawings or descriptions. All the clamps, brackets, and seals you'll need are included, and they're top-quality, especially the actuators. Whether you're bouncing over boulders or bumping into trees, these actuators will hold strong until you move the windshield yourself.

Tough Polycarbonate
We make our windshields out of polycarbonate for the best possible durability. Polycarbonate is 250 times stronger than glass and 25 times stronger than acrylic. All that strength means you'll use this windshield for years to come. Normal trail hazards like rocks and branches won't stand a chance. It's even tough enough to take on rollovers without cracking. If you want the best of the best, look no further.

XR Optic Hard Coating
What's better than a virtually uncrackable polycarbonate windshield? One that's XR Optic Hard Coated, of course. Our powered windshields get XR Optic Hard Coating on both sides, which makes them super scratch resistant. It also helps resist the UV damage that causes yellowing and sunspots. That means it'll stay crystal clear for years to come.

We're the Experts
We talk up our windshields because we know what we're talking about. At SuperATV, we design and manufacture all of our windshields in-house and put them through extensive ride testing before we ever offer them to the public. You're buying directly from the source when you get a SuperATV windshield. We've sold hundreds of thousands of windshields to tons of happy customers, so you can trust us with your windshield too.

WARNING: This product can impact machine operation. Customer and/or user is responsible for ensuring that this product is compatible with their machine as currently configured, properly installed, and understands any impact this product has or might have on the machine's operation.

⚠ California Proposition 65 Warning ⚠
WARNING: This product may contain a chemical known to the State of California to cause cancer or birth defects or other reproductive harm.
Features:
Flips open with dash-rocker-controlled electronic actuators
Can be opened to any position for full airflow control
Made of 1/4" polycarbonate—250x stronger than glass and 25x stronger than acrylic
Utilizes our proprietary XR Optic Hard Coating
Fits the contours of your cage and hood perfectly
Comes partially preassembled for easy installation
Can be used with soft or hard tops
Made in the USA
VEHICLE FITMENT
Polaris RZR XP 1000 : 2019+
Polaris RZR XP 4 1000 : 2019+
NOTE: Not compatible with aftermarket intrusion bars
INSTALLATION