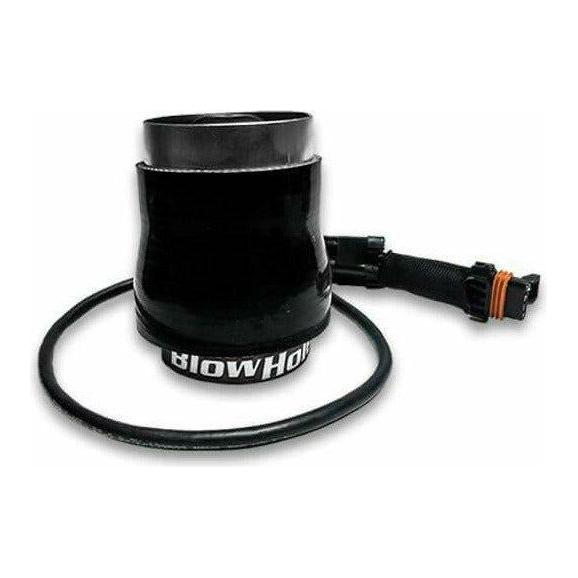 Polaris RZR XP 1000 Blow Hole
With the advent of and explosion of UTV sales the engineering of drivetrain systems have been pushed to the edge. Previously designed ATV components have been either adopted into the new UTV platforms or have been slightly tweaked to meet the engineering requirements. UTV's weigh more and carry more cargo than ever thought possible from an ATV platform. The clutches and drive belt show up as a weak link as the added load is converted to wasted heat energy. This waste heat deteriorates drive belts, and breaks down composite bearing surfaces and parts which lead to increased inefficiency. This loss of efficiency only provides more ways to make heat and the vicious cycle repeats until failure. "THE BLOW HOLE" for UTV's brings our respected and valued snowmobile product along with its heat fighting abilities to increase the longevity of the drivetrain and ultimately your investment. We developed this out of a desperate need to increase belt and clutch life on rental machines we have run on the sand dunes. Out in the extreme conditions of the sand dunes it has become commonplace to remove the belt covers in a desperate attempt to prevent belt failures. While removal of the cover does help with belt failures, the increased contact with the sand leads to premature clutch wear and failure. This is why we adapted "THE BLOW HOLE" to fit the UTV market. UTV's place extreme loads on their clutches and belt which builds extreme heat. This heat is your enemy. It leads to premature wear on your clutches, and complete belt failure. If you have ever had to change a belt then you know this is the last thing you want to be doing on the trail or out on the sand. "THE BLOW HOLE" for UTV's places a high output auxiliary fan in the cooling ducts of your clutch housing. It dramatically reduces ultimate temperatures generated in the clutch system and also speeds cooling of the clutch housing when traveling at lower speeds between high load events. Plug and Play with OEM connectors, and no cutting or drilling of stock components.
Features:
Low amp draw DC fan (2.0 amp startup and 1.7amp continuous) does not over tax the electrical system. Motor is very water/dust resistant and designed to operate in adverse conditions
Heavy duty welded aluminum design is rugged enough to take abuse but lightweight
Pulls approximately 140 CFM (cubic feet per minute) of air through the clutch ductwork enhancing the OEM clutch fan
Air is removed from the clutch housing and fan installation does not inhibit or otherwise interfere with belt changes
Active venting system that expels hot air even at low ground speeds as opposed to OEM rpm dependant clutch mounted fan
Clutches and belt stay cooler which allows them to last longer and work better.
Belt dust and other fine debris are essentially vacuumed out of the clutch cover area so clutches stay cleaner.
Factory connector allows true plug and play install. Also allows quick disconnect for troubleshooting and repair work on machine.
VEHICLE FITMENT
Polaris RZR XP 1000
INSTALLATION