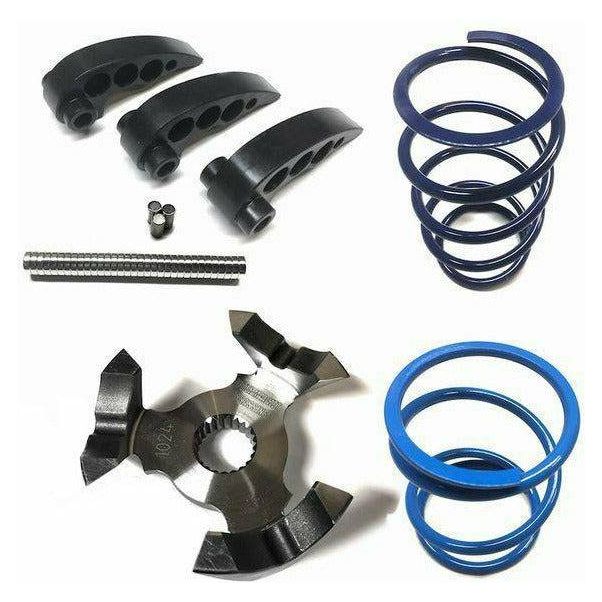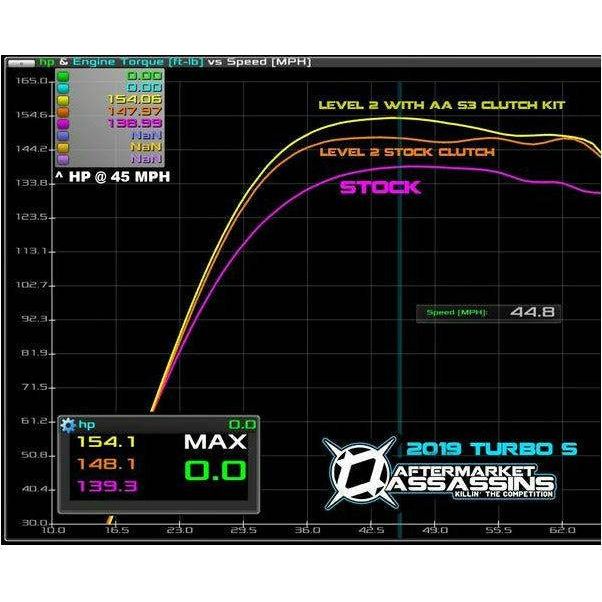 Polaris RZR Turbo S (2018-2020) Stage 3 Clutch Kit
Our Stage 3 Recoil Clutch Kits pack a huge punch! No matter the terrain, they hit hard and just keep pulling for days. On the trail or at the race you'll notice wicked acceleration and instant clutch response when getting back into the throttle after hammering that corner. In the dunes you'll see the same benefits, but also have much less bogging when climbing that big dune. The machine will hold RPM so you can get where you need to go, and get there faster! Our mud setup will help turn those tires through the thick and deep with much better RPM and wheel speed that's key to climbing out of that hole. We have a huge amount of CVT knowledge, a great passion for the sport, and spent many hours testing different setups in the real world. We know you'll be extremely pleased with the performance gain from our clutch kits!

Stage 3 kits include our custom cut helix which will give you better power to the wheels on because of the angle change which directly relates to how hard we shift the secondary clutch. Factory helixes start off steep, then go shallower on the top end. In our testing we found this to be too drastic of a change and picked up some big performance by changing this angle with our performance kits.
Performance Helix 1031: For 2 Seat Turbo S running 30"-33" Tires or Paddles. It offers great power transfer to the wheels that will take off and keep pulling extremely hard all the way to top speed. Use this with tires 27" to 33" and you will adjust with the weights to make up for different tire sizes. This has been our standard Turbo S helix since the kit was released.
Performance Helix 1024: For Turbo S 2 or 4 Seat with 30"-33" tires or 30"-32" paddles. The only difference over the 1031 performance helix is the shift angle from 0-25mph is less aggressive. This makes it better for crawling and those slow speed situations, but it still pulls like crazy from 25+ MPH. This helix is also a good choice if you run 34-35" tires that are lightweight.
High Load Helix 1021:  2 or 4 seat Turbo S running 34"-35" tires. If you are using very large/heavy tires, the high load helix might be the choice for you. The high load helix is recommended for those turning heavy 34"-35" tires. This angle slows the shift down to help act like it's "gearing down" the secondary clutch. This helps not over shift and cause belt slip.
Our Recoil clutch weights are easily adjustable with simple magnets. They have a custom AA profile, the BEST coating on the market (nitrocarburizing) which has increased wear resistance, improved fatigue strength, and added surface lubricity. These clutch weights also offer great performance, and the ability to tune for many different applications or modification in the future, without the need to buy extra parts.  The magnetic weights are the best option to properly place the mass where we need it on the weight for best performance for your application.
Do you ride trails and dunes? While our weights are adjustable to compensate for nearly any condition, swapping a primary spring to gain RPM lost in the dunes is much simpler. Some may want our TEAL PRIMARY SPRING which increases peak RPM by 200-300, which is what is normally lost with paddle tires/sand. This teal spring normally engages around 2100-2300 RPM which is slightly higher than our standard spring, but not crazy high or uncontrollable.
The only tool needed is our Compression Tool #1. The primary components can be done with the clutch on the machine. If you'd like to pull the primary to check the bolts behind it, or just to make installation easier, use a primary CLUTCH PULLER. Warning: many of the XPT primary clutches are on the crank very tight(tapered fit). If removing the primary, make sure you use plenty of grease on the puller tip and threads. A hammer might be needed to pop the clutch off.
Features:
Kits work great with both stock or modified machines
A must-have when tuning your Turbo S
A must-have when running larger tires or paddles
Huge acceleration gains
Wicked throttle response when on & off the throttle
More efficient power transferred to the wheels
More consistent clutch performance
Cooler running belt temps (especially when running larger tires or paddles!)
Longer belt and clutch life
Easily adjustable if needed
Close to stock engagement which is very smooth. If you need higher engagement for drag racing, let us know and we can set you up with a different spring.
An initial setup guideline is included which shows the best setups for dunes, mud, or all around trail riding.
We'd HIGHLY recommend using our Snap Ring Delete Kit when installing this kit on 2018 models. Makes life much easier!
We also recommend our AA Primary Spring Limiter which helps reduce heat and centers the spring and our Primary Clutch Fan Blade (for stock clutch covers only, NOT for use with the Revolver Billet Clutch Cover) for reduced temps.
We also highly suggest our Revolver Billet Clutch Cover with Tower Lock to increase primary clutch strength and cooling. (Note, will NOT fit with the AA Primary Clutch Fan Blade)
Includes:
Recoil magnetic adjustable clutch weights

Primary spring

Secondary spring

Custom helix

Setup guidelines

VEHICLE FITMENT
Polaris RZR Turbo S (2018-2020)
INSTALLATION