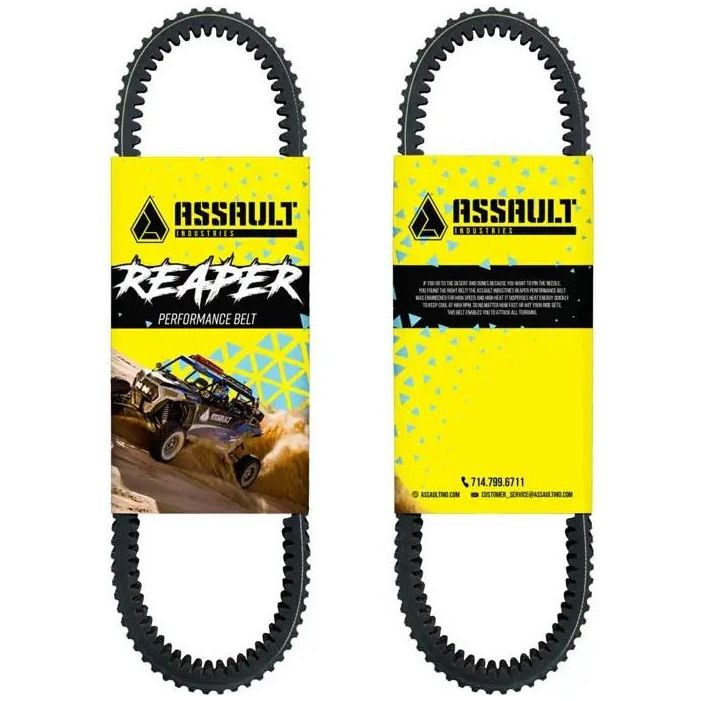 Polaris RZR Reaper CVT Drive Belt
Stock belts aren't built for the quick assaults your RZR was built for. Whether you're mountain climbing, rock crawling, or desert riding, all that torque, heat, and high speed make short work of that OEM drivebelt in your clutch. Time to upgrade your Polaris RZR to Assault Industries' Reaper Drive Belt. It's stronger, better, and smoother than the standard issue so you can pin the needle without blowing your belt.

The Reaper drive belt is specially engineered for hot rides and high RPM. It's built to withstand shock loads from up 400 HP engines with its aramid fiber cord, rigid sidewalls, and advanced sheave adhesion. Its specially formulated compound engages smoothly and disperses heat efficiently when the pedal hits the floor. It'll keep running smoothly without breaking down while you attack the terrain at full speed.

WARNING: This product can impact machine operation. Customer and/or user is responsible for ensuring that this product is compatible with their machine as currently configured, properly installed, and understands any impact this product has or might have on the machine's operation.


Features:
Made with ultra-strong aramid fiber cord to prevent cord separation
Built for high strength, flexibility, and heat resistance
Higher power transfer through your clutch
Capable of enduring shock loads from up to 400 HP engines
Smooth engagement and instant power
Built for thousands of miles of abuse
VEHICLE FITMENT
OEM Part #: 3211202
Polaris RZR PRO XP (All Models)
Polaris RZR Turbo R 

(All Models)

Polaris RZR XP Turbo (2017+) 

(All Models)

Polaris RZR XP Turbo S 

(All Models)
OEM Part #: 3211180/ 3211148/ 3211172/ 3211142
Polaris RZR XP 1000 

(All Models)

Polaris RZR S 1000 (2016-2020)
Polaris RZR 900 (2011-2020) 

(All Models)

Polaris RZR Trail 900 

(All Models)

Polaris RZR Trail S 900 

(All Models)
OEM Part #: 3211196
Polaris RZR S4 1000 (2019-2020)