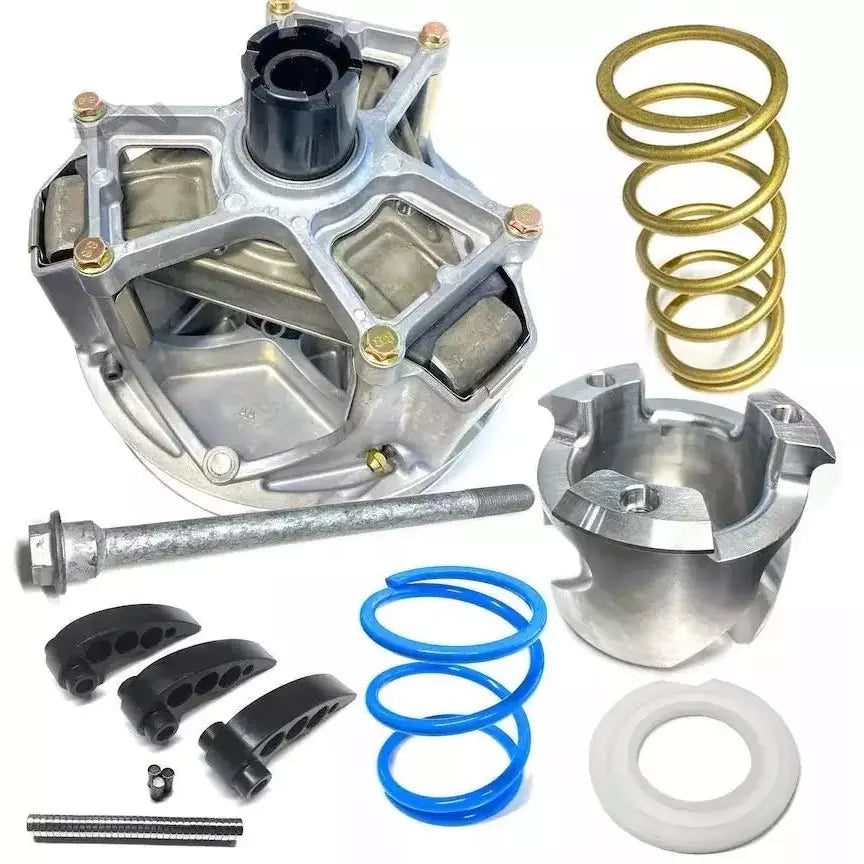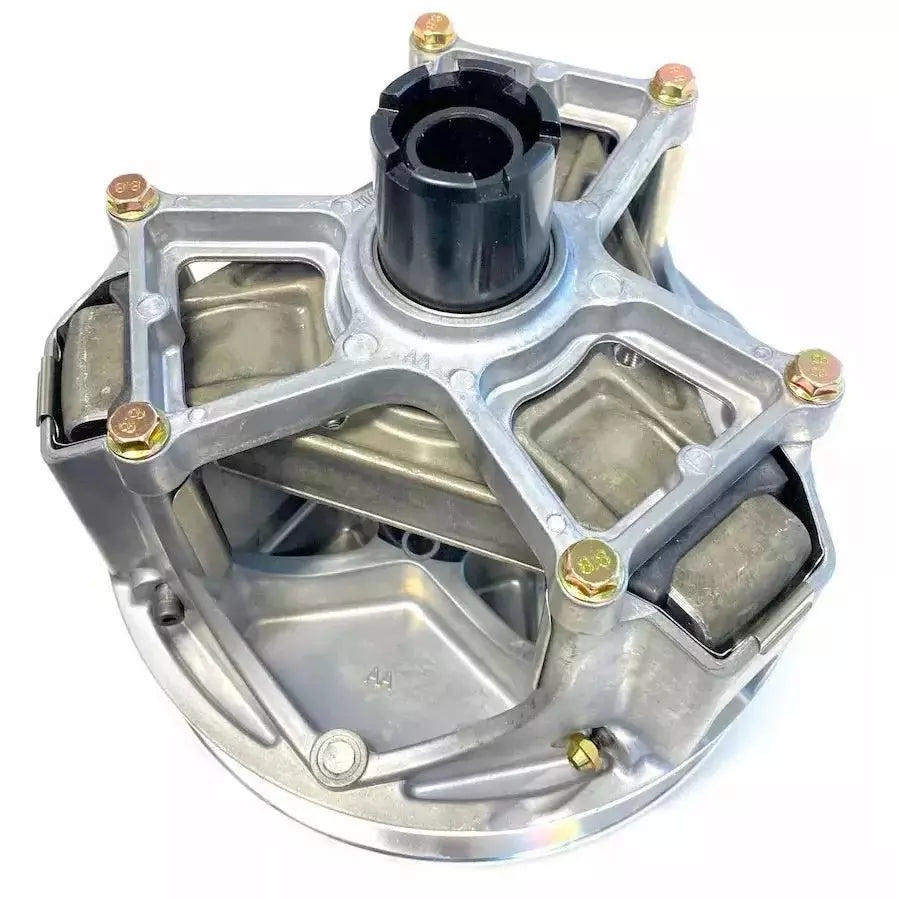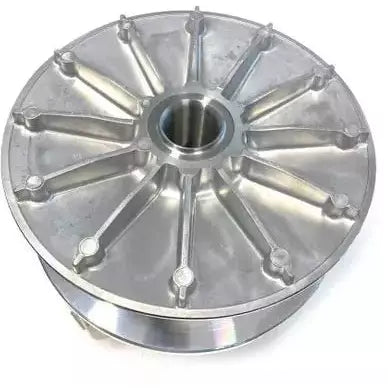 Polaris RZR Pro XP (2021+) Stage 3 Clutch Kit with Primary
From trail rigs to high horsepower, this is the only clutch we will run on our shop vehicles. Works on stock vehicles all the way to our 330 crank HP big turbo setup
This clutch is the same design found on the 2016-2020 RZR Turbo models with an encapsulated tower design. We found this clutch to hold power better, hold up better (no exploding), and slip the belt less. It simply meets the demands of these high horsepower vehicles, and is proven. This clutch also holds belt grip better than billet clutches, especially when clutching for higher RPM's. This primary clutch is our own version made with higher grade tool steel for the post, assembled with AA HD sliders, to our AA specifications.
With this clutch you'll notice better power transfer (better acceleration) and lower belt temps than your OEM P90X clutch or any other aftermarket clutch.
Clutch does not come assembled. Simply setup your weights according to our setup chart, then install the weights & Spring. Otherwise we have the +$25 option to have us assemble the primary clutch for you, as long as you let us know what engine modifications and tire size/type.
Our Stage 3 recoil clutch kits pack a huge punch! No matter the terrain, they hit hard and just keep pulling for days. On the trail or at the race you'll notice wicked acceleration and instant clutch response when getting back into the throttle after hammering that corner. In the dunes you'll see the same benefits, but also have much less bogging when climbing that big dune. The machine will hold RPM so you can get where you need to go, and get there faster! Our mud setup will help turn those tires through the thick and deep with much better RPM and wheel speed that's key to climbing out of that hole. We have a huge amount of CVT knowledge, a great passion for the sport, and have many hours into testing different setups in the real world.  We know you'll be extremely pleased with the performance gain from our clutch kits!
The biggest problem with Pro XP clutching is they do not have enough belt grip. When the first Pro XP models arrived they had a soft secondary spring that slipped the belt under full shift. They were then fitted with a stiffer secondary spring and now the problem is they rev too high for good belt grip with that spring. Our S2 kits help combat this with a stiffer secondary spring yet for even better belt grip, and the right primary weight/spring to get proper RPM.   Our S3 clutch kit includes everything the S2 does, but adds the helix.  The helix adds more aggressive shift to the secondary clutch which gives you a great acceleration gains and feels more like your throttle is locked to the rear wheels.
Our Recoil clutch weights are easily adjustable with simple magnets.  They have a custom AA profile, the BEST coating on the market (nitrocarburizing) which has increased wear resistance, improved fatigue strength, and added surface lubricity. These clutch weights also offer great performance and the ability to tune for many different applications or modification in the future, all without the need to buy extra parts. The magnetic weights are the best option to properly place the mass where we need it on the weight for best performance for your application.
An initial setup guideline(normally very accurate) is included which shows the best setups for dunes, mud, or all around trail riding. This also has brief instructions on installing your clutch kit, and other important information.
Performance Helix 107-1065: Aggressive helix with acceleration/higher horsepower/aggressive fast pace drivers in mind. Works on Pro XP 2 seat 30-33" Dirt Tires, 30-32" dune paddles. Works on Pro XP 4 seat with 30-32" dirt tires, 28-30" dune paddles.
High Load Helix 107-1062: Slightly less aggressive than the 1065 helix with good acceleration gains/power transfer over the OEM helix. Designed for a heavier vehicle, heavier tires, heavy sand load or crawling type riding in mind.  Works on Pro XP 2 seat 30-35" Dirt Tires, 30-32" dune paddles. Works on Pro XP 4 seat with 30-33" dirt tires, 28-32" dune paddles. Excellent all around helix for any Pro XP!
DISCLAIMER/SPECIAL NOTES ABOUT THIS CLUTCH: This clutch is louder at idle as these clutches have a loose spider/slider tolerance until engine RPM ramps up. This clutch is tight under the cover and MAY slightly contact the plastic at idle, making a few wear marks(extremely uncommon, but we have seen it due to cover variances). The primary bolt has a turned down (shortened) head to clear under the cover. This is easier to strip, so use care when tightening and make sure you use an 18mm 6 point socket. If dissembling the clutch, the 6 spring cover button head allen bolts are also easy to strip if you use the wrong size(or standard), they are a 4mm.
Clutch Puller Note: You will need the P90X specific clutch puller to remove your OEM clutch. The AA clutch coming in this kit uses the standard XPT/XP1000 primary clutch puller.
Features:
Kits work great with both stock or modified machines, however our Stage 3 clutch kit is best for tuned vehicles
Works well with tire sizes 28" to 35" and paddles 28" to 32"
A must have when tuning your Pro XP to properly transfer the power to the wheels and prevent even more belt slip
A must have when running larger tires or paddles
Wicked throttle response when on & off the throttle
More efficient power transferred to the wheels
More consistent clutch performance
Cooler running belt temps (especially when running larger tires or paddles!)
Longer belt and clutch life
Easily adjustable if needed
Slightly higher engagement which is still very smooth (around 1800-2000 RPM)
Helix features a tighter roller & EBS pocket for less clutch slop(clunk) and less chance of rollers breaking
Special tools needed Compression Tool #1,  P90X Clutch Puller
Have alignment issues? Use our P90X Secondary Clutch Alignment Shim Kit to set things straight
Highly recommend upgrading to our Heavy Duty P90X Secondary Clutch Rollers.
Includes:
Primary Clutch
Primary Bolt
Magnetic adjustable clutch weights
Weight setup sheet
Primary spring
Custom Primary Limiter
Helix
Secondary spring
Extreme Heavy Duty primary sliders (comes installed in clutch)
VEHICLE FITMENT
Polaris RZR Pro XP (2021+)
INSTALLATION