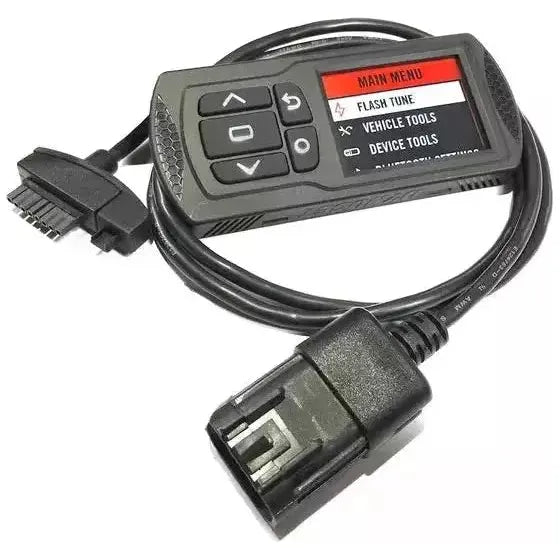 Polaris RZR 570 Custom Tuned Power Vision
If you are looking for an easy to use ECU tuner loaded with the most badass custom tunes on the market, you've found it!  This Dynojet Powervision is a very simple, yet effective device that programs your ECU in a few minutes, and easily allows you to switch between tunes, or return to the factory tune. The PV has the advantage over other ECU tuners as it actually reads what's inside your ECU before tuning.  This ensures the correct tune is being loaded, making it a very safe device.  The AA custom tunes deliver the most possible power gains.  With our expert knowledge of Bosch throttle by wire ECU tuning, we are able to get around factory limiters, make a more responsive machine, and of course create more horsepower and torque.  Our tunes are loaded on the Powervision just for your machine, so all you do is open the box and download them into your ECU.  We recommend clutching with a tune to get the most out of your vehicle.  See below for even more features of our custom tunes.
For the RZR 570 switched from a cable throttle to throttle by wire which gives Polaris an easier option to limit your horsepower, and how that power comes on. We change all of that to really bring the 570 motor to life and give it's full potential.

The Level 1 tune is a huge increase and can be ran with the stock exhaust.  This is seriously worth every penny!  You are looking at a 5-6hp peak gain with the tune, and the down low grunt is absolutely awesome.  Peak power is 7500-7700 @ 45mph.
The level 2 tune has all the same benefits as level 1, with increased fueling for and a slip-on or full exhaust system. Together with a tune and exhaust you can see 8-10 horsepower gains!
Wondering why go with our tune(s) over the dynojet tunes? We go the extra mile to make sure everything is gained, and have a few extra tricks up our sleeve because we test in the real world. Other maps take their time to hit peak timing numbers which really hurts performance. Our map gets you into peak timing quicker, so max power seems more instant. We also have a great fuel curve that is designed to go with our timing curve, and offers better fueling for more power at WOT.  We also do some work with torque limiters as in the dirt we saw throttle closures when spinning the tires. Our map fixes that issue giving you 100% locked power delivery.  We also do the easy things like up the speed limiter to where you will never hit, disable 2 foot limiters, and disable seatbelt limiters.
To help better transfer the power gained to the wheels, and to achieve proper peak RPM, we highly recommend our AA Recoil clutch kits!  With the 570, you normally hit around 7200rpm with the tune and factory clutching. To gain more power, get those RPM's up with our clutch kit.
Features:
See 5-6 peak horsepower gains
MUCH quicker throttle response and power delivery
Throttle by wire limiters disabled
AA's wicked timing curve built for 91-93 octane fuel
A great fuel curve that gives much better low end(as well as all around) power as the factory map is very lean in key areas.
Fan on/off temp lowered to 190/185 degrees Fahrenheit (factory is 198/192)
Seatbelt limiter disabled
Speed limiter removed in low and high gears (factory limits are 52mph in high, 32 in low)
2 Foot limiters are disabled
Rev limit at a safe 8000rpm (factory rev limit is 7500)
Very easy to use tuner that can also check and erase most trouble codes
Easily data log 25 parameters with 1 push of a button and review on your windows computer later
No mess of having to send in your ECU, and a safer way of programming your ECU
VEHICLE FITMENT
Polaris RZR 570
INSTALLATION