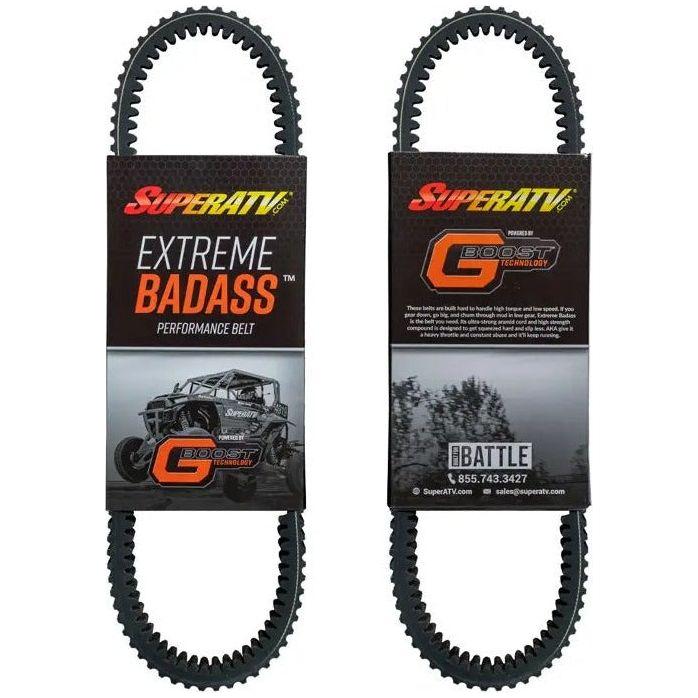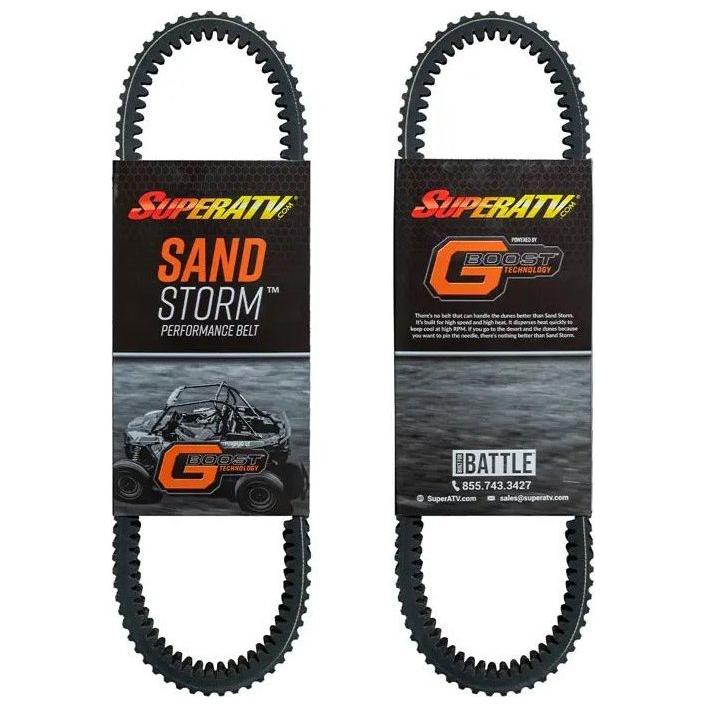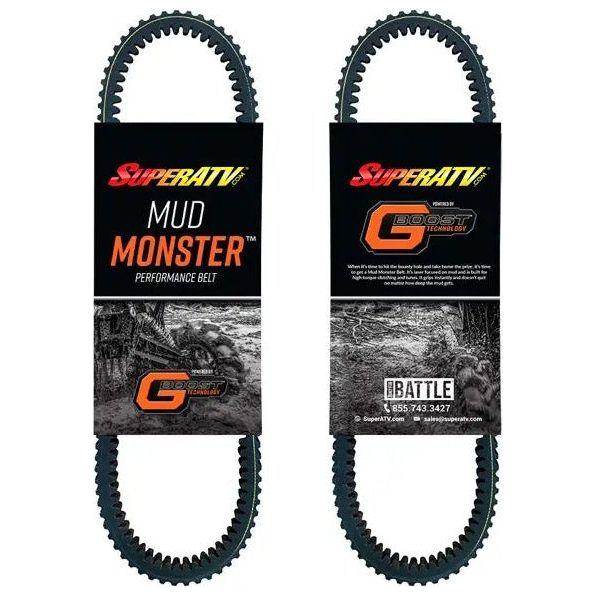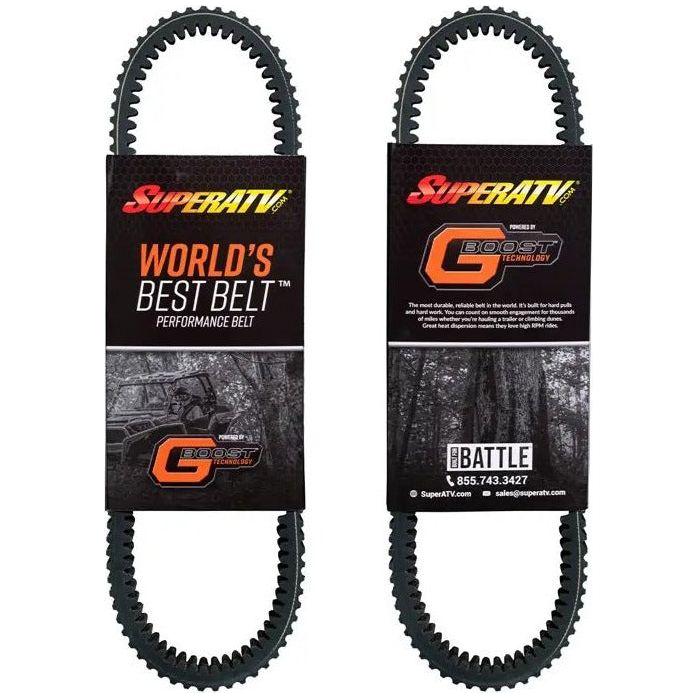 Polaris Ranger Heavy Duty CVT Drive Belt
When your belt starts to slip and your power drops, it's time to trade out your under-performing OEM CVT drive belt and go for something better. Extreme Badass, Sand Storm, Mud Monster, and World's Best Belts are designed to be as tough as your Polaris Ranger with superior strength and enough intense trail miles to prove that nothing's better.

The World's Best Belt is the ultimate all-around performer. No matter what you're doing, this belt will pull you through with smooth engagement and excellent heat dissipation. The superior compound is designed to retain cord rigidity for better grip and less slippage, which leads to a longer life, even when you're pushing your Ranger hard. The aramid fiber cord gives it an ultra-high shock load rating.

What does all that do for you? Whether you're hauling big loads or hauling ass, this belt will perform to give you all your power without deteriorating or slipping.

Mud Monster Upgrading from OEM to a Mud Monster Belt lets you take on bogs and bounty holes like never before. This thing is thicker than your average belt and built for extreme abuse and excessive shock loads. If high-torque clutching and tunes are up your alley, we've got the belt for you.

The Mud Monster Belt was made specifically for riders who can't get enough of that thick, sloppy peanut butter.

NOTE: Mud Monster belts are designed for extreme grip and build heat quickly over 35 MPH.

Wherever there's sand, you need a Sand Storm Belt. Hit the dunes or ride pedal down in the desert—it's designed for going fast and keeping cool. With maximized heat dissipation technology and an ultra-strong aramid fiber cord built right it, it won't wear out just because you kept the pedal floored all weekend.

If you like going fast, Sand Storm Belts are built for you.

Extreme Badass Belts are beefy belts for beefy machines. If you drive like you stole it and go through too many OEM belts, this is the belt you need. It uses an aramid cord and high-strength rubber compound that are designed to get squeezed by your clutch during high torque transfers without breaking.

So go big and hit the gas—Extreme Badass Belts are designed to take constant throttle and heavy abuse whether you're tackling the bounty hole or cruising trails.

If you're looking for an OEM replacement that won't break the bank, look no further. The Badass XC X-Country disperses heat faster than an OEM belt and engages smoothly for better performance.
The rare combination of quality and affordability makes this belt a value you won't find anywhere else.



WARNING: This product can impact machine operation. Customer and/or user is responsible for ensuring that this product is compatible with their machine as currently configured, properly installed, and understands any impact this product has or might have on the machine's operation.

⚠ California Proposition 65 Warning ⚠
WARNING: This product may contain a chemical known to the State of California to cause cancer or birth defects or other reproductive harm.

Features:
Made with ultra-strong aramid fiber cord to prevent cord separation
Built for high strength, flexibility, and heat resistance
Higher power transfer through your clutch
Smooth engagement
Built for thousands of miles of abuse
VEHICLE FITMENT
OEM Part #: 3211186
Polaris Ranger XP 1000 : 2018+
Polaris Ranger XP 1000 Crew : 2019+
OEM Part #: 3211196
Polaris Ranger XP 1000 : 2017
Polaris Ranger XP 1000 Crew : 2017-2018
OEM Part #: 3211149
Polaris Ranger XP 900 : 2013-2019
Polaris Ranger XP 900 Crew : 2013-2019
Polaris Ranger 570 Mid Size EBS : 2016+
Polaris Ranger 570 Mid Size EBS (Built 1/13/15 and after) : 2015
OEM Part #: 3211162/ 3211133/ 3211106
Polaris Ranger XP 800 : 2010-2015
Polaris Ranger XP 800 Crew : 2010-2015
Polaris Ranger Mid Size 800 : 2010-2015
Polaris Ranger 800 6x6 : 2010-2015
Polaris Ranger 700 (All Models) : 2005-2009
OEM Part #: 3211169
Polaris Ranger 570 Full Size : 2015-2020
Polaris Ranger 570 Full Size Crew : 2015-2020
Polaris Ranger 570 Mid Size (Non-EBS) : 2014-2020
Polaris Ranger 570 Mid Size Crew : 2014-2020
Polaris Ranger 500 4x2 : 2015-2020
Polaris Ranger 500 4x4 : 2015-2020
Polaris Ranger 500 ETX : 2015-2020
OEM Part #: 3211143
Polaris Ranger 570 Mid Size : 2014-2021
Polaris Ranger 570 Crew Mid Size : 2014-2020
Polaris Ranger 570 : 2015-2021
Polaris Ranger 570 Crew : 2015-2021
Polaris Ranger 500 : 2015-2021
OEM Part #: 3211113
Polaris Ranger 500 EFI (All Models) : 2003-2010
OEM Part #: 3211077/ 3211048
Polaris Ranger 500 (All Models) : 2010-2014
OEM Part #: 3211218
Polaris Ranger 1000 : 2020+
Polaris Ranger 1000 Crew : 2020+
Polaris Pro XD : 2020+
Polaris Pro XD Crew : 2020+