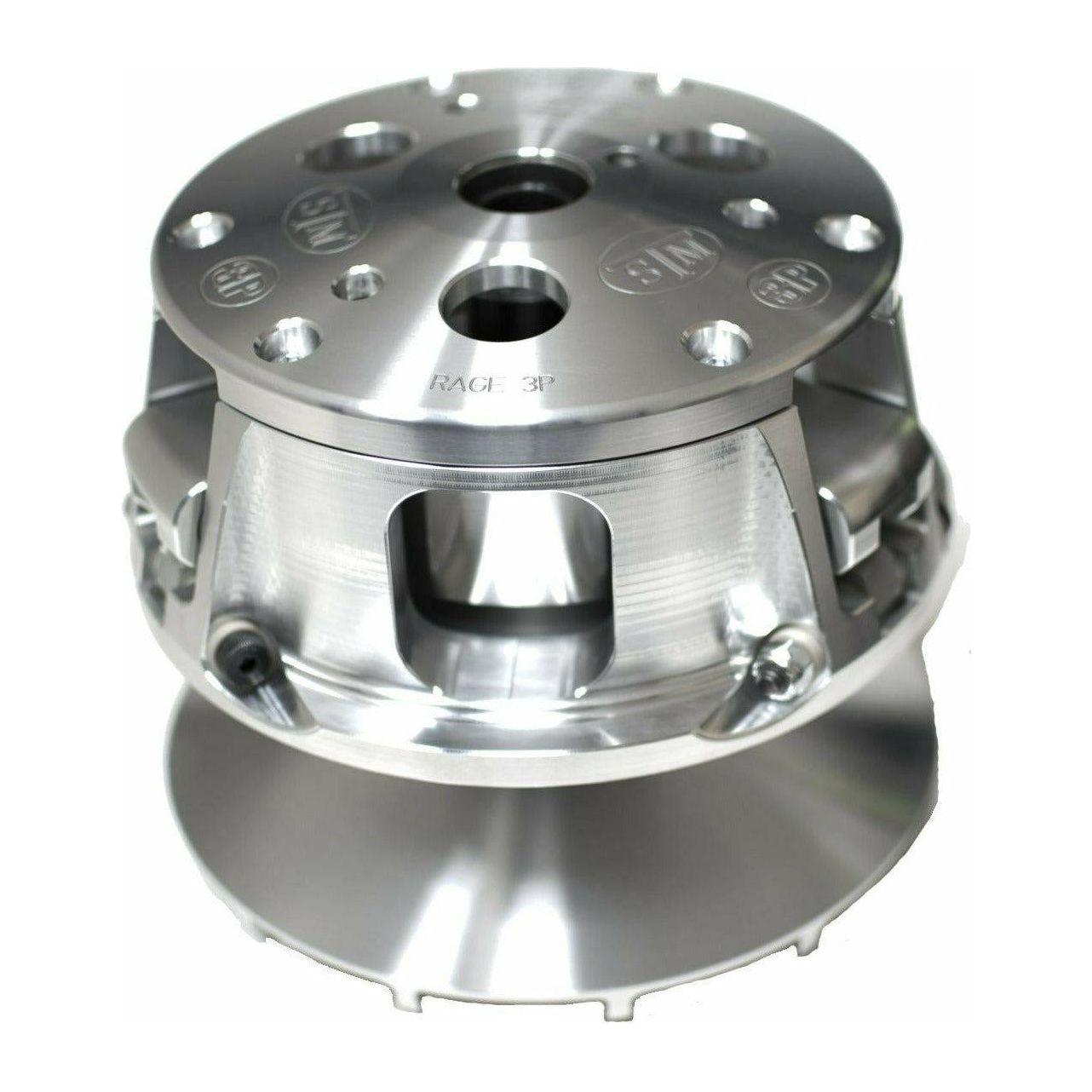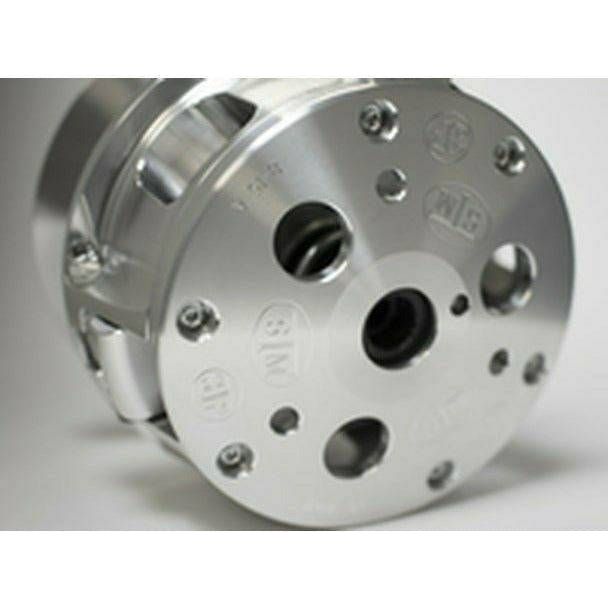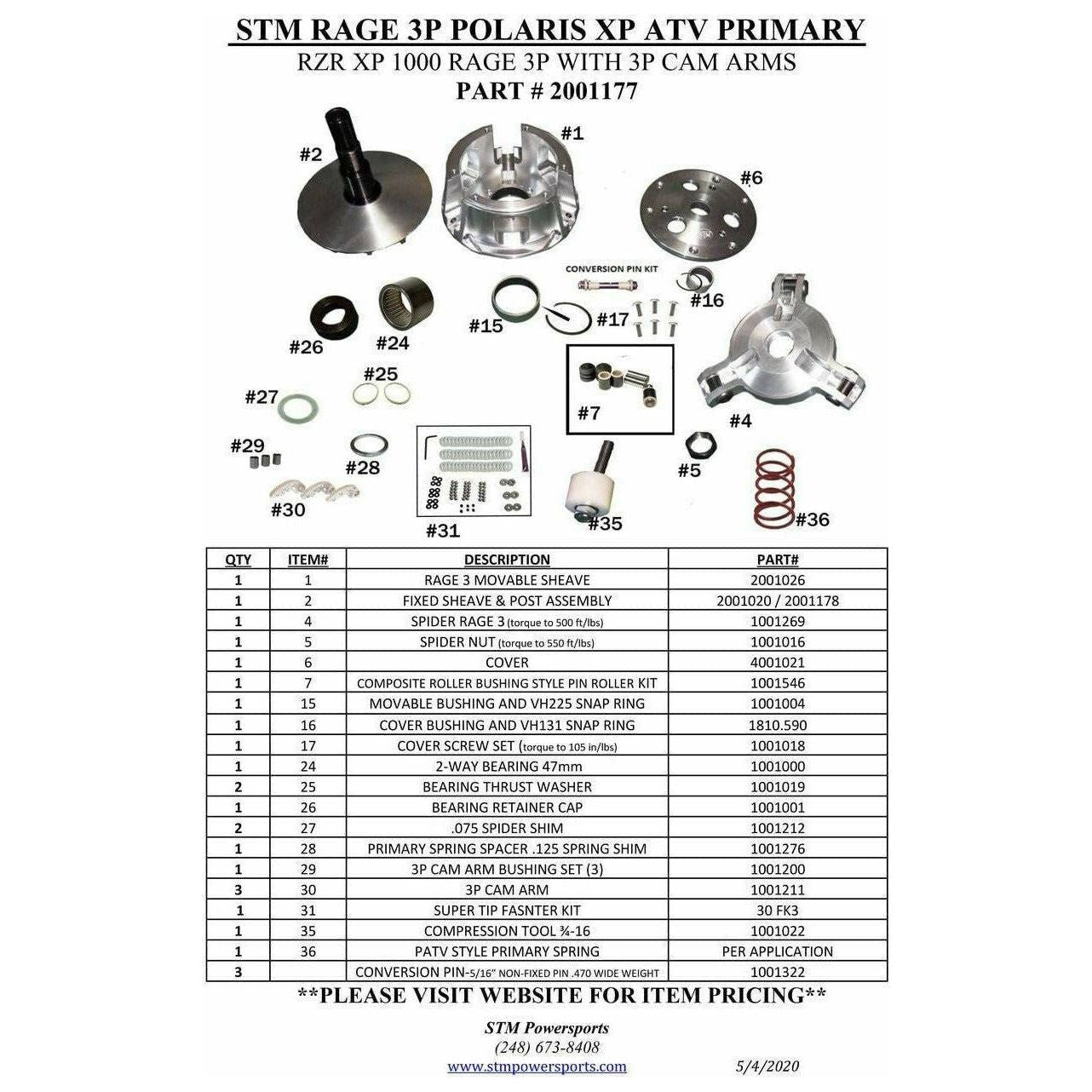 Polaris General / RZR XP 1000 RAGE 3P Primary Clutch
This clutch offers extremely smooth low engagement with improved torque. Big tires or low speed riding is no longer a problem with the STM Rage3P.
New improved two-way bearing design. The main shaft bearing is now smaller with a 47mm outside diameter allowing a lower initial take off ratio than our past design. Allows tighter belt deflection and smoother transmission shifting.
An affordable replacement for the stock primary clutch. Complete billet design that out performs the existing primary. Using our adjustable SUPERTIP CAM ARMS with the Rage 3P is the perfect recipe for your stock or modified Machine. These STM clutches will fit under the stock cover with no interference. The Rage 3 is capable of using most cam arms that are available on the market.  We incorporate a fixed pin design that pivots the cam arm between two bushings and attaches the cam arm to the pin providing more durability to the cam arm pivot points. All parts are replaceable and stocked.
The cover is designed to use Polaris ATV springs providing a wide variety of spring rates to choose from. 
The Rage 3 comes calibrated with a spring and set of our own adjustable SUPERTIP CAM ARMS.
Each clutch is assembled and set up to run the OEM belt.

This primary will work with the stock secondary.  
Item numbers 1001649 primary clutch vice holding tool or 1001070 Primary Clutch Holding Tool, 1001072 STM & Arctic Cat Spider Nut Socket Tool for 1995-2009  and either 1001020 STM Rage 3 & 6 Spider Tool, or 1001032 STM Rage 4 & 8 Spider Tool (depending rage number) is required when removing or installing the spider. Works on all STM primary clutches. Sold separately.
When ordering use this guide to help you pick options
Choose Engine HP – Let us know about your bike. Is it naturally aspirated/stock? Big Bore Kit? Does it have a turbo? If you choose turbo-how much boost? This gives us an idea of how to set the weights up. KEEP IN MIND WE CAN ONLY GET YOU CLOSE WITH WEIGHT SET UP. Everyone's riding style is different so it's up to the customer to do the fine tuning!
***To properly build this to the correct specifications for your vehicle, we will need detailed information about your vehicle. Expect a follow up email requesting more details after purchase.***
VEHICLE FITMENT
Polaris General
Polaris RZR XP 1000