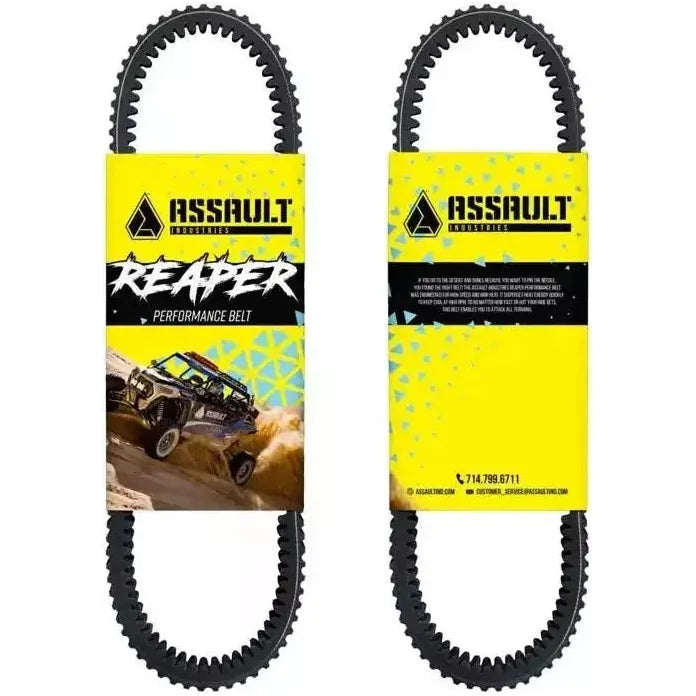 Can Am X3 Reaper CVT Drive Belt
A Better Drive Belt
Your Can-Am X3 is a force to be reckoned with on the dunes. But if you're counting on a standard issue OEM belt to keep you moving forward, you need to head back to the war table. Reinforce your Can-Am Maverick X3 with Assault Industries' Reaper CVT Drive Belt. It's built for high speed, unbridled power, and long hauls so your ride won't get sidelined because of a busted belt.

Built for Speed and Power
The Reaper drive belt is the best belt for high speed, high torque, high heat, and heavy loads. If you want to pin the needle and keep the pedal down, you're in the right place. They're built to withstand shock loads from up 400 HP engines with its aramid fiber cord, rigid sidewalls, and advanced sheave adhesion. They have unbeatable engagement when you hit the gas and disperse heat quickly to avoid breakdown. Whether you're rock crawling, going flat out in the backcountry, or summiting mountains, Reaper belts have the durability and performance to get it done.

WARNING: This product can impact machine operation. Customer and/or user is responsible for ensuring that this product is compatible with their machine as currently configured, properly installed, and understands any impact this product has or might have on the machine's operation.

⚠ California Proposition 65 Warning ⚠
WARNING: This product may contain a chemical known to the State of California to cause cancer or birth defects or other reproductive harm.
Features:
Made with ultra-strong aramid fiber cord to prevent cord separation
Built for high strength, flexibility, and heat resistance
Higher power transfer through your clutch
Capable of enduring shock loads from up to 400 HP engines
Smooth engagement and instant power
Built for thousands of miles of abuse
VEHICLE FITMENT
OEM Part #: 422280651/ 422280652 / 417300391
Can-Am Maverick X3 900 : 2018
Can-Am Maverick X3 Turbo : 2017+
Can-Am Maverick X3 Turbo R : 2017-2019
Can-Am Maverick X3 X DS Turbo R : 2017+
Can-Am Maverick X3 X DS Turbo RR : 2020+
Can-Am Maverick X3 X RC Turbo : 2018+
Can-Am Maverick X3 X MR Turbo : 2018+
Can-Am Maverick X3 X RC Turbo R : 2018+
Can-Am Maverick X3 X RC Turbo RR : 2020+
Can-Am Maverick X3 X RS Turbo R : 2017+
Can-Am Maverick X3 X RS Turbo RR : 2020+
Can-Am Maverick X3 X MR Turbo R : 2018-2019
Can-Am Maverick X3 X MR Turbo RR : 2020+
Can-Am Maverick X3 MAX Turbo : 2017+
Can-Am Maverick X3 MAX Turbo R : 2017+
Can-Am Maverick X3 MAX X RS Turbo R : 2017+
Can-Am Maverick X3 MAX X RS Turbo RR : 2020+
Can-Am Maverick X3 MAX X MR Turbo R : 2019+
Can-Am Maverick X3 MAX X MR Turbo RR : 2020+
Can-Am Maverick X3 MAX X DS Turbo : 2017-2019
Can-Am Maverick X3 MAX X DS Turbo R : 2020+
Can-Am Maverick X3 MAX X DS Turbo RR : 2020+