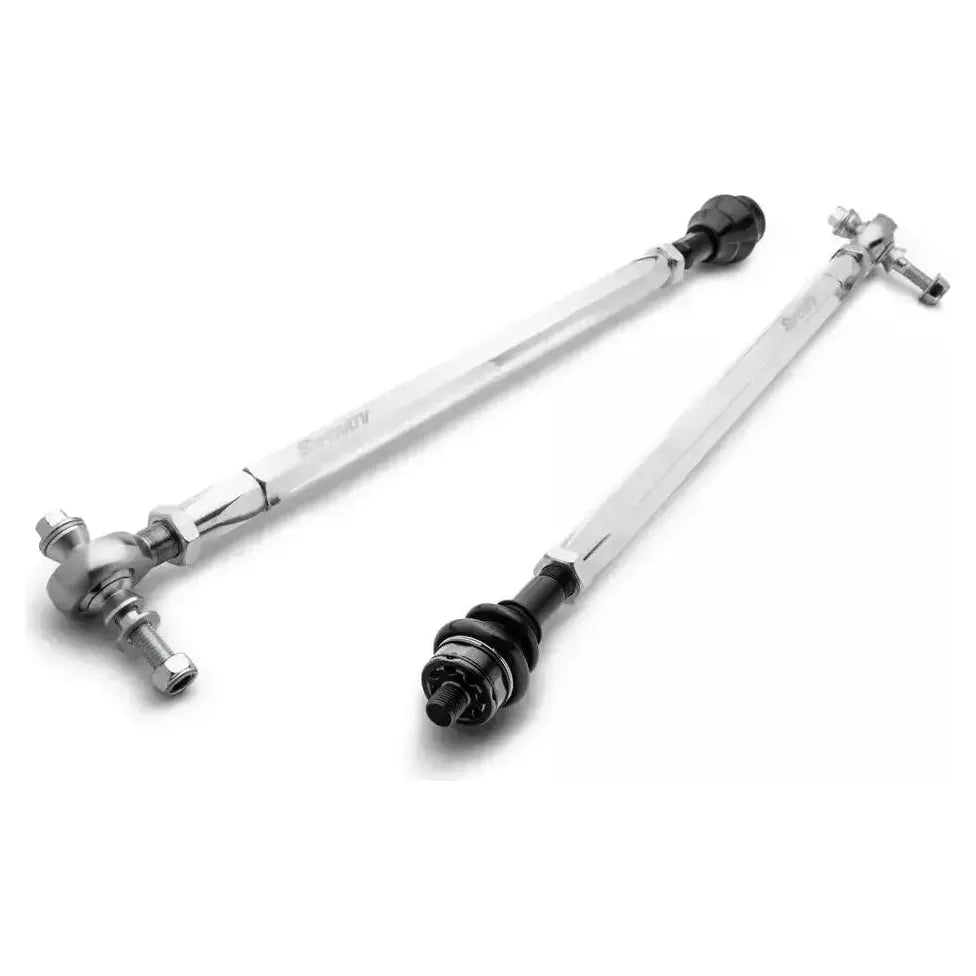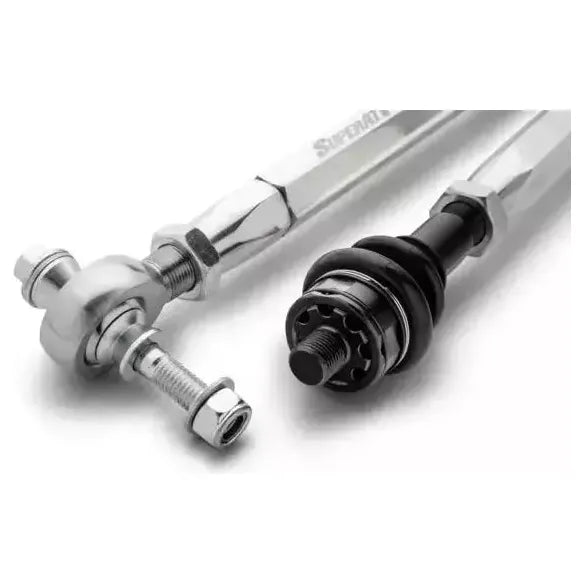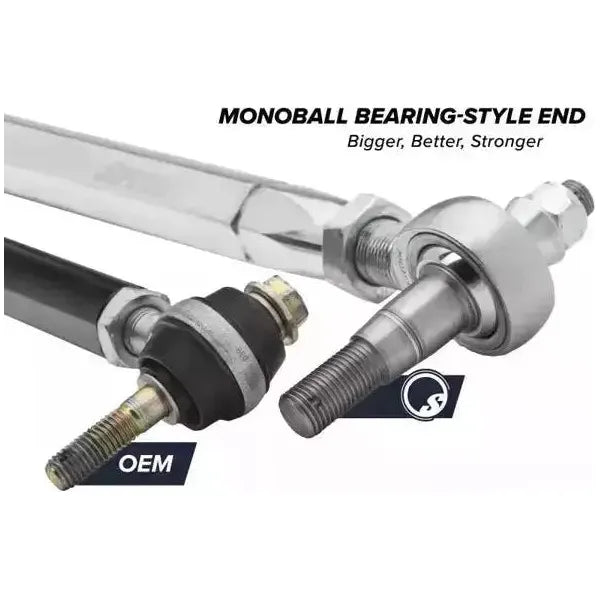 Can Am X3 RackBoss 2.0 Billet Hex Tie Rod Kit
Stronger than OEM Tie Rod Kit
Oh snap—you broke your OEM tie rod! No sweat—SuperATV has you covered with our Can-Am Maverick X3 RackBoss 2.0 Billet Hex Tie Rod Kit. These tie rods are stronger than OEM, lightweight, and good-looking. That's a combo that can't be beat. When you're ready to upgrade (and you know you need to), RackBoss 2.0 is your best option.
Head-Turning Tie Rods
We wouldn't blame you if you don't automatically think of tie rods when you think of flashy X3 upgrades, but maybe these can change your mind. They're made with highly polished billet aluminum for a super shiny finish. The hexagonal shape and 1" diameter adds strength and makes them stand out. These might be the only tie rods that could actually turn heads.
Style Meets Strength
Most side-by-side owners know that when your tie rods crap out, it's usually the tie rod ends that are to blame. That's why we beefed these tie rod ends up with oversized 3/4" chromoly heim joints and inner ball and sockets for strength and durability. That means no more shaky steering and less wear and tear overall.
The best part? We back them with a lifetime warranty.
Easy to Install and Adjust
We know you'd rather be out riding than running back and forth to the hardware store. That's why we include all the parts you need right in the box. Plus, these tie rods bolt right to your SuperATV or stock rack and pinion and steering knuckle for simple installation. We've also designed the toe to be adjustable on the fly by just turning the shaft, so you don't need to undo all your hard work to make minor changes.
Includes:
(2) Billet tie rod shafts
(2) Heavy-duty chromoly tie rod ends
(2) Heavy-duty chromoly inner ball and sockets
All boots needed
All hardware and misalignment bushings needed

WARNING: This product can impact machine operation. Customer and/or user is responsible for ensuring that this product is compatible with their machine as currently configured, properly installed, and understands any impact this product has or might have on the machine's operation.

⚠ California Proposition 65 Warning ⚠
WARNING: This product may contain a chemical known to the State of California to cause cancer or birth defects or other reproductive harm.
Features:
Made with 6061 billet aluminum
Easily adjustable without disassembling
Hardened heim joint tie rod ends
3/4" diameter inner and outer tie rod threads
Stock length replacement
Tie rods backed by a lifetime warranty
VEHICLE FITMENT
64" Models
Can-Am Maverick X3 900 : 2018
Can-Am Maverick X3 Turbo : 2017-2020
Can-Am Maverick X3 Turbo R : 2018-2020
Can-Am Maverick X3 X DS Turbo R : 2017-2020
Can-Am Maverick X3 DS Turbo R : 2021
Can-Am Maverick X3 X DS Turbo RR : 2020-2021
Can-Am Maverick X3 X MR Turbo : 2018-2021
Can-Am Maverick X3 MAX Turbo : 2017-2020
Can-Am Maverick X3 MAX Turbo R : 2018-2020
Can-Am Maverick X3 MAX X DS Turbo : 2017-2019
Can-Am Maverick X3 MAX X DS Turbo R : 2020
Can-Am Maverick X3 MAX DS Turbo R : 2021
Can-Am Maverick X3 DS Turbo 64 : 2022+
Can-Am Maverick X3 DS Turbo RR 64 : 2022+
Can-Am Maverick X3 X DS Turbo RR 64 : 2022+
Can-Am Maverick X3 X RC Turbo RR 64 : 2022+
Can-Am Maverick X3 X MR Turbo RR 64 : 2022+
Can-Am Maverick X3 MAX DS Turbo 64 : 2022+
Can-Am Maverick X3 MAX DS Turbo RR 64 : 2022+
Can-Am Maverick X3 MAX X DS Turbo RR 64 : 2022+
72" Models
Can-Am Maverick X3 X RC Turbo : 2018-2021
Can-Am Maverick X3 X RC Turbo R : 2018-2020
Can-Am Maverick X3 X RC Turbo RR : 2020-2021
Can-Am Maverick X3 X RS Turbo R : 2017-2020
Can-Am Maverick X3 RS Turbo R : 2021
Can-Am Maverick X3 X RS Turbo RR : 2020-2021
Can-Am Maverick X3 X MR Turbo R : 2018-2019
Can-Am Maverick X3 X MR Turbo RR : 2020-2021
Can-Am Maverick X3 MAX X RS Turbo : 2017-2020
Can-Am Maverick X3 MAX X RS Turbo R : 2018-2020
Can-Am Maverick X3 MAX RS Turbo R : 2021
Can-Am Maverick X3 MAX X RS Turbo RR : 2020-2021
Can-Am Maverick X3 MAX X MR Turbo R : 2019-2021
Can-Am Maverick X3 MAX X MR Turbo RR : 2020-2021
Can-Am Maverick X3 MAX X DS Turbo RR : 2020-2021
Can-Am Maverick X3 RS Turbo RR 72 : 2022+
Can-Am Maverick X3 X RS Turbo RR 72 : 2022+
Can-Am Maverick X3 X RS Turbo RR w/ Smart-Shox 72 : 2022+
Can-Am Maverick X3 X RC Turbo RR 72 : 2022+
Can-Am Maverick X3 X MR Turbo RR 72 : 2022+
Can-Am Maverick X3 MAX RS Turbo RR 72 : 2022+
Can-Am Maverick X3 MAX X RS Turbo RR 72 : 2022+
Can-Am Maverick X3 MAX X RS Turbo RR w/ Smart-Shox 72 : 2022+
Can-Am Maverick X3 MAX X MR Turbo RR 72 : 2022+
INSTALLATION