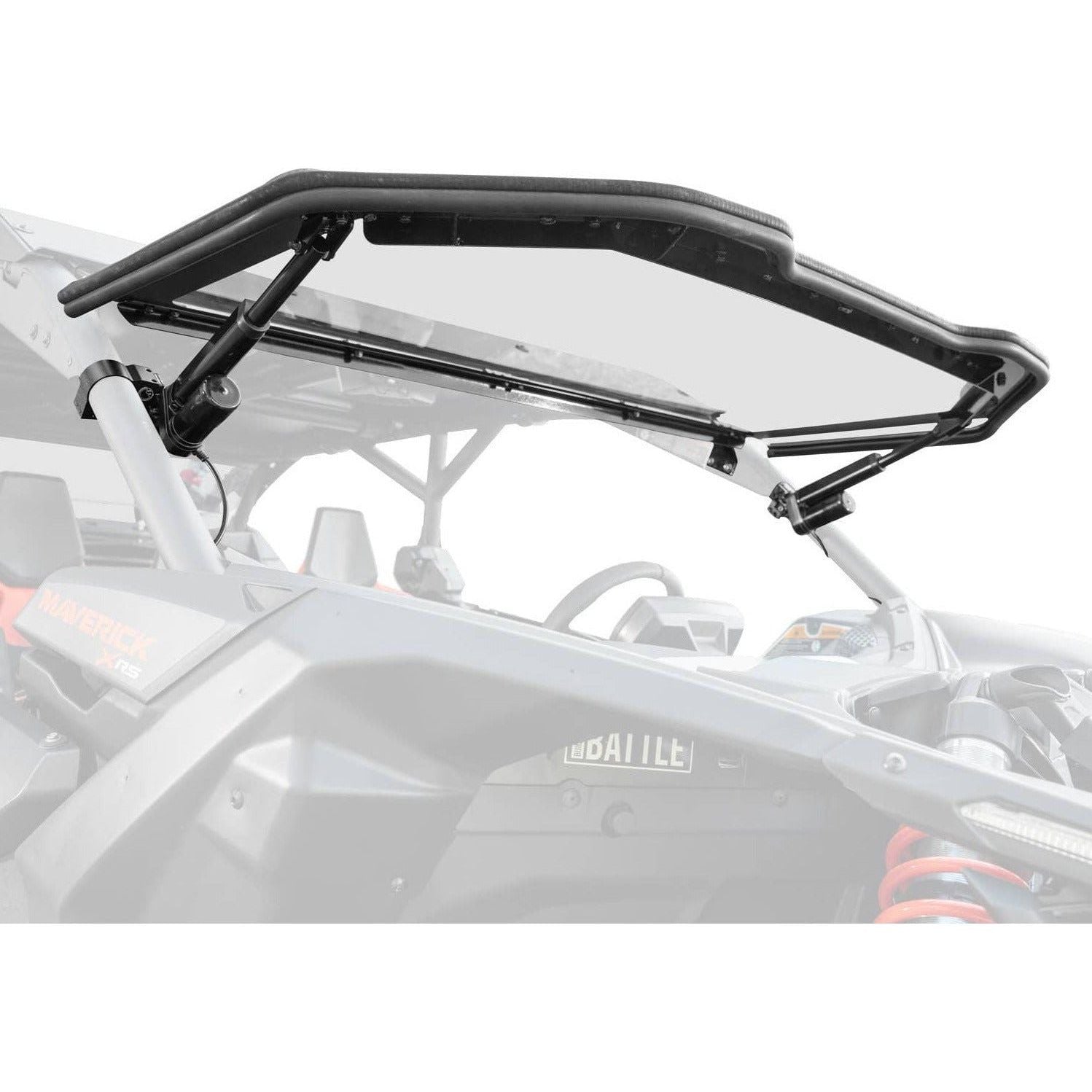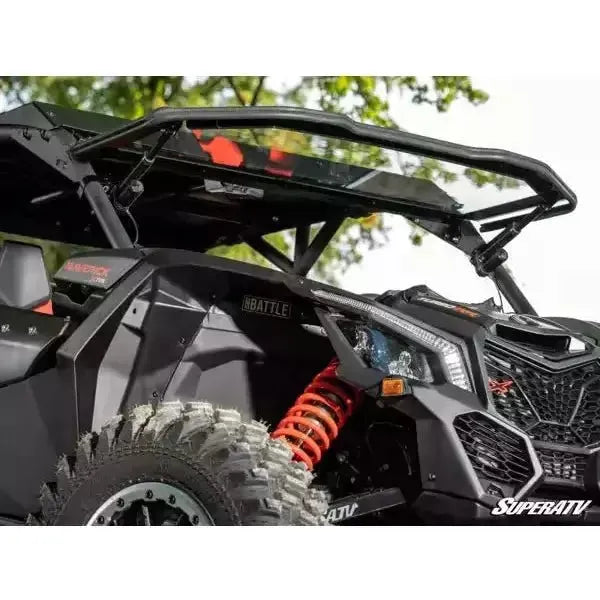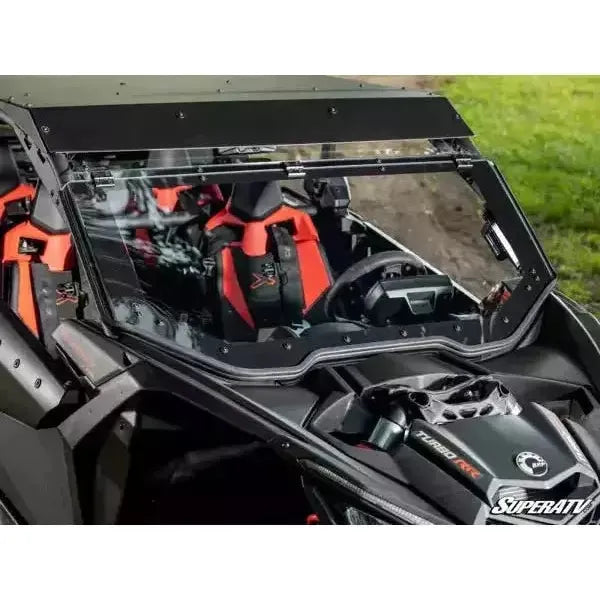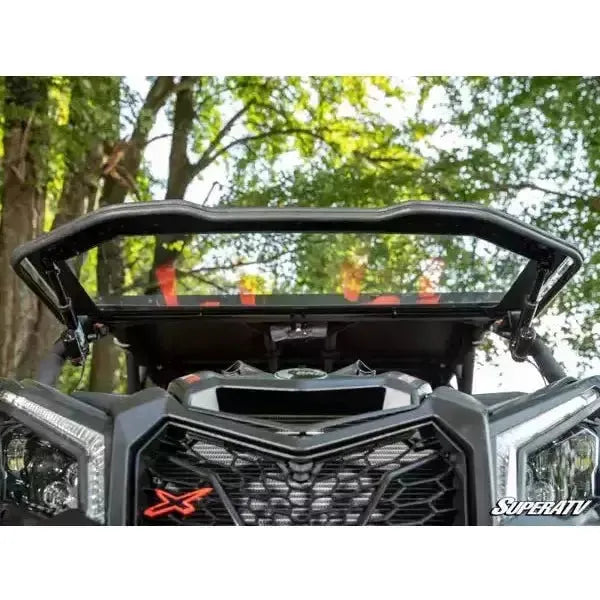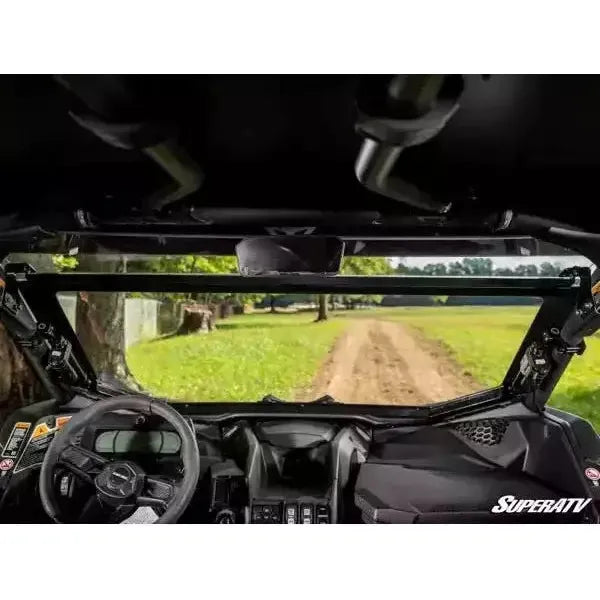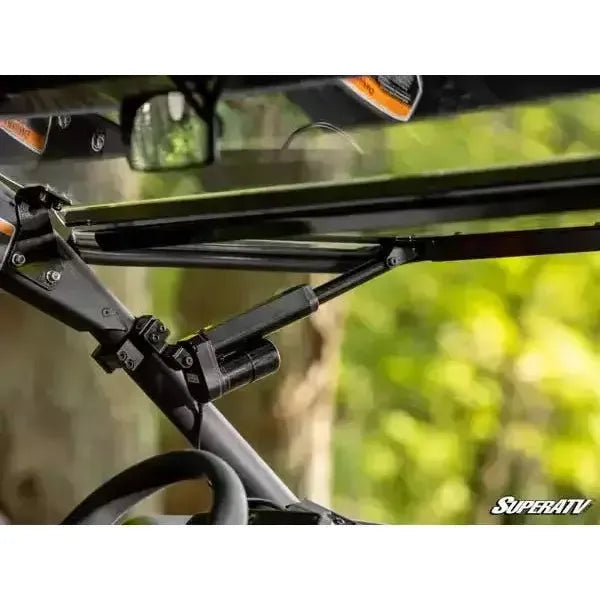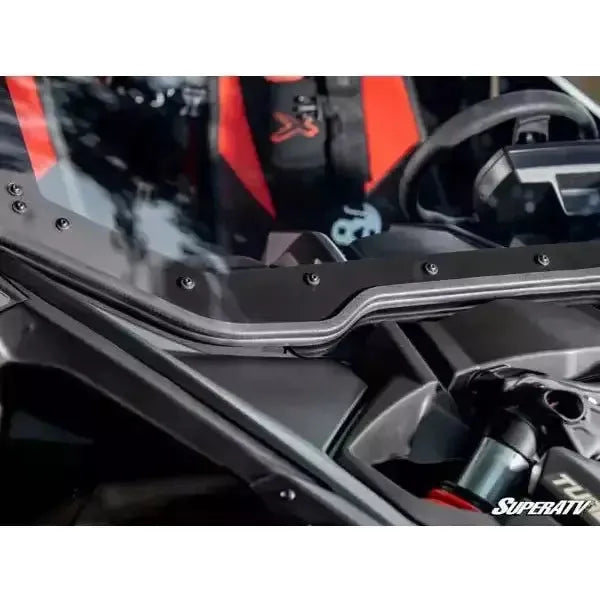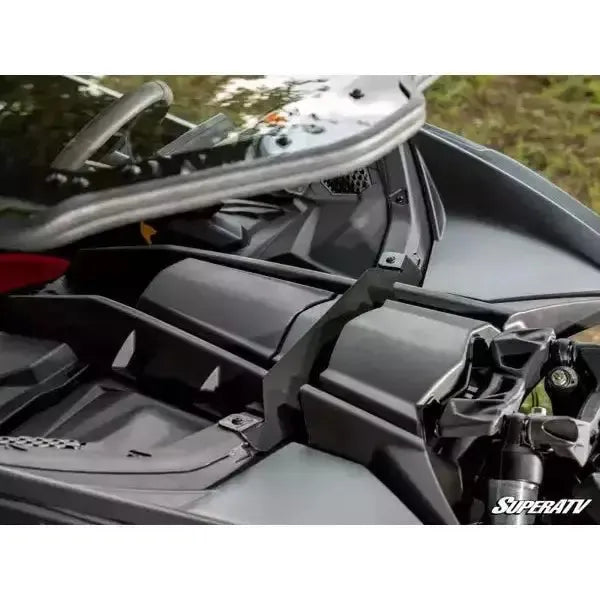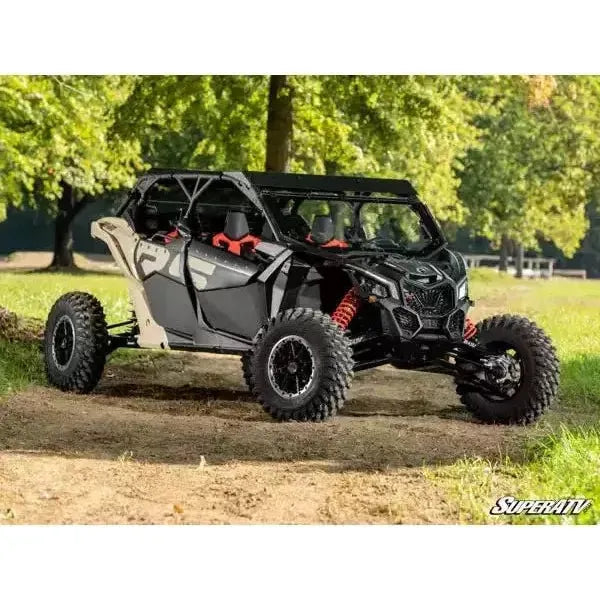 Can Am X3 MaxDrive Power Flip Windshield
Feel the Power!
When you're about to get pelted in the face by your buddy's rooster tail, nothing beats SuperATV's Powered Flip Windshield. It uses powerful electric cylinders so you can open and close it with the push of a button. Make on-the-fly adjustments to set it fully open, fully closed, or to limitless positions in between—even at full speed. You're in total control of your airflow, visibility, and protection. It takes zero effort to maximize your comfort.

Built Strong
We made this Can-Am powered flip windshield strong by ensuring that every last detail is built with the best parts. The actuators are built to hold the windshield in any position while you bounce down the trail. The polycarbonate is cut to fit your frame perfectly and clamps down securely for a rattle-free fit. Plus, we preassemble the brackets and hinges to make installation easy.

Made with 1/4" Polycarbonate
When you're flying fast on your Can-Am X3, you need a windshield that can take a hit or two. Our 1/4" polycarbonate is nearly indestructible. It's 250 times stronger than glass, making it the strongest windshield material you can get. Plus, with its automotive-style, screen printed border and black hardware it'll be the most functional (and best looking) windshield ever put on an X3.

XR Optic Hard Coating
When you take polycarbonate strength and pair it with our XR Optic Hard Coating, you get a windshield built for blazing a new trail. You get unmatched abrasion resistance and boosted UV protection on both sides of your windshield. You'll get years of clear riding without annoying haze.

Manufactured with Expertise
How do you know you're getting the best of the best? SuperATV has been designing, manufacturing, and shipping UTV windshields for years. No one else has the experience we do. Don't take our word for it—with hundreds of thousands out on the trail, there are plenty of satisfied off-roaders like you to ask.


WARNING: This product can impact machine operation. Customer and/or user is responsible for ensuring that this product is compatible with their machine as currently configured, properly installed, and understands any impact this product has or might have on the machine's operation.

⚠ California Proposition 65 Warning ⚠
WARNING: This product may contain a chemical known to the State of California to cause cancer or birth defects or other reproductive harm.
Features:
Flips open with dash-rocker-controlled electronic actuators
Can be opened to any position for full airflow control
Made of 1/4" polycarbonate—250x stronger than glass and 25x stronger than acrylic
Utilizes our proprietary XR Optic Hard Coating
Fits the contours of your cage and hood perfectly
Comes partially preassembled for easy installation
Can be used with soft or hard tops
Made in the USA
VEHICLE FITMENT
Can-Am Maverick X3 900 : 2018
Can-Am Maverick X3 Turbo : 2017-2020
Can-Am Maverick X3 Turbo R : 2018-2020
Can-Am Maverick X3 X DS Turbo R : 2017-2020
Can-Am Maverick X3 DS Turbo R : 2021
Can-Am Maverick X3 X DS Turbo RR : 2020-2021
Can-Am Maverick X3 X MR Turbo : 2018-2021
Can-Am Maverick X3 MAX Turbo : 2017-2020
Can-Am Maverick X3 MAX Turbo R : 2018-2020
Can-Am Maverick X3 MAX X DS Turbo : 2017-2019
Can-Am Maverick X3 MAX X DS Turbo R : 2020
Can-Am Maverick X3 MAX DS Turbo R : 2021
Can-Am Maverick X3 DS Turbo 64 : 2022+
Can-Am Maverick X3 DS Turbo RR 64 : 2022+
Can-Am Maverick X3 X DS Turbo RR 64 : 2022+
Can-Am Maverick X3 X RC Turbo RR 64 : 2022+
Can-Am Maverick X3 X MR Turbo RR 64 : 2022+
Can-Am Maverick X3 MAX DS Turbo 64 : 2022+
Can-Am Maverick X3 MAX DS Turbo RR 64 : 2022+
Can-Am Maverick X3 MAX X DS Turbo RR 64 : 2022+
Can-Am Maverick X3 X RC Turbo : 2018-2021
Can-Am Maverick X3 X RC Turbo R : 2018-2020
Can-Am Maverick X3 X RC Turbo RR : 2020-2021
Can-Am Maverick X3 X RS Turbo R : 2017-2020
Can-Am Maverick X3 RS Turbo R : 2021
Can-Am Maverick X3 X RS Turbo RR : 2020-2021
Can-Am Maverick X3 X MR Turbo R : 2018-2019
Can-Am Maverick X3 X MR Turbo RR : 2020-2021
Can-Am Maverick X3 MAX X RS Turbo : 2017-2020
Can-Am Maverick X3 MAX X RS Turbo R : 2018-2020
Can-Am Maverick X3 MAX RS Turbo R : 2021
Can-Am Maverick X3 MAX X RS Turbo RR : 2020-2021
Can-Am Maverick X3 MAX X MR Turbo R : 2019-2021
Can-Am Maverick X3 MAX X MR Turbo RR : 2020-2021
Can-Am Maverick X3 MAX X DS Turbo RR : 2020-2021
Can-Am Maverick X3 RS Turbo RR 72 : 2022+
Can-Am Maverick X3 X RS Turbo RR 72 : 2022+
Can-Am Maverick X3 X RS Turbo RR w/ Smart-Shox 72 : 2022+
Can-Am Maverick X3 X RC Turbo RR 72 : 2022+
Can-Am Maverick X3 X MR Turbo RR 72 : 2022+
Can-Am Maverick X3 MAX RS Turbo RR 72 : 2022+
Can-Am Maverick X3 MAX X RS Turbo RR 72 : 2022+
Can-Am Maverick X3 MAX X RS Turbo RR w/ Smart-Shox 72 : 2022+
Can-Am Maverick X3 MAX X MR Turbo RR 72 : 2022+
INSTALLATION