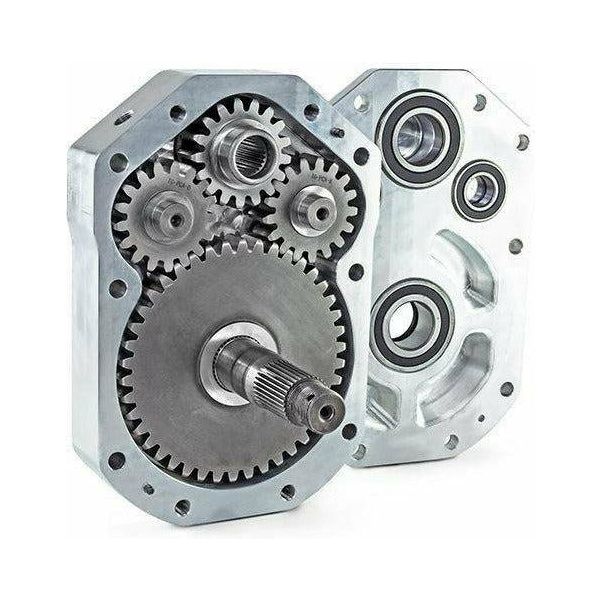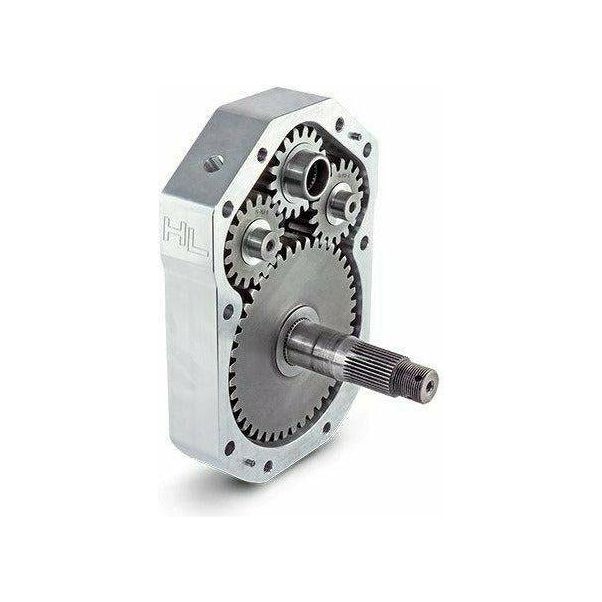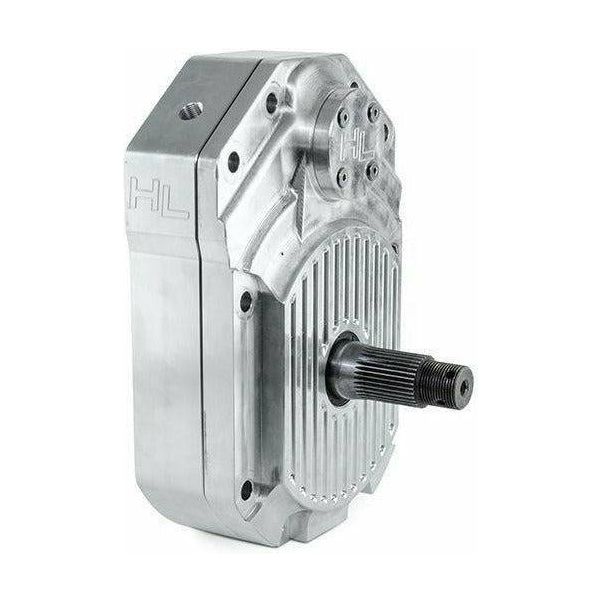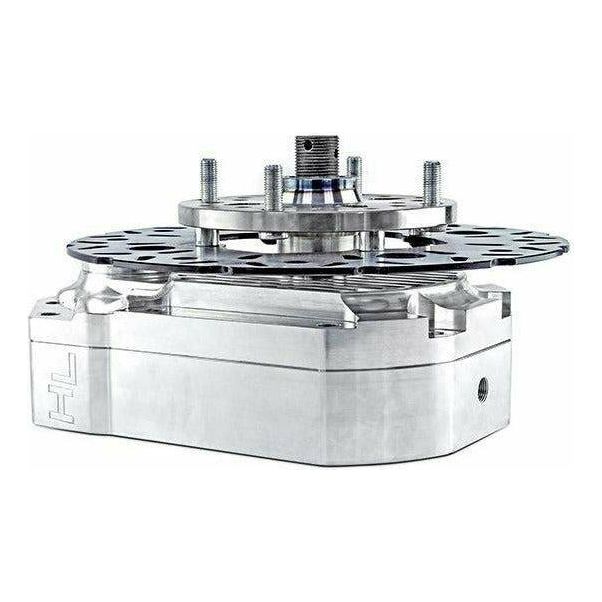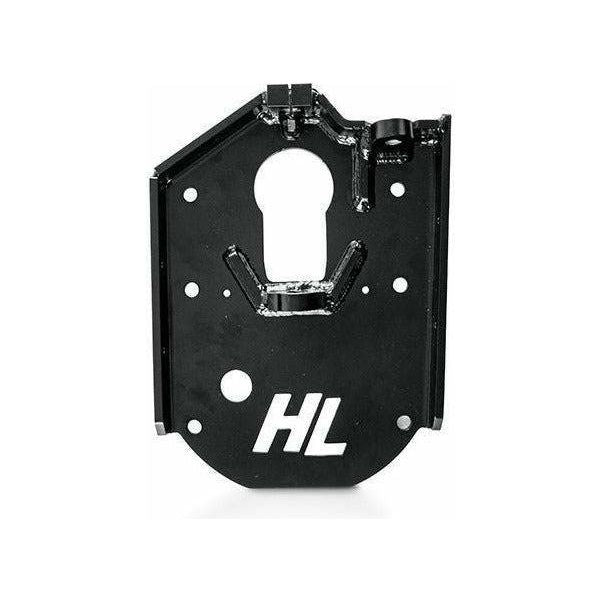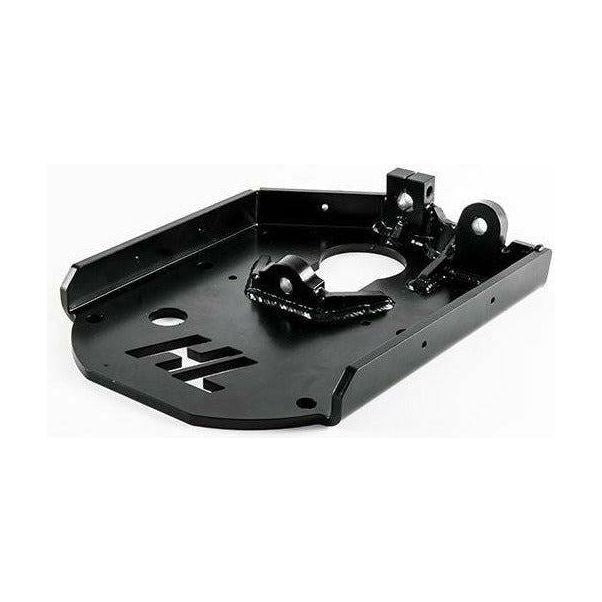 Can Am X3 MAX 6" Portal Gear Lift 60% Dual Idler
What are the Dual Idlers with 60% Reduction Kit? High Lifter has engineered is a gearing setup that allows us to place two idler gears in the portal gear box. Our competitor only has a single gear option with their greatest reduction at 45%. The dual idler gears spread the load between twice as many teeth on the gears, which doubles the area and reduces stress by half allowing more abuse. Like any other portal kit there will be a reduction in top speed when running the 6" Dual 60% gears. This kit is for riders who are looking for torque and power. The dual 60% is perfect for the hardcore mud rider that wants to hit the holes hard and come out on the other side!
Why is this 6" kit better than our competitor?
Forged Gear Boxes
Strongest boxes on the market because forging produces a tougher piece of metal
Forging is stronger than both cast and billet aluminum
Competitors use cast aluminum and billet aluminum boxes
These portal boxes are extremely robust and give you more worry-free miles than any other portal
Gear Box Venting
Customers asked for box venting and we give you the option
Our box design offers a plug for venting with an optional easy to install kit that will be available soon
Vent kits allow an advantage of cooling which reduces early deterioration of the gaskets and seals
Gasket Material and Design
High density Kevlar fiber gaskets plus no additional sealant is needed
Gasket material is creep resistant plus oil and coolant resistant
Seals
Two oil seals on the spindle shaft for 100% more sealing area
Dual seals prevent water intrusion and oil leaks
True triple seal on the input shaft which includes a wiper seal that provides a significant extra layer of protection
Backing Plate
These are the strongest backing plates on the market
5/16" steel plate with Bent flanges for strength and durability
Welded gusset brackets and designed to factory off-set
Works with all control arms that are built to factory hub specifications
13" Rotor
Precision ground stainless steel rotors (this is a big deal for brake performance)
Access holes for ease of assembly and disassembly
Slotted rotor allows for heat dissipation and cooling
Gear Profile
Alloy steel heat treating process increases overall internal and external strength
CNC precision ground machining ensures excellent fitment and increased strength
Controlled gear lapping for ease of installation and a quieter performance
VEHICLE FITMENT
2022 Can-Am Maverick X3 MAX XRS Turbo RR Smart Shox
2022 Can-Am Maverick X3 MAX DS Turbo 64

2022 Can-Am Maverick X3 MAX DS Turbo RR 64

2022 Can-Am Maverick X3 MAX XDS Turbo RR 64

2022 Can-Am Maverick X3 MAX RS Turbo RR 72

2022 Can-Am Maverick X3 MAX XRS Turbo RR 72

2022 Can-Am Maverick X3 MAX XMR Turbo RR 72

2017 Can-Am Maverick X3 MAX STD

2017 Can-Am Maverick X3 MAX XDS

2017 Can-Am Maverick X3 MAX XRS

2018 Can-Am Maverick X3 Turbo MAX

2018 Can-Am Maverick X3 Turbo R MAX

2018 Can-Am Maverick X3 Turbo R MAX XDS

2018 Can-Am Maverick X3 Turbo R MAX XRS
2019 Can-Am Maverick X3 Turbo MAX

2019 Can-Am Maverick X3 Turbo R MAX

2019 Can-Am Maverick X3 Turbo R MAX XDS

2019 Can-Am Maverick X3 Turbo R MAX XRS
2020 Can-Am Maverick X3 Turbo MAX

2020 Can-Am Maverick X3 Turbo R MAX XDS

2020 Can-Am Maverick X3 Turbo R MAX XRS

2020 Can-Am Maverick X3 Turbo RR MAX XDS

2020 Can-Am Maverick X3 Turbo RR MAX XRS

2020 Can-Am Maverick X3 Turbo RR MAX XMR

2020 Can-Am Maverick X3 Turbo R MAX
2021 Can-Am Maverick X3 Turbo MAX DS

2021 Can-Am Maverick X3 Turbo MAX R DS

2021 Can-Am Maverick X3 Turbo MAX R RS

2021 Can-Am Maverick X3 Turbo MAX RR XDS

2021 Can-Am Maverick X3 Turbo MAX RR XRS

2021 Can-Am Maverick X3 Turbo MAX RR XRS Smart-Shox

2021 Can-Am Maverick X3 Turbo MAX RR XMR
INSTALLATION