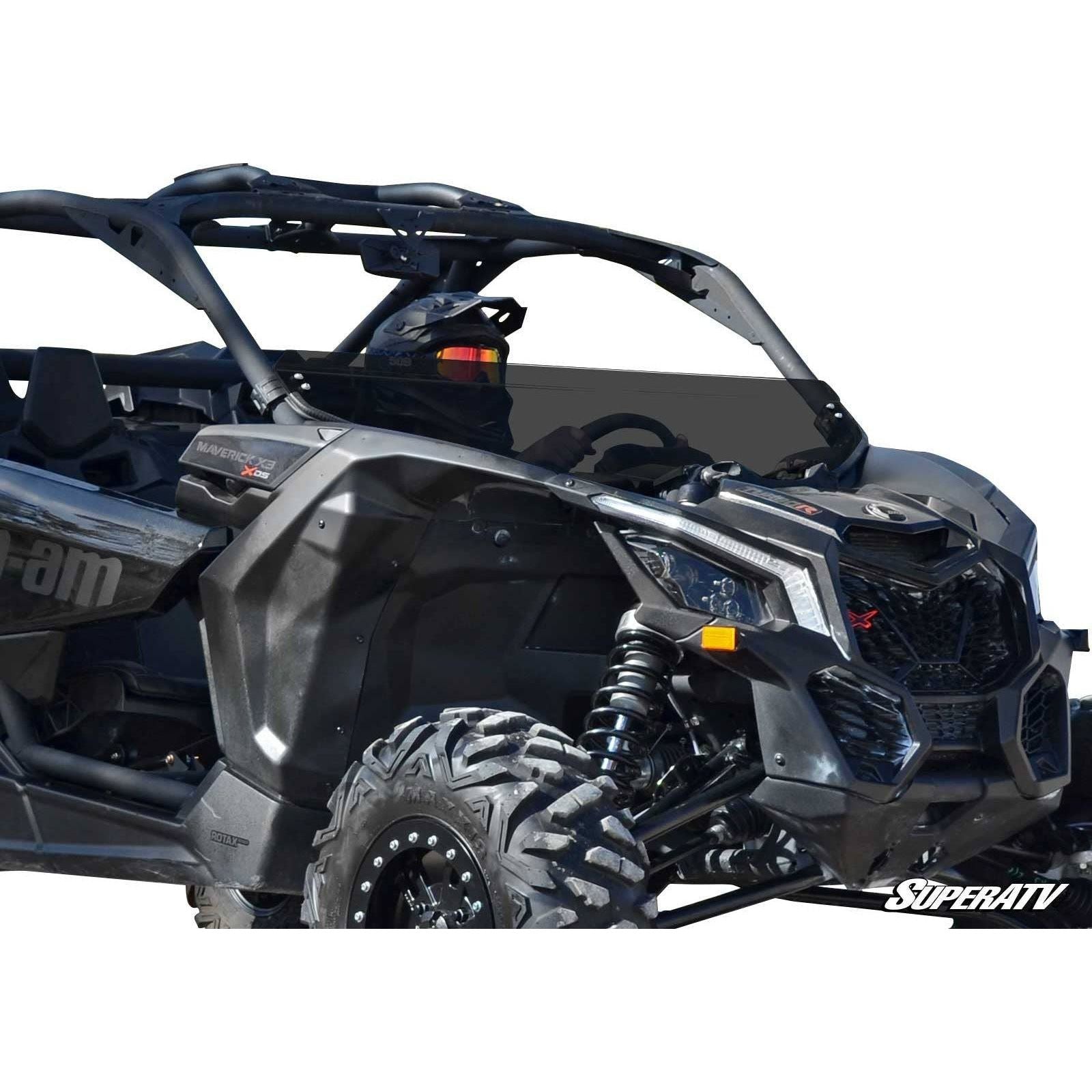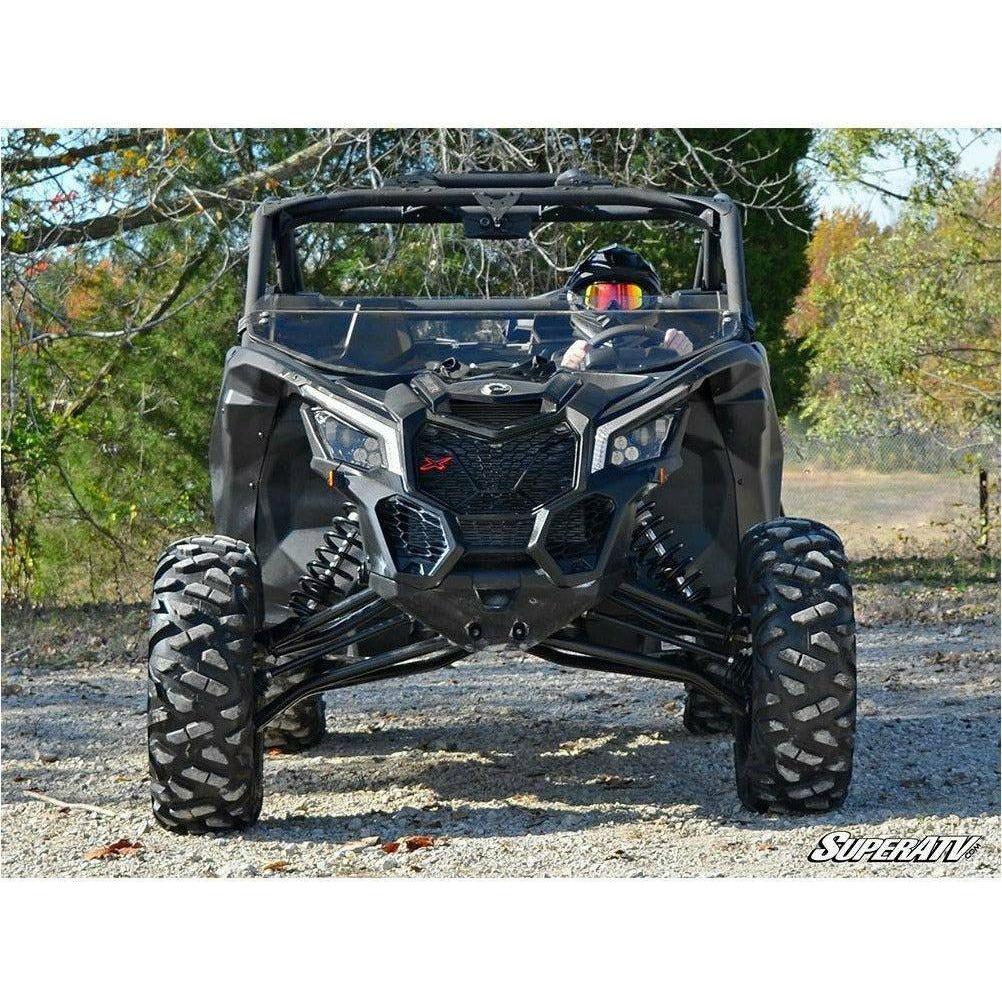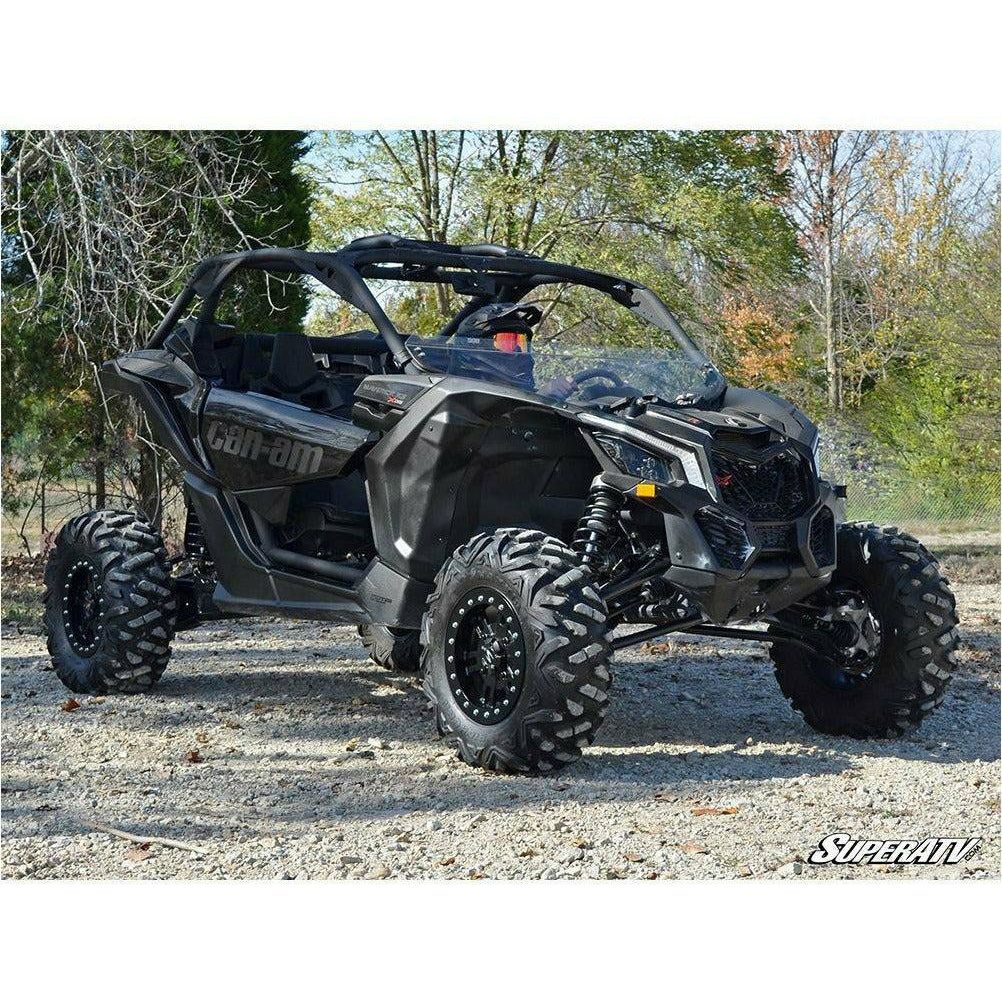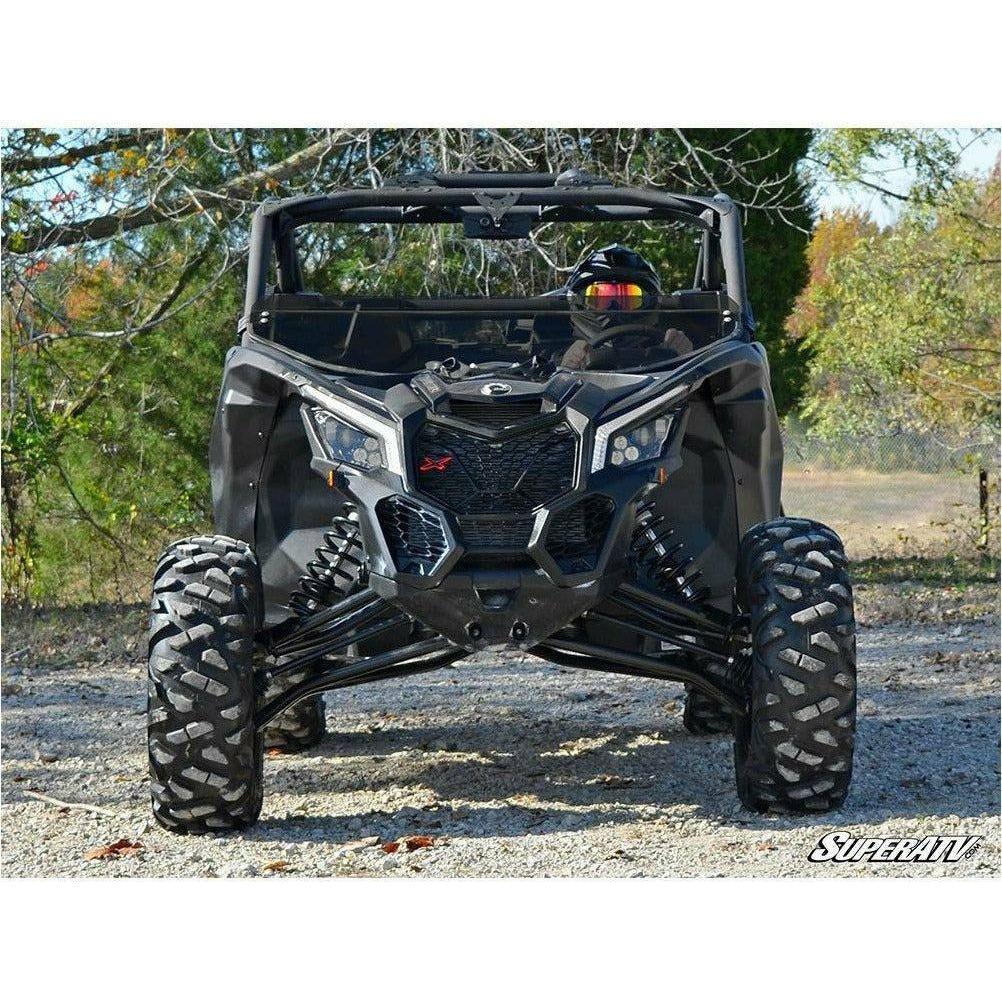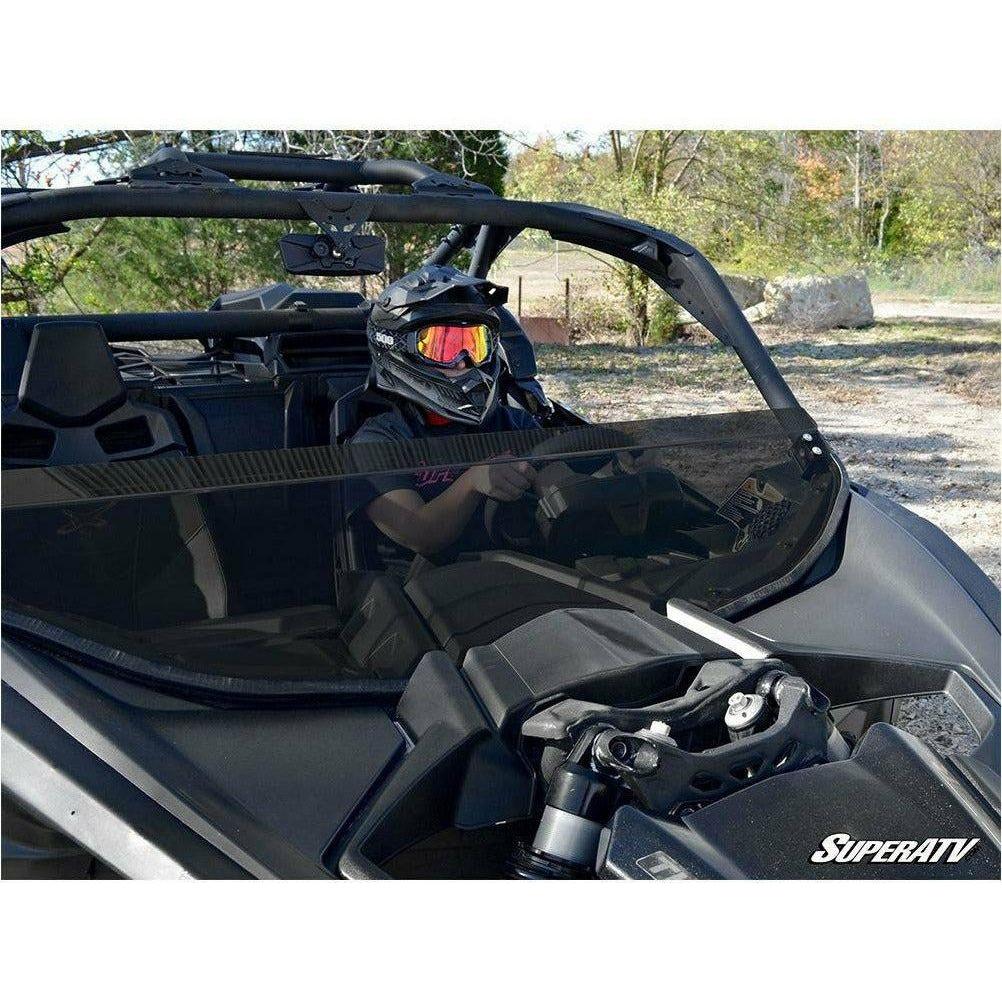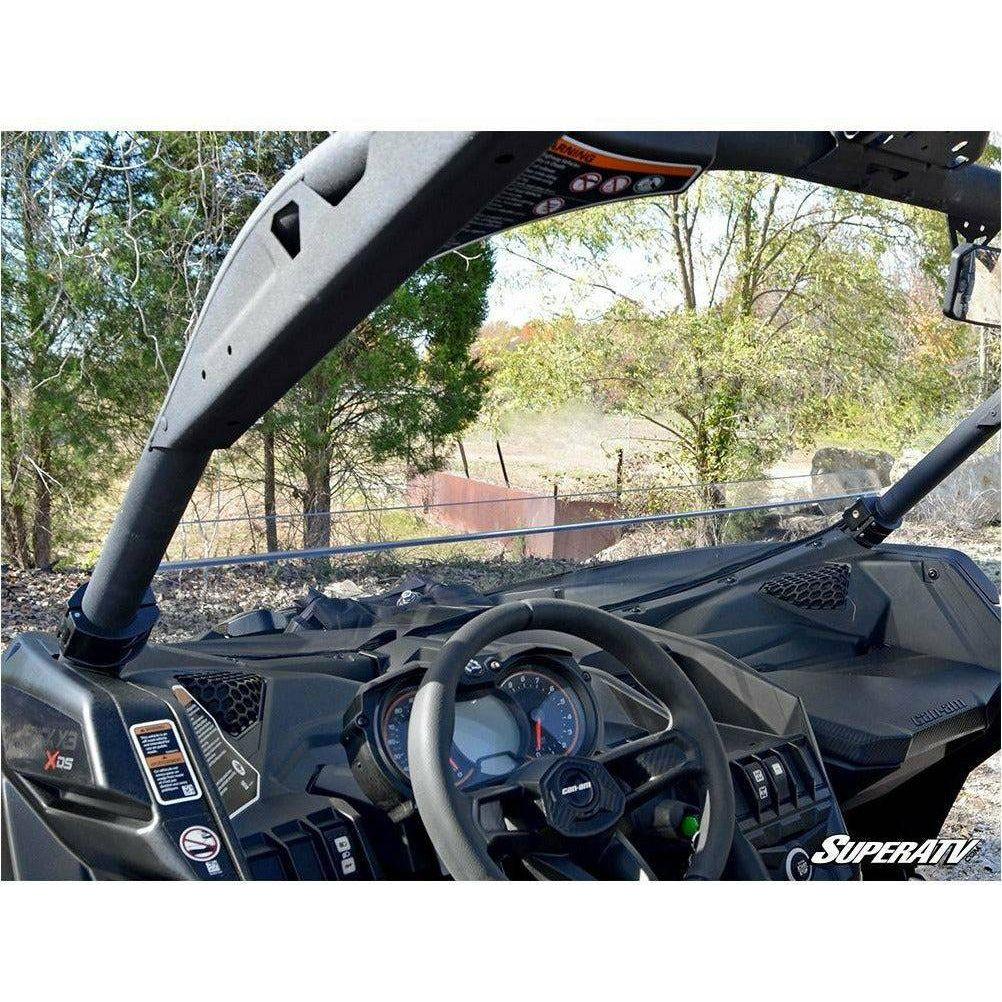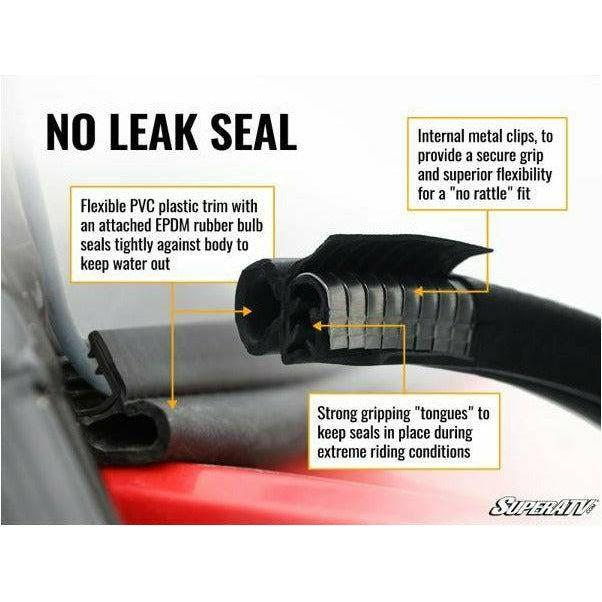 Can Am X3 Half Windshield
Why We Make It
Help protect you and your passenger from sticks and other flying debris while blazing the trail with a SuperATV windshield - the best off-road windshield on the market. With many protection and tint options to choose from, each windshield is a super tough polycarbonate construction with a bottom seal that's contoured to your ride's design. Our tinted and non-tinted, 1/4" hard coated abrasive resistant material is much stronger than your average UTV windshield.

We've beefed up the scratch resistant options by hard coating this style windshield on both sides for years of use. If you don't need the extra protection, we also offer a non-scratch resistant option with a dark tint.

Scratch Resistant Polycarbonate
Our windshield is made with 1/4" hard coated polycarbonate. It's 250 times stronger than glass (aka indestructible) and it's nearly as abrasion resistant as glass. This windshield can take hits from rocks, bushes, branches, and your angry neighbor without scratching or scuffing.

Standard Polycarbonate
Our windshield is available as a non-hard coated standard polycarbonate as well. This 1/4" polycarbonate is still unbreakable and will stop anything from getting into the cab. It's perfect for keeping out the elements for a casual rider.

All SuperATV windshields come complete with hardware and instructions needed to make installation a breeze. Proudly manufactured in our facility in Madison, Indiana.


WARNING: This product can impact machine operation. Customer and/or user is responsible for ensuring that this product is compatible with their machine as currently configured, properly installed, and understands any impact this product has or might have on the machine's operation.

⚠ California Proposition 65 Warning ⚠
WARNING: This product may contain a chemical known to the State of California to cause cancer or birth defects or other reproductive harm.
Features:
Available Styles

Clear standard (not scratch resistant)
Clear scratch resistant
Dark tint standard (not scratch resistant)

1/4" hard coated abrasive resistant material available with and without tint
Scratch-resistant windshields are hard coated on both sides for extreme durability
Protects against chemical and UV attack
Contoured to hood with full length rubber seal for a great fit
Easy to install - comes with all necessary hardware and instructions
Half windshield height: 14"
VEHICLE FITMENT
64" Models
Can-Am Maverick X3 900 : 2018
Can-Am Maverick X3 Turbo : 2017-2020
Can-Am Maverick X3 Turbo R : 2018-2020
Can-Am Maverick X3 X DS Turbo R : 2017-2020
Can-Am Maverick X3 DS Turbo R : 2021
Can-Am Maverick X3 X DS Turbo RR : 2020-2021
Can-Am Maverick X3 X MR Turbo : 2018-2021
Can-Am Maverick X3 MAX Turbo : 2017-2020
Can-Am Maverick X3 MAX Turbo R : 2018-2020
Can-Am Maverick X3 MAX X DS Turbo : 2017-2019
Can-Am Maverick X3 MAX X DS Turbo R : 2020
Can-Am Maverick X3 MAX DS Turbo R : 2021
Can-Am Maverick X3 DS Turbo 64 : 2022+
Can-Am Maverick X3 DS Turbo RR 64 : 2022+
Can-Am Maverick X3 X DS Turbo RR 64 : 2022+
Can-Am Maverick X3 X RC Turbo RR 64 : 2022+
Can-Am Maverick X3 X MR Turbo RR 64 : 2022+
Can-Am Maverick X3 MAX DS Turbo 64 : 2022+
Can-Am Maverick X3 MAX DS Turbo RR 64 : 2022+
Can-Am Maverick X3 MAX X DS Turbo RR 64 : 2022+
72" Models
Can-Am Maverick X3 X RC Turbo : 2018-2021
Can-Am Maverick X3 X RC Turbo R : 2018-2020
Can-Am Maverick X3 X RC Turbo RR : 2020-2021
Can-Am Maverick X3 X RS Turbo R : 2017-2020
Can-Am Maverick X3 RS Turbo R : 2021
Can-Am Maverick X3 X RS Turbo RR : 2020-2021
Can-Am Maverick X3 X MR Turbo R : 2018-2019
Can-Am Maverick X3 X MR Turbo RR : 2020-2021
Can-Am Maverick X3 MAX X RS Turbo : 2017-2020
Can-Am Maverick X3 MAX X RS Turbo R : 2018-2020
Can-Am Maverick X3 MAX RS Turbo R : 2021
Can-Am Maverick X3 MAX X RS Turbo RR : 2020-2021
Can-Am Maverick X3 MAX X MR Turbo R : 2019-2021
Can-Am Maverick X3 MAX X MR Turbo RR : 2020-2021
Can-Am Maverick X3 MAX X DS Turbo RR : 2020-2021
Can-Am Maverick X3 RS Turbo RR 72 : 2022+
Can-Am Maverick X3 X RS Turbo RR 72 : 2022+
Can-Am Maverick X3 X RS Turbo RR w/ Smart-Shox 72 : 2022+
Can-Am Maverick X3 X RC Turbo RR 72 : 2022+
Can-Am Maverick X3 X MR Turbo RR 72 : 2022+
Can-Am Maverick X3 MAX RS Turbo RR 72 : 2022+
Can-Am Maverick X3 MAX X RS Turbo RR 72 : 2022+
Can-Am Maverick X3 MAX X RS Turbo RR w/ Smart-Shox 72 : 2022+
Can-Am Maverick X3 MAX X MR Turbo RR 72 : 2022+
NOTE: Will NOT work with OEM or aftermarket intrusion bars
INSTALLATION