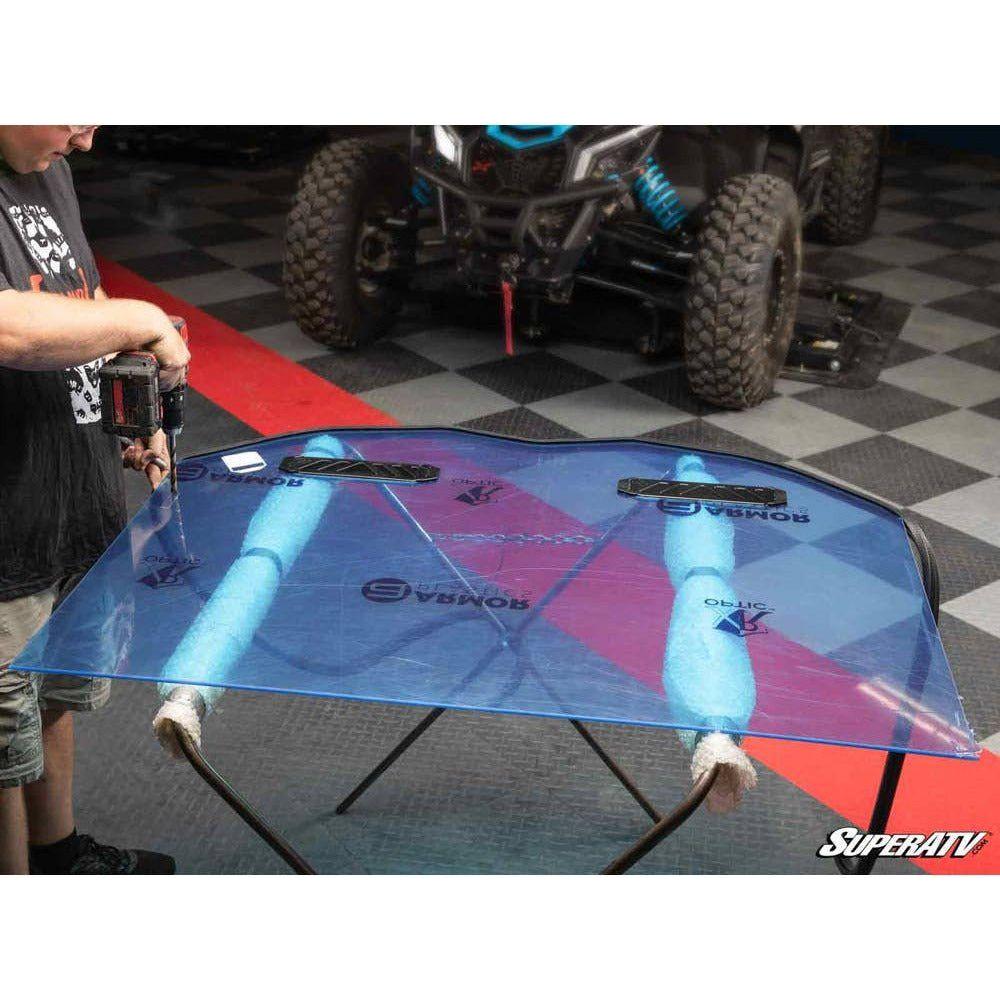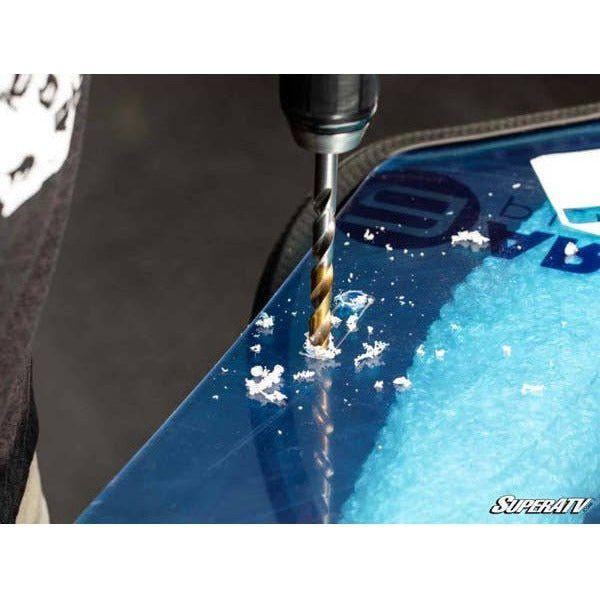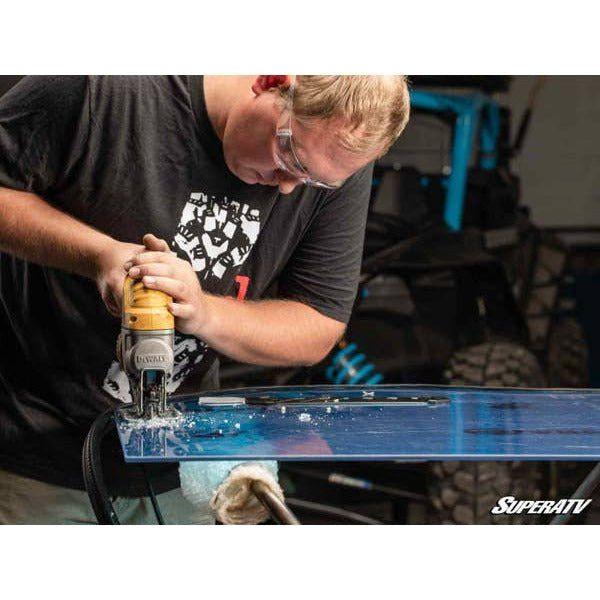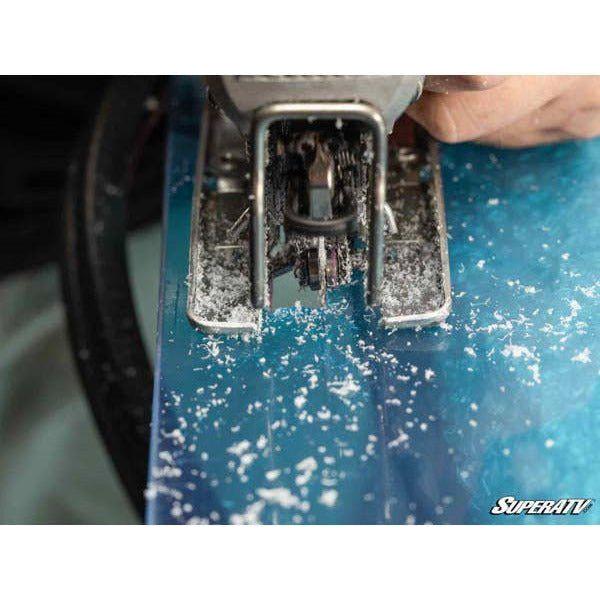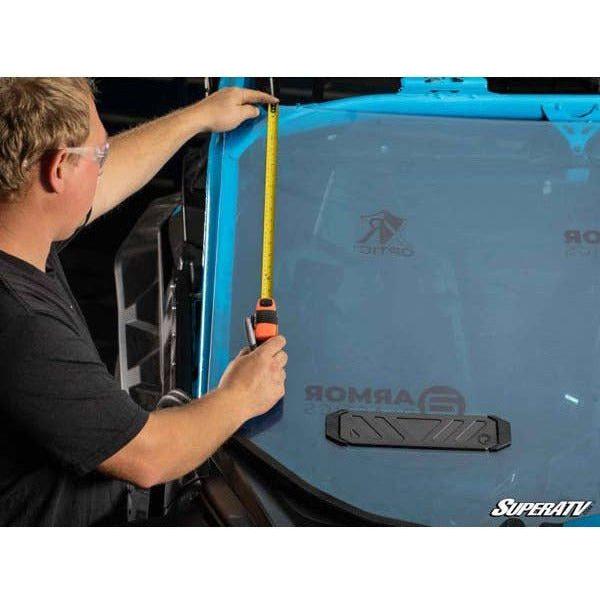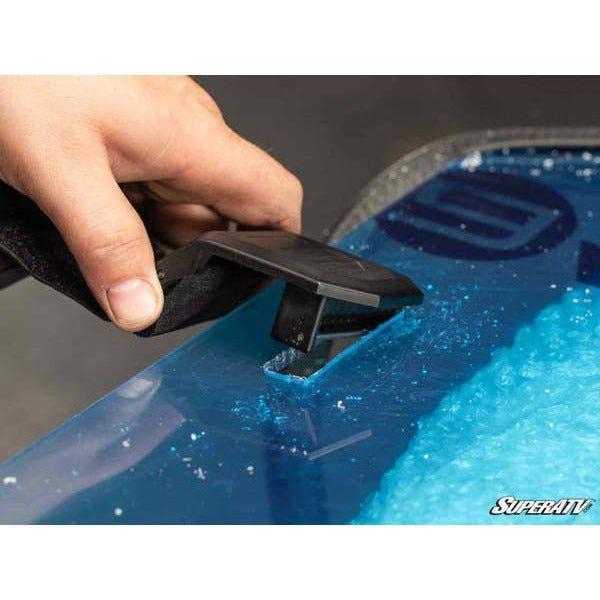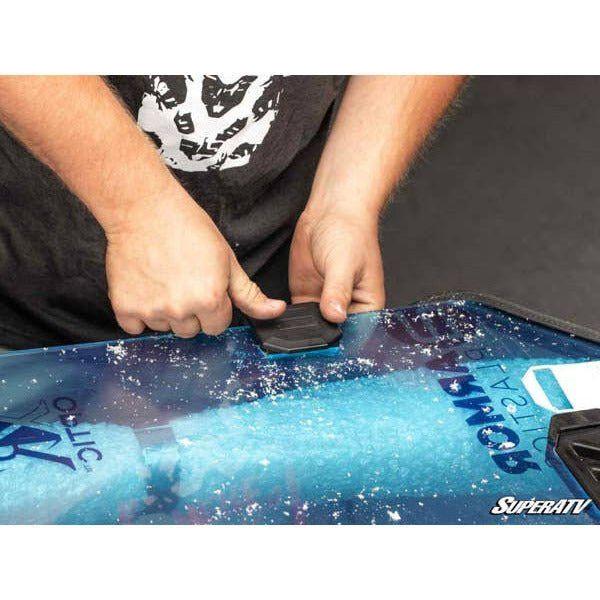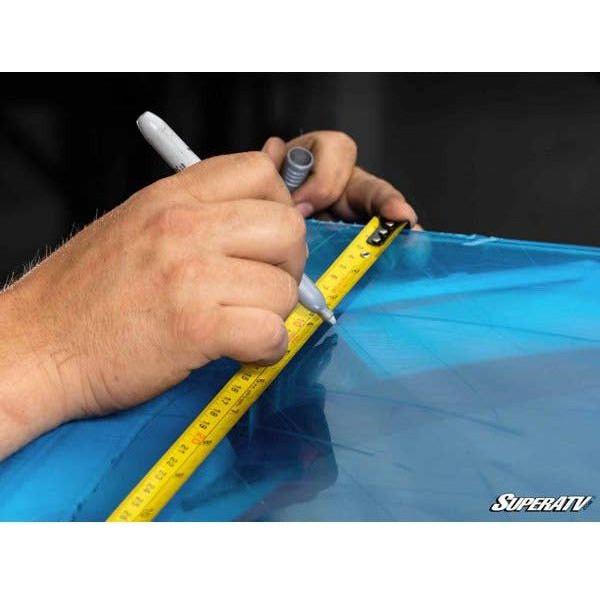 Can Am X3 Custom Cage Windshield Kit
We've Got a Windshield for Your Custom Cage
Chopping your Maverick X3's cage for a lower center of gravity is understandable. But what doesn't make sense is putting all the work in, and not being able to ride year-round because of the weather. Install SuperATV's Can-Am Maverick X3 Custom Cage Windshield Kit to your machine. It comes with a windshield that contours to your hood and fits the width of your stock machine. You can easily modify its height by cutting it to fit your custom cage. Our small hardware kit secures it to your rig. And our BreezeRite vents give you total control of your cab's airflow. It's a great fit if you're looking to ride year-round.

Heavy-Duty Parts
Don't confuse these small parts for weakness, because they are the backbone to this windshield. Our heavy-duty clamps allow you to match and secure your windshield to your custom cage. And our superior rubber bulb seal will keep the moisture and dust from intruding into your cab. With our clamps and rubber seal combined, you get a rattle-free ride you'll love.

Cool Down with BreezeRite Vents
You can have total control of your cab's comfort with our BreezeRite vents. They're injection molded and designed to be fully closed, half open, or fully open. They can be easily adjusted from your seat and are tough enough to stay in the position you set them to. So take on an extra trail before you head home knowing you have total control over your cab's comfort.

Super-Strength Material
We use 1/4" polycarbonate on this Maverick X3 vented windshield because it's the strongest side-by-side windshield material, and it's exactly what you need for protection. It's 250 times stronger than glass and 25 times stronger than acrylic making it resistant to rocks and low hanging branches. Plus, we've added our XR Optic Hard Coating on both sides for superior scratch resistance.

NOTE: Make sure to wear protective gear and follow all safety protocols when cutting this windshield.

WARNING: This product can impact machine operation. Customer and/or user is responsible for ensuring that this product is compatible with their machine as currently configured, properly installed, and understands any impact this product has or might have on the machine's operation.

⚠ California Proposition 65 Warning ⚠
WARNING: This product may contain a chemical known to the State of California to cause cancer or birth defects or other reproductive harm.
Features:
35" (H) X 49" (W)
Protects against debris and the elements
Made of 1/4" polycarbonate—250x stronger than glass and 25x stronger than acrylic
Innovative injection-molded BreezeRite vents give you three vent positions
Utilizes our proprietary XR Optic Hard Coating for unmatched scratch resistance
Can be modified to fit your custom cage
Fits the contours of your hood perfectly
Comes complete with all hardware
Made in the USA
VEHICLE FITMENT
64" Models
Can-Am Maverick X3 900 : 2018
Can-Am Maverick X3 Turbo : 2017-2020
Can-Am Maverick X3 Turbo R : 2018-2020
Can-Am Maverick X3 X DS Turbo R : 2017-2020
Can-Am Maverick X3 DS Turbo R : 2021
Can-Am Maverick X3 X DS Turbo RR : 2020-2021
Can-Am Maverick X3 X MR Turbo : 2018-2021
Can-Am Maverick X3 MAX Turbo : 2017-2020
Can-Am Maverick X3 MAX Turbo R : 2018-2020
Can-Am Maverick X3 MAX X DS Turbo : 2017-2019
Can-Am Maverick X3 MAX X DS Turbo R : 2020
Can-Am Maverick X3 MAX DS Turbo R : 2021
Can-Am Maverick X3 DS Turbo 64 : 2022+
Can-Am Maverick X3 DS Turbo RR 64 : 2022+
Can-Am Maverick X3 X DS Turbo RR 64 : 2022+
Can-Am Maverick X3 X RC Turbo RR 64 : 2022+
Can-Am Maverick X3 X MR Turbo RR 64 : 2022+
Can-Am Maverick X3 MAX DS Turbo 64 : 2022+
Can-Am Maverick X3 MAX DS Turbo RR 64 : 2022+
Can-Am Maverick X3 MAX X DS Turbo RR 64 : 2022+
72" Models
Can-Am Maverick X3 X RC Turbo : 2018-2021
Can-Am Maverick X3 X RC Turbo R : 2018-2020
Can-Am Maverick X3 X RC Turbo RR : 2020-2021
Can-Am Maverick X3 X RS Turbo R : 2017-2020
Can-Am Maverick X3 RS Turbo R : 2021
Can-Am Maverick X3 X RS Turbo RR : 2020-2021
Can-Am Maverick X3 X MR Turbo R : 2018-2019
Can-Am Maverick X3 X MR Turbo RR : 2020-2021
Can-Am Maverick X3 MAX X RS Turbo : 2017-2020
Can-Am Maverick X3 MAX X RS Turbo R : 2018-2020
Can-Am Maverick X3 MAX RS Turbo R : 2021
Can-Am Maverick X3 MAX X RS Turbo RR : 2020-2021
Can-Am Maverick X3 MAX X MR Turbo R : 2019-2021
Can-Am Maverick X3 MAX X MR Turbo RR : 2020-2021
Can-Am Maverick X3 MAX X DS Turbo RR : 2020-2021
Can-Am Maverick X3 RS Turbo RR 72 : 2022+
Can-Am Maverick X3 X RS Turbo RR 72 : 2022+
Can-Am Maverick X3 X RS Turbo RR w/ Smart-Shox 72 : 2022+
Can-Am Maverick X3 X RC Turbo RR 72 : 2022+
Can-Am Maverick X3 X MR Turbo RR 72 : 2022+
Can-Am Maverick X3 MAX RS Turbo RR 72 : 2022+
Can-Am Maverick X3 MAX X RS Turbo RR 72 : 2022+
Can-Am Maverick X3 MAX X RS Turbo RR w/ Smart-Shox 72 : 2022+
Can-Am Maverick X3 MAX X MR Turbo RR 72 : 2022+
INSTALLATION