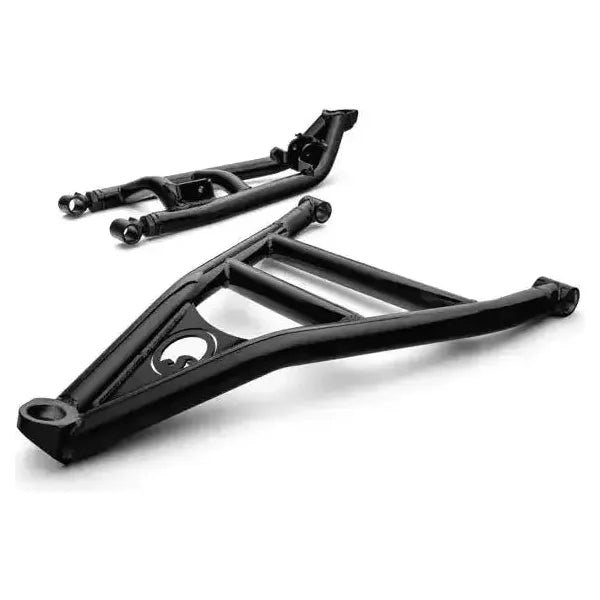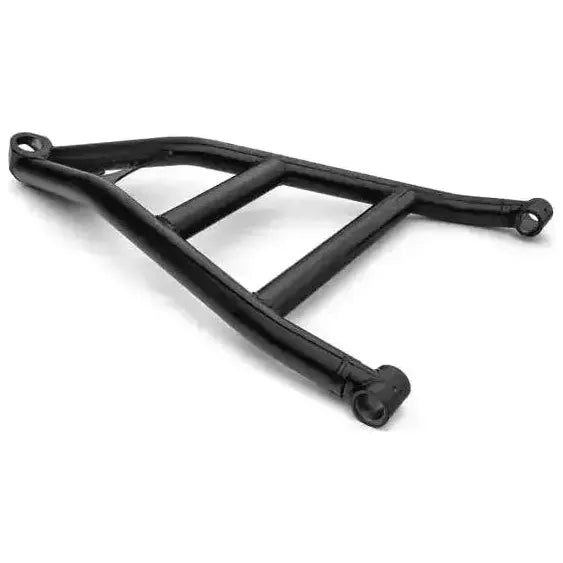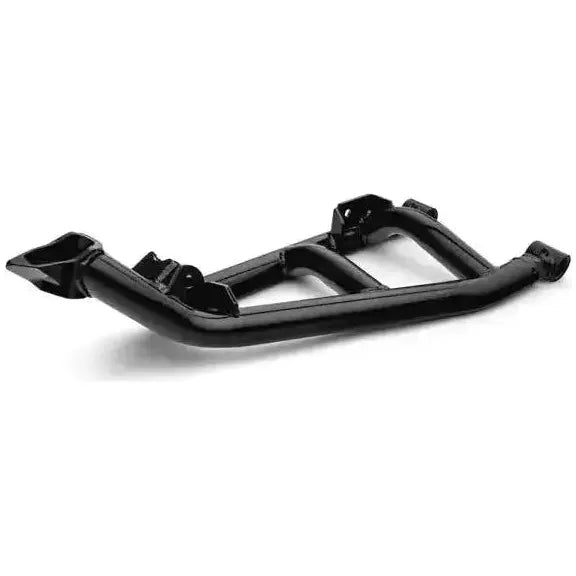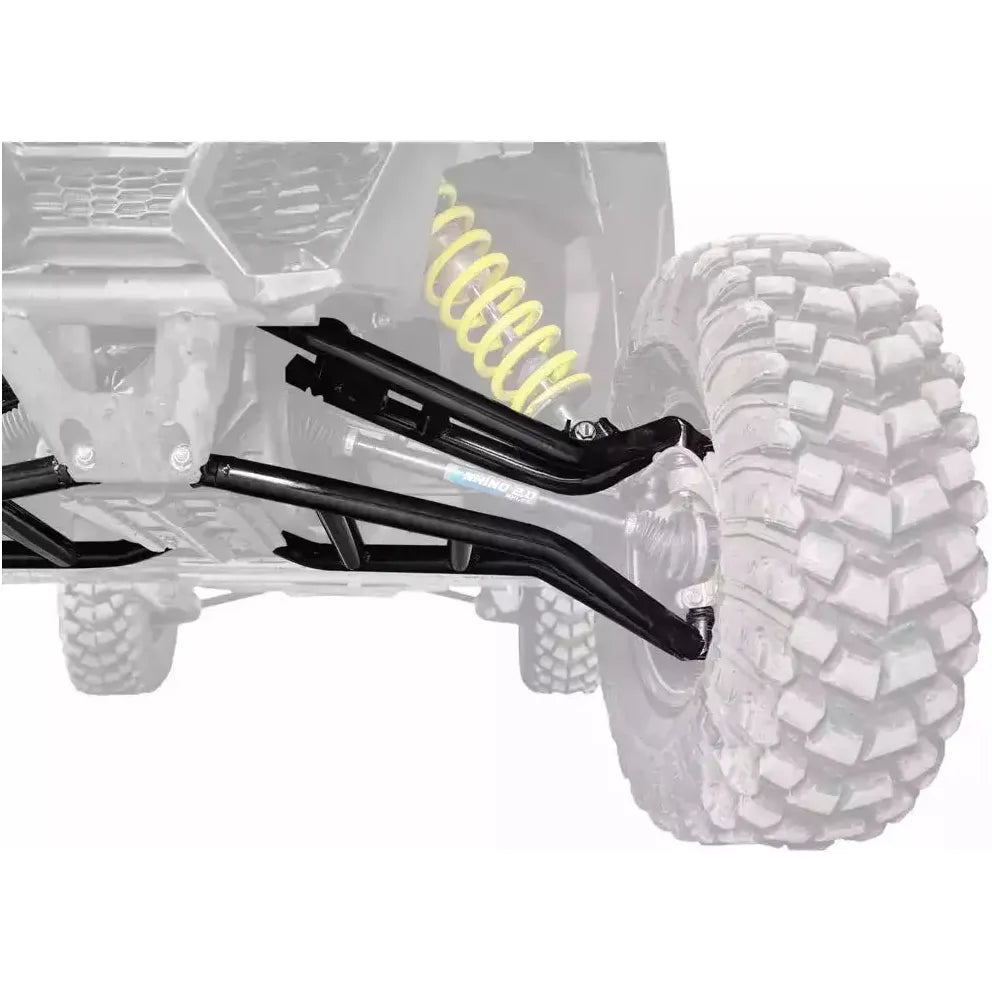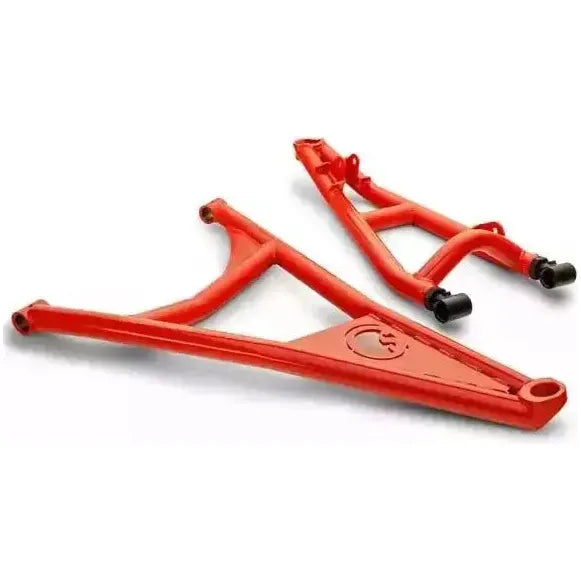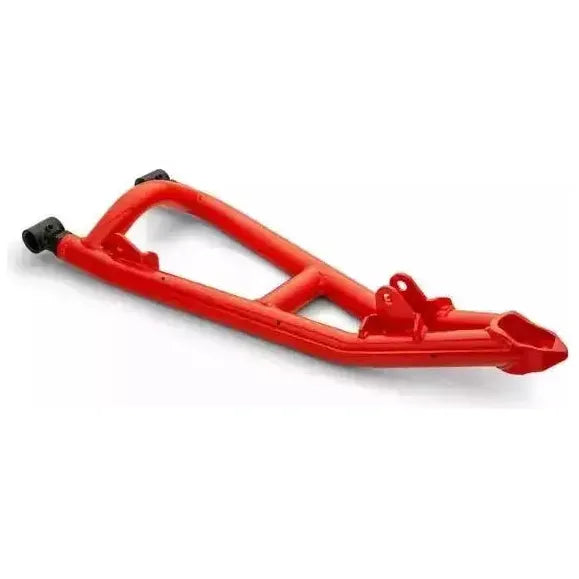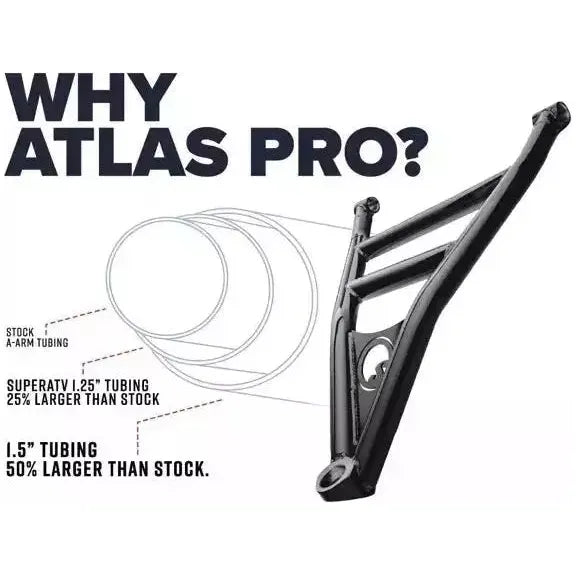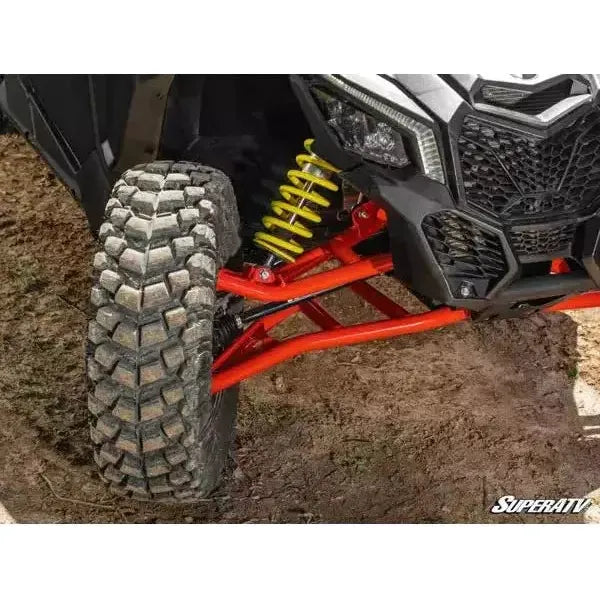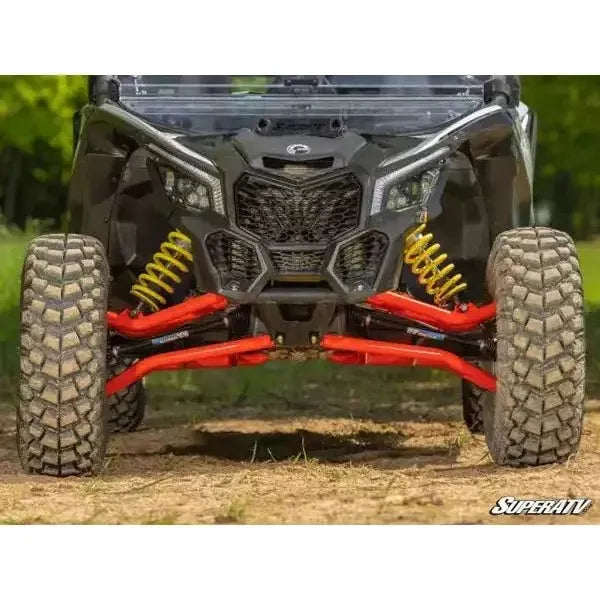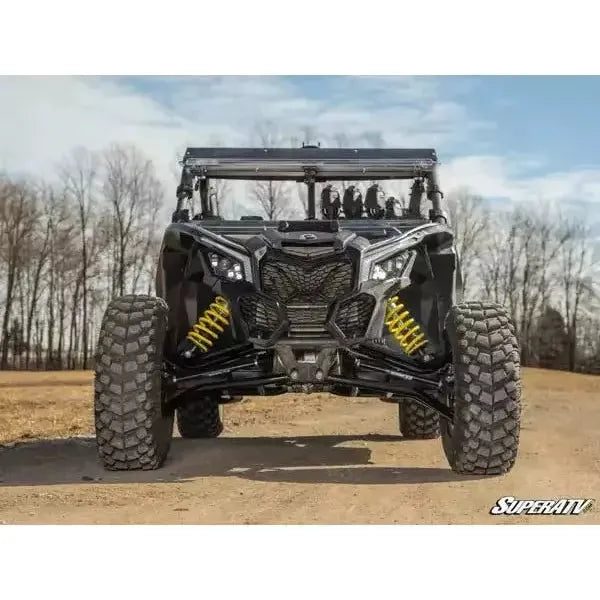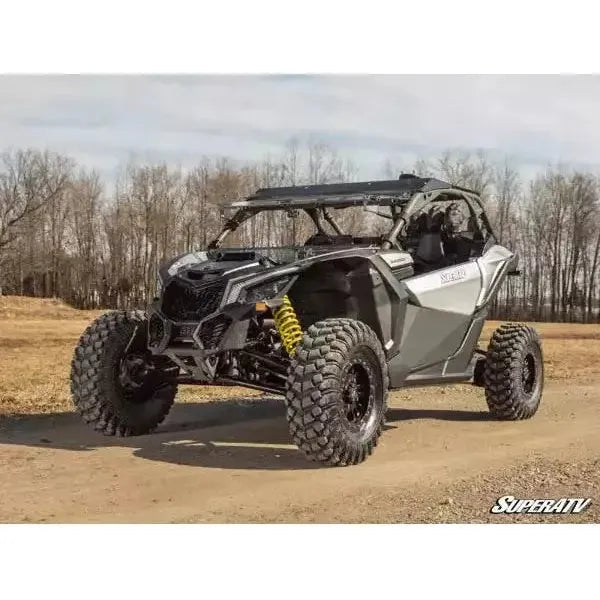 Can Am X3 Atlas Pro A-Arms
Hefty A-Arms for Aggressive Riding
There is no better feeling than putting the pedal to the floor, wind in your hair, and seeing a dust trail behind you.. At least until you're hung up on a stump and your suspension is toasted. With SuperATV's Can-Am Maverick X3 Atlas Pro A-Arms, you can ride how you want. They're high clearance, hefty, and have superior strength making your machine look like a complete monster. We've taken our standard A-arms and improved their design to make them bigger at 1.5" in diameter and measuring 0.5" larger than your OEM A-arms.

Bigger + Better = Atlas Pro Tubing
These Atlas Pro A-arms are solid and massive in size compared to your stock A-arms. They measure 1.5" in diameter and are super robust. Our tubing is 0.5" larger than your stock A-arms, and they're a quarter inch larger than our standard A-arms. And for added durability, they're finished with UV-resistant powder coating to defend against corrosion and rust. We took our design to the next level with this one—they're the biggest and strongest A-arms we've ever made.

Adjustable Pivot Blocks
Our Can-Am Maverick X3 control arms also come with adjustable pivot blocks, giving you the ability to change your camber. You'll want to adjust it to eliminate premature tire wear when you add a lift kit or larger tires. We take it one step further by pre-adjusting your pivot blocks to match your machine's stock specifications, so you don't have to mess with it if you don't want to.

Let SuperATV Do the Work—Preassembly Available!
Want to spend more time on the trails and less time in the garage? Purchase a set of SuperATV ball joints with your A-arms and we'll install them for you for free! We save you money and time so you can get back to doing what you love.

NOTE: You must re-use your stock ball joints if you don't select a pre-installed ball joint at checkout.

Heavy-Duty Ball Joints
Our heavy-duty ball joints are designed with ultimate performance and convenience in mind. Whether you're doing flips or chasing hills, our proprietary blend of hardened 4340 VAR steel and zinc plating means this ball joint can take it. Our heavy-duty ball joints also come with easily-accessible grease zerks and an adjustable design. Extensive lab and field testing shows that our heavy duty ball joints can withstand double the pressure of an OEM ball joint!

Super-Duty 300M Ball Joints
We took the strongest ball joint material on the market—300M grade steel—and combined it with our superior design engineering to make the strongest ball joint on the market. It comes with an easily-accessible grease zerk and an adjustable steel-on-steel design, making it easy to keep your ball joints maintained and flexible. At 2.25x stronger than stock, you won't find a better ball joint.

Keller Ball Joints
Keller Ball Joints use a two-piece design that eliminates the need for a snap ring. They thread onto your A-arms like a nut and bolt, which makes these ball joints virtually impossible to pull out. The high-quality chromoly steel stud combined with an advanced tool-steel body makes them perfect for bigger machines, bigger tires, and bigger rides. And since they're greaseable and rebuildable, you can keep them running perfectly.

WARNING: This product can impact machine operation. Customer and/or user is responsible for ensuring that this product is compatible with their machine as currently configured, properly installed, and understands any impact this product has or might have on the machine's operation.

⚠ California Proposition 65 Warning ⚠
WARNING: This product may contain a chemical known to the State of California to cause cancer or birth defects or other reproductive harm.
Features:
Fit up to 30" tires
Made with 1.5" diameter tubing

0.5" larger than stock
0.25" larger than our standard High-Clearance 1.5" Forward Offset A-Arms

Adjustable lower pivot block for full camber adjustability
Utilizes stock A-arm bushings
UV-resistant powder coat finish
Easy to install
Backed by a lifetime warranty
VEHICLE FITMENT
64" Models
Can-Am Maverick X3 900 : 2018
Can-Am Maverick X3 Turbo : 2017-2020
Can-Am Maverick X3 Turbo R : 2018-2020
Can-Am Maverick X3 X DS Turbo R : 2017-2020
Can-Am Maverick X3 DS Turbo R : 2021
Can-Am Maverick X3 X DS Turbo RR : 2020-2021
Can-Am Maverick X3 X MR Turbo : 2018-2021
Can-Am Maverick X3 MAX Turbo : 2017-2020
Can-Am Maverick X3 MAX Turbo R : 2018-2020
Can-Am Maverick X3 MAX X DS Turbo : 2017-2019
Can-Am Maverick X3 MAX X DS Turbo R : 2020
Can-Am Maverick X3 MAX DS Turbo R : 2021
Can-Am Maverick X3 DS Turbo 64 : 2022+
Can-Am Maverick X3 DS Turbo RR 64 : 2022+
Can-Am Maverick X3 X DS Turbo RR 64 : 2022+
Can-Am Maverick X3 X RC Turbo RR 64 : 2022+
Can-Am Maverick X3 X MR Turbo RR 64 : 2022+
Can-Am Maverick X3 MAX DS Turbo 64 : 2022+
Can-Am Maverick X3 MAX DS Turbo RR 64 : 2022+
Can-Am Maverick X3 MAX X DS Turbo RR 64 : 2022+
72" Models
Can-Am Maverick X3 X RC Turbo : 2018-2021
Can-Am Maverick X3 X RC Turbo R : 2018-2020
Can-Am Maverick X3 X RC Turbo RR : 2020-2021
Can-Am Maverick X3 X RS Turbo R : 2017-2020
Can-Am Maverick X3 RS Turbo R : 2021
Can-Am Maverick X3 X RS Turbo RR : 2020-2021
Can-Am Maverick X3 X MR Turbo R : 2018-2019
Can-Am Maverick X3 X MR Turbo RR : 2020-2021
Can-Am Maverick X3 MAX X RS Turbo : 2017-2020
Can-Am Maverick X3 MAX X RS Turbo R : 2018-2020
Can-Am Maverick X3 MAX RS Turbo R : 2021
Can-Am Maverick X3 MAX X RS Turbo RR : 2020-2021
Can-Am Maverick X3 MAX X MR Turbo R : 2019-2021
Can-Am Maverick X3 MAX X MR Turbo RR : 2020-2021
Can-Am Maverick X3 MAX X DS Turbo RR : 2020-2021
Can-Am Maverick X3 RS Turbo RR 72 : 2022+
Can-Am Maverick X3 X RS Turbo RR 72 : 2022+
Can-Am Maverick X3 X RC Turbo RR 72 : 2022+
Can-Am Maverick X3 X MR Turbo RR 72 : 2022+
Can-Am Maverick X3 MAX RS Turbo RR 72 : 2022+
Can-Am Maverick X3 MAX X RS Turbo RR 72 : 2022+
Can-Am Maverick X3 MAX X MR Turbo RR 72 : 2022+
NOTE: Not compatible with Smart-Shox
INSTALLATION