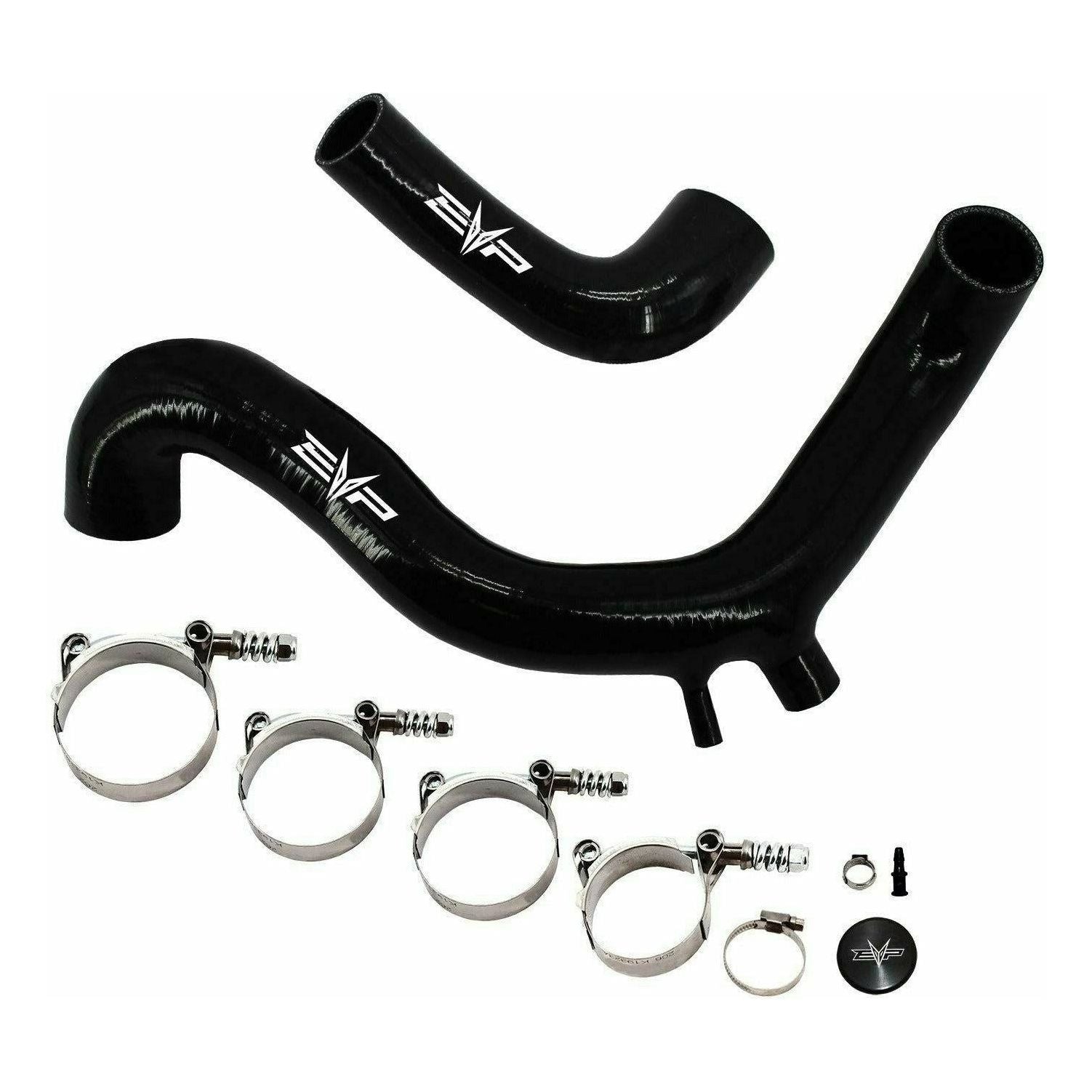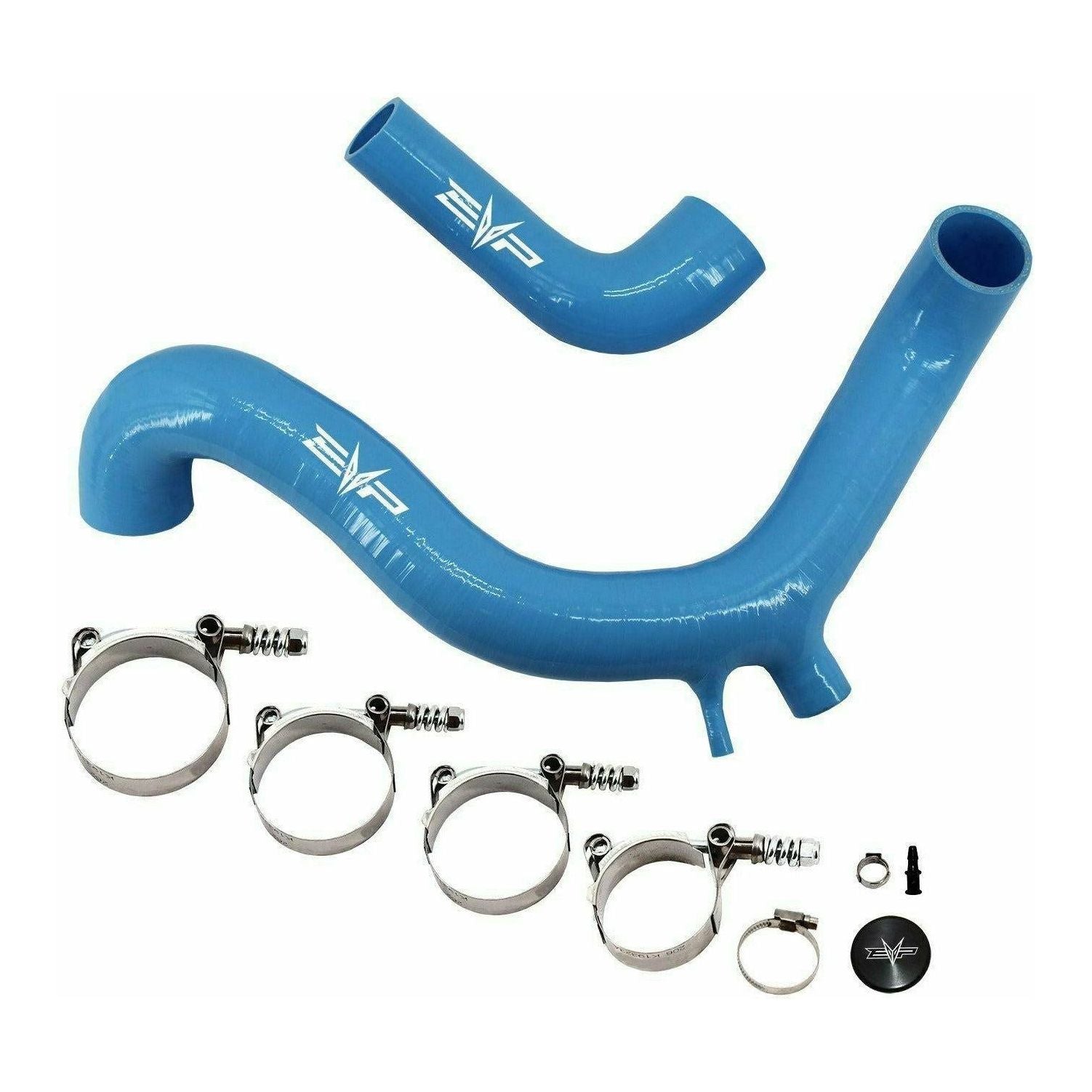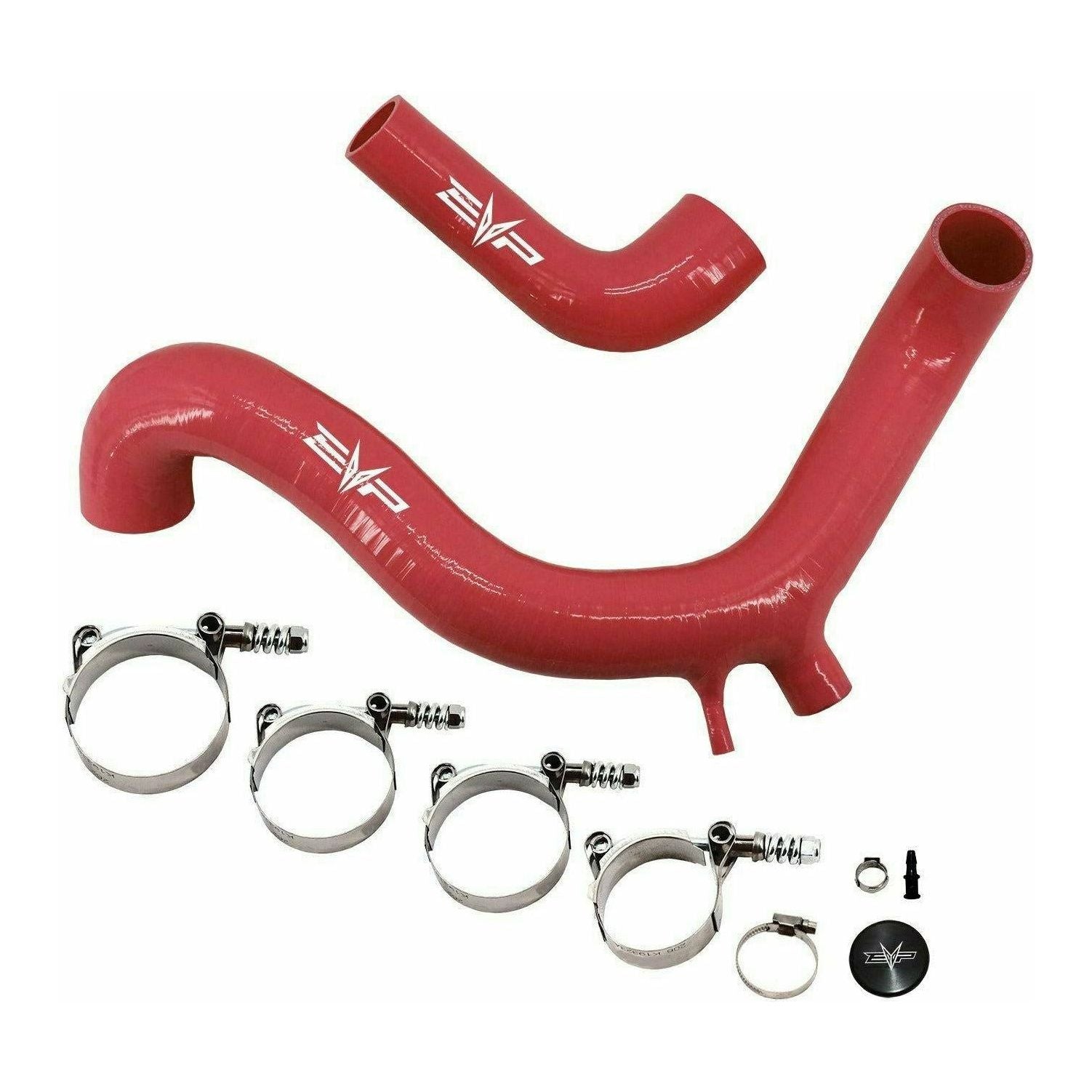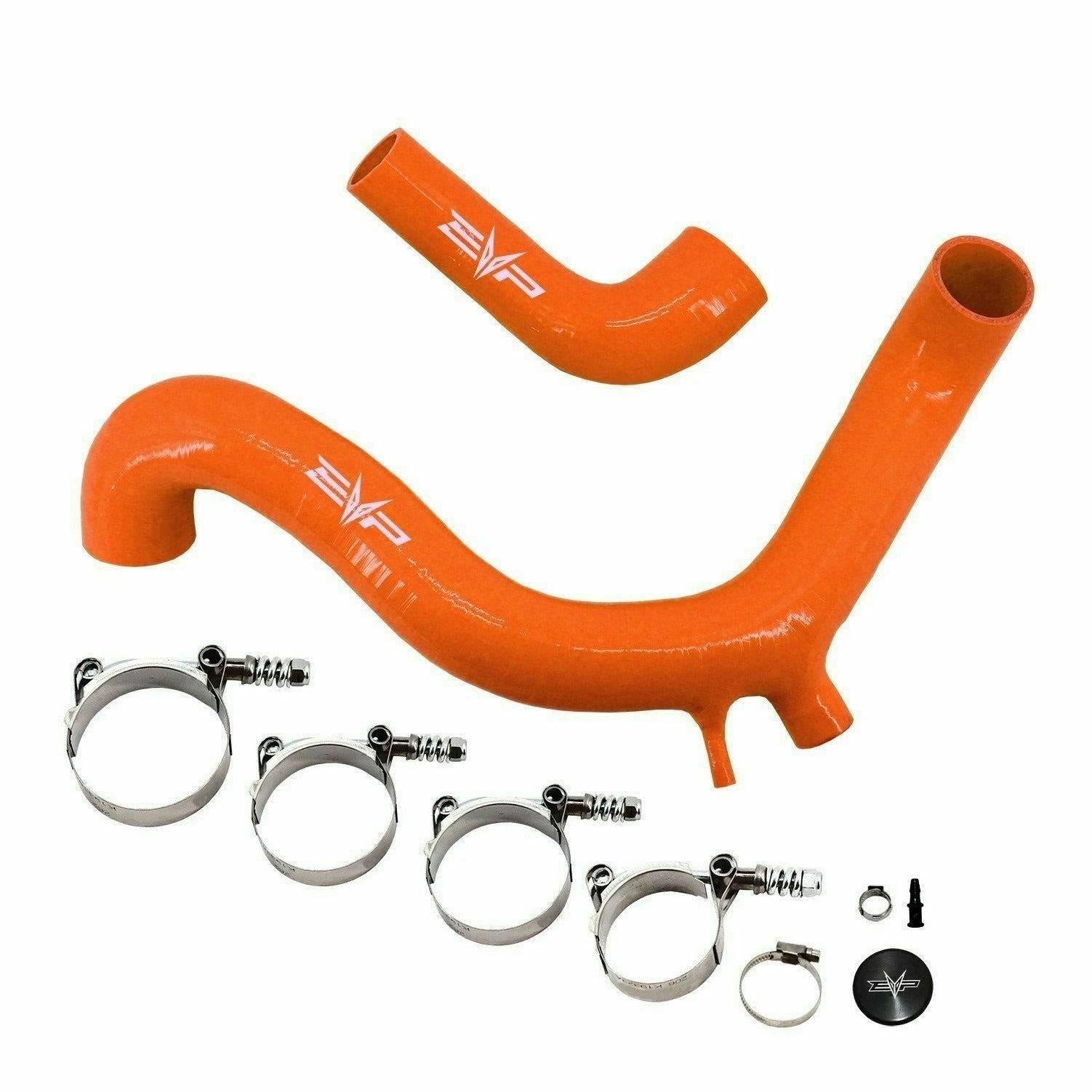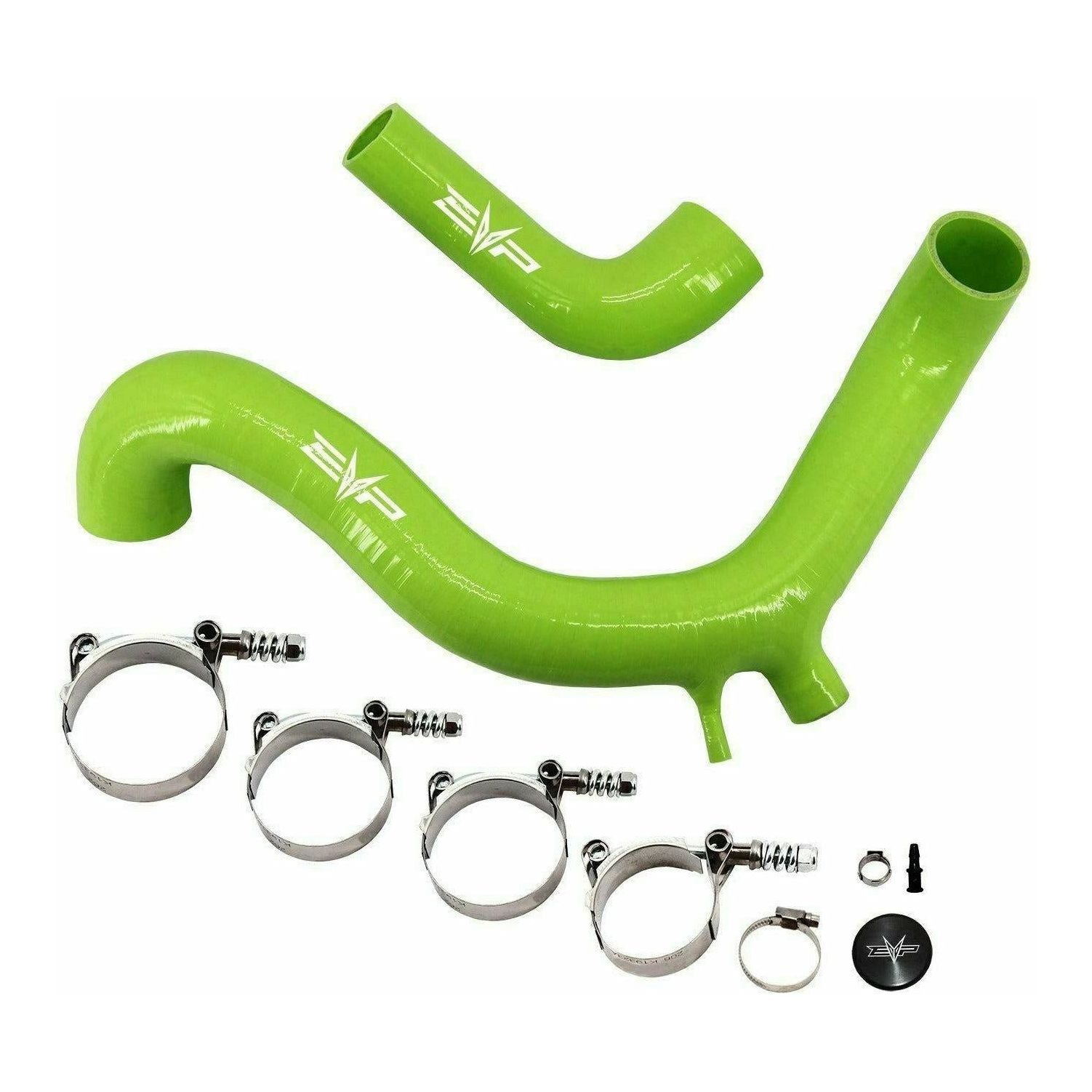 Can Am X3 (2020+) Silicone Charge Tubes
The 2020 RR 195 HP Model has larger intercooler inlet and outlet. Our new reinforced hoses have been enlarged to fit the new RR and have a larger ID throughout. 

Why Silicone over Aluminum?
EVP reinforced silicone charge tubes are stronger than typical thin wall aluminum tubes. Our charge tubes are burst tested to over 80 PSI without failure. Silicone does not transfer heat the way aluminum does. The X3 charge tubes are situated directly over the engine and turbo. Since silicone is an insulator, heat will not be transferred from the engine/turbo radiant heat to the charge air. Also aluminum tubes generally cannot be formed into the shape that silicone can be.This means that aluminum tubes have to be joined together by silicone couplers. Each coupler adds 2 extra clamps which means two more potential failure/leak points. Lastly, EVP Maverick X3 Silicone Charge Tubes are available in virtually all Can Am colors!
Comes with new high strength, spring backed T-Bolt Clamps for leak-proof connections. Includes BOV port and an extra port for a boost gauge.
Industry Leading Strength!

Our 4 ply, reinforced silicone charge tubes directly replace the OEM rubber boost hoses. These charge tubes are so strong that they can support over 80 PSI of boost! Each set comes with both upper and lower hoses as well as high-strength, spring loaded T-Bolt Clamps for the turbo, throttle body and both sides of the intercooler. These top quality clamps ensure a leak proof connection that absolutely will not blow off - even under extreme boost! The tubes have a 1" BOV port and an extra port for a boost gauge. In case you are not running a BOV, a billet anodized block-off plug and clamp are included as well. Not only are our charge tubes super strong and burst proof, but they add a bit of eye candy as well! Available in a variety of colors to ensure a great color match to your wrap!
VEHICLE FITMENT
Can Am Maverick X3 (2020+)