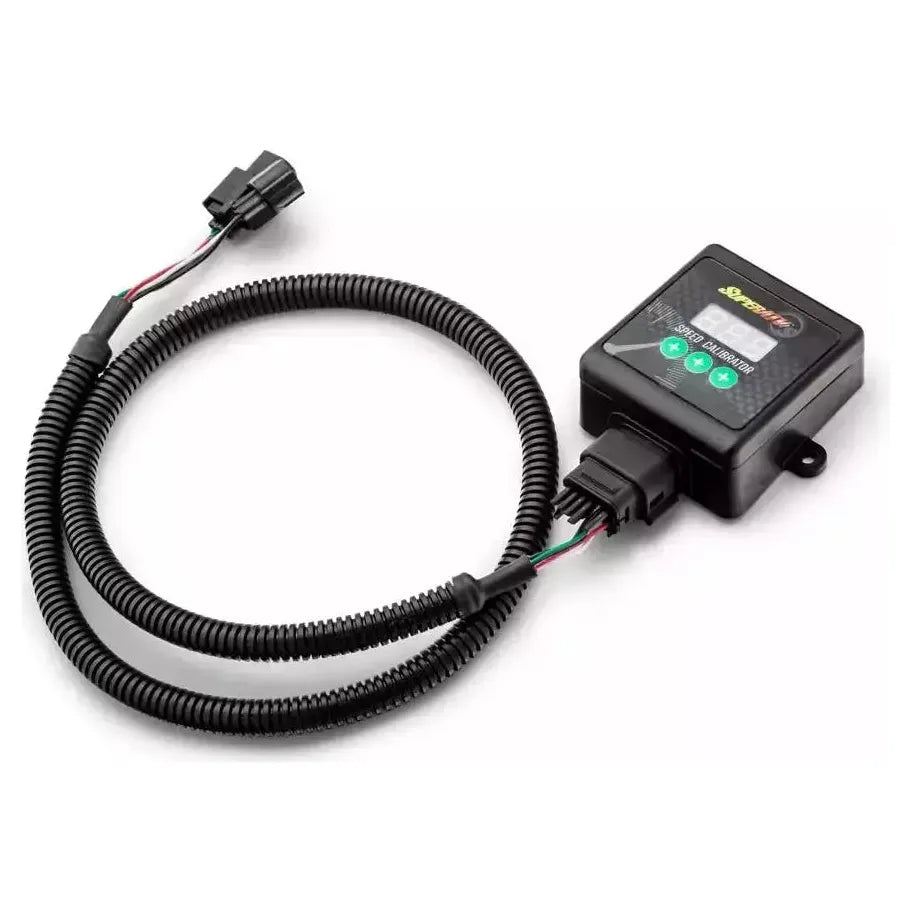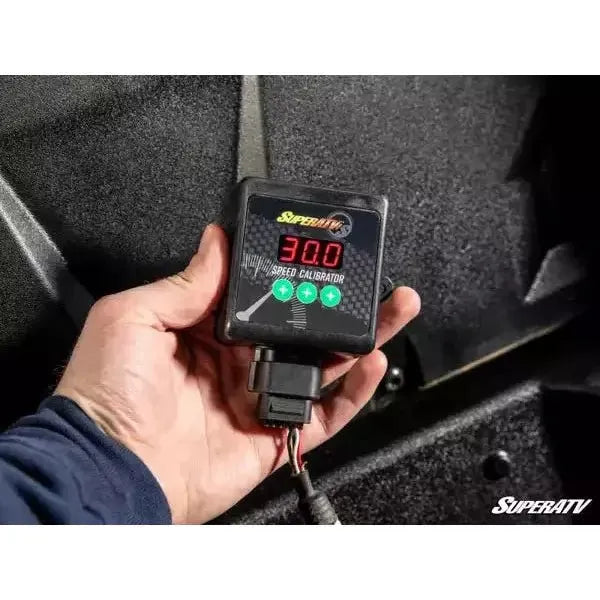 Can Am Speedometer Correction Kit
Fix Your Speedometer
When you add bigger tires or a gear reduction, your speedometer gets all out of whack. It says you're going 25 MPH, but you're white knuckling it around every turn. Fix it with SuperATV's Can-Am SpeedDoctor Speedometer Correction Kit. It forces your speedo to show the correct speed and, more importantly, fixes your odometer too.

Easy Setup and Installation
This isn't some complicated hack that requires tough math and splicing wires. This plug-and-play speedo corrector does all the work for you. After you plug it in, all you have to do is tell it what your speed actually is with GPS, and you're good to go.

NOTE: For safety purposes, always have a passenger assist in monitoring the GPS speed while driving during the setup process.

WARNING: This product can impact machine operation. Customer and/or user is responsible for ensuring that this product is compatible with their machine as currently configured, properly installed, and understands any impact this product has or might have on the machine's operation.

⚠ California Proposition 65 Warning ⚠
WARNING: This product may contain a chemical known to the State of California to cause cancer or birth defects or other reproductive harm.
Features:
Corrects your stock speedometer and odometer
Great for big tires, gear reductions, and snow tracks
Plug and play installation with model-specific harness
Simple to program
IP67 water resistant rating
VEHICLE FITMENT
Non Smart-Lok
Can-Am Commander 1000R DPS : 2021
Can-Am Commander 1000R XT : 2021
Can-Am Commander 1000R XTP : 2021
Can-Am Defender HD 5 : 2017-2021
Can-Am Defender HD 5 DPS : 2017-2021
Can-Am Defender HD 7 : 2022+
Can-Am Defender HD 7 DPS : 2022+
Can-Am Defender HD 8 : 2016-2021
Can-Am Defender HD 8 DPS : 2016-2021
Can-Am Defender HD 8 XT : 2016-2021
Can-Am Defender HD 8 XT Cab : 2016-2021
Can-Am Defender HD 9 : 2022+
Can-Am Defender HD 9 DPS : 2022+
Can-Am Defender HD 9 XT : 2022+
Can-Am Defender HD 9 DPS CAB : 2022+
Can-Am Defender HD 10 : 2016+
Can-Am Defender HD 10 DPS : 2016+
Can-Am Defender HD 10 XT : 2016+
Can-Am Defender HD 10 XT Cab : 2016+
Can-Am Defender HD 10 XTP : 2018+
Can-Am Defender HD 10 Mossy Oak : 2018+
Can-Am Defender HD 10 6x6 : 2020+
Can-Am Defender Limited HD 10 : 2020+
Can-Am Defender Pro HD 10 : 2020+
Can-Am Defender MAX HD 7 : 2022+
Can-Am Defender MAX HD 8 : 2017-2021
Can-Am Defender MAX HD 8 DPS : 2017-2021
Can-Am Defender MAX HD 8 XT : 2017-2021
Can-Am Defender MAX HD 8 XT Cab : 2017-2021
Can-Am Defender MAX HD 9 : 2022+
Can-Am Defender MAX HD 9 DPS : 2022+
Can-Am Defender MAX HD 9 XT : 2022+
Can-Am Defender MAX HD 10 DPS : 2017+
Can-Am Defender MAX HD 10 XT : 2017+
Can-Am Defender MAX HD 10 XT Cab : 2017+
Can-Am Defender MAX HD 10 Lone Star Edition : 2018+
Can-Am Defender MAX HD 10 Limited : 2020+
Can-Am Maverick Sport 1000R XRC : 2019-2021
Can-Am Maverick Sport 1000R XXC : 2020-2021
Can-Am Maverick X3 900 : 2018
Can-Am Maverick X3 Max Turbo XDS : 2018
Can-Am Maverick X3 Turbo R XDS : 2017-2018
Can-Am Maverick X3 Max Turbo R XDS : 2017-2018
Can-Am Maverick X3 Turbo R DS : 2020-2021
Can-Am Maverick X3 Max Turbo R DS : 2020-2021
Can-Am Maverick X3 Turbo R XRS : 2017-2018
Can-Am Maverick X3 Max Turbo R XRS : 2017-2018
Can-Am Maverick X3 Turbo R RS : 2020-2021
Can-Am Maverick X3 Max Turbo R RS : 2020-2021
Smart-Lok
Can-Am Defender HD 10 XMR : 2018+
Can-Am Defender MAX HD 10 XMR : 2019+
Can-Am Maverick X3 Turbo R XDS : 2019
Can-Am Maverick X3 Max Turbo R XDS : 2019
Can-Am Maverick X3 Turbo RR XDS : 2020-2021
Can-Am Maverick X3 Max Turbo RR XDS : 2020-2021
Can-Am Maverick X3 Turbo XRC : 2018-2021
Can-Am Maverick X3 Max Turbo XRC : 2019
Can-Am Maverick X3 Turbo R XRC : 2018-2019
Can-Am Maverick X3 Turbo R XRS : 2018-2019
Can-Am Maverick X3 Max Turbo R XRS : 2018-2019
Can-Am Maverick X3 Turbo RR XRS : 2020-2021
Can-Am Maverick X3 Turbo Max RR XRS : 2020-2021
Can-Am Maverick X3 Turbo XMR : 2018-2021
Cab-Am Maverick X3 Max Turbo XMR : 2019-2021
Can-Am Maverick X3 Turbo R XMR : 2018-2019
Can-Am Maverick X3 Turbo RR XMR : 2020-2021
Can-Am Maverick X3 Max Turbo RR XMR : 2020-2021
Can-Am Maverick X3 DS Turbo 64 : 2022+
Can-Am Maverick X3 DS Turbo RR 64 : 2022+
Can-Am Maverick X3 X DS Turbo RR 64 : 2022+
Can-Am Maverick X3 X RC Turbo RR 64 : 2022+
Can-Am Maverick X3 X MR Turbo RR 64 : 2022+
Can-Am Maverick X3 MAX DS Turbo 64 : 2022+
Can-Am Maverick X3 MAX DS Turbo RR 64 : 2022+
Can-Am Maverick X3 MAX X DS Turbo RR 64 : 2022+
Can-Am Maverick X3 RS Turbo RR 72 : 2022+
Can-Am Maverick X3 X RS Turbo RR 72 : 2022+
Can-Am Maverick X3 X RS Turbo RR w/ Smart-Shox 72 : 2022+
Can-Am Maverick X3 X RC Turbo RR 72 : 2022+
Can-Am Maverick X3 X MR Turbo RR 72 : 2022+
Can-Am Maverick X3 MAX RS Turbo RR 72 : 2022+
Can-Am Maverick X3 MAX X RS Turbo RR 72 : 2022+
Can-Am Maverick X3 MAX X RS Turbo RR w/ Smart-Shox 72 : 2022+
Can-Am Maverick X3 MAX X MR Turbo RR 72 : 2022+
INSTALLATION