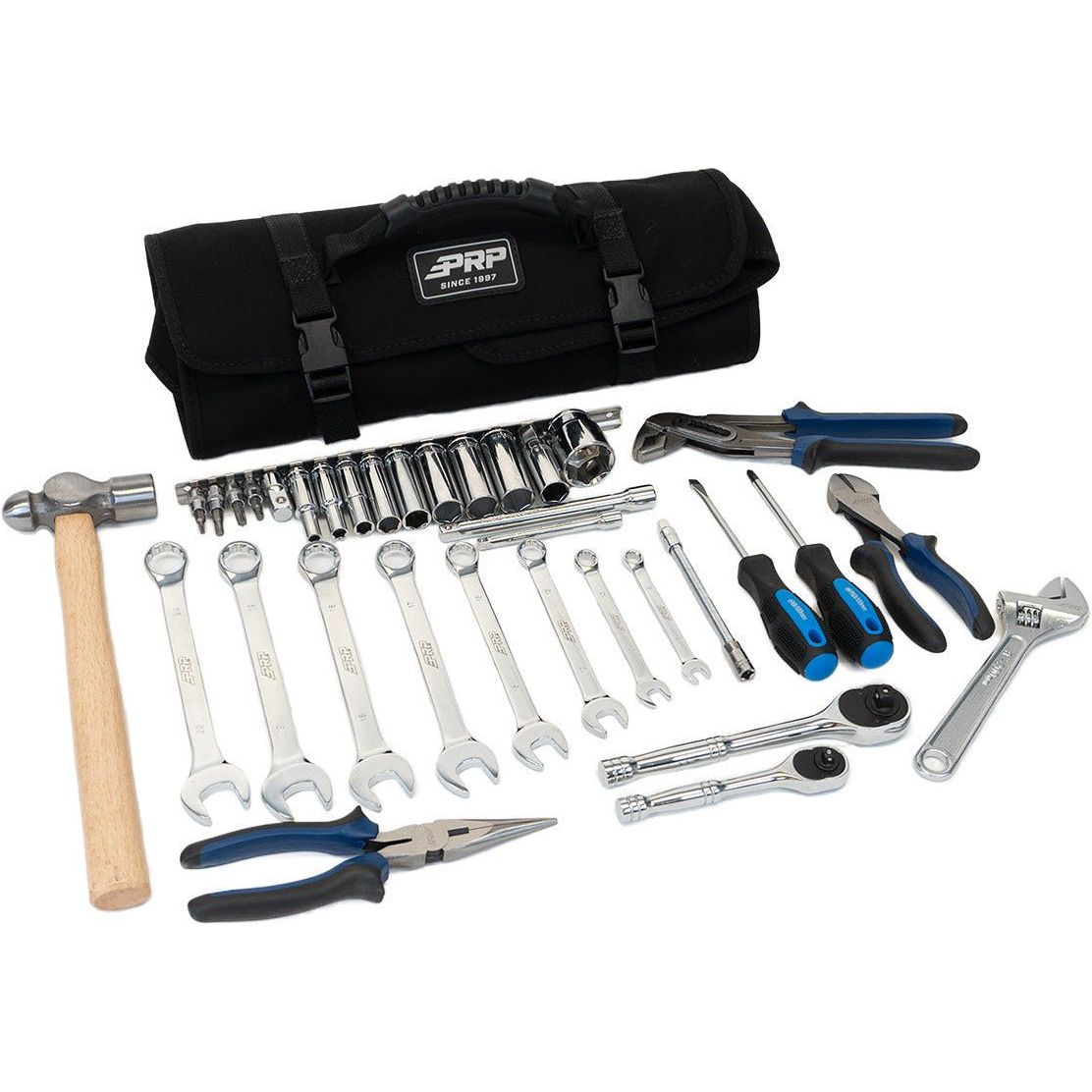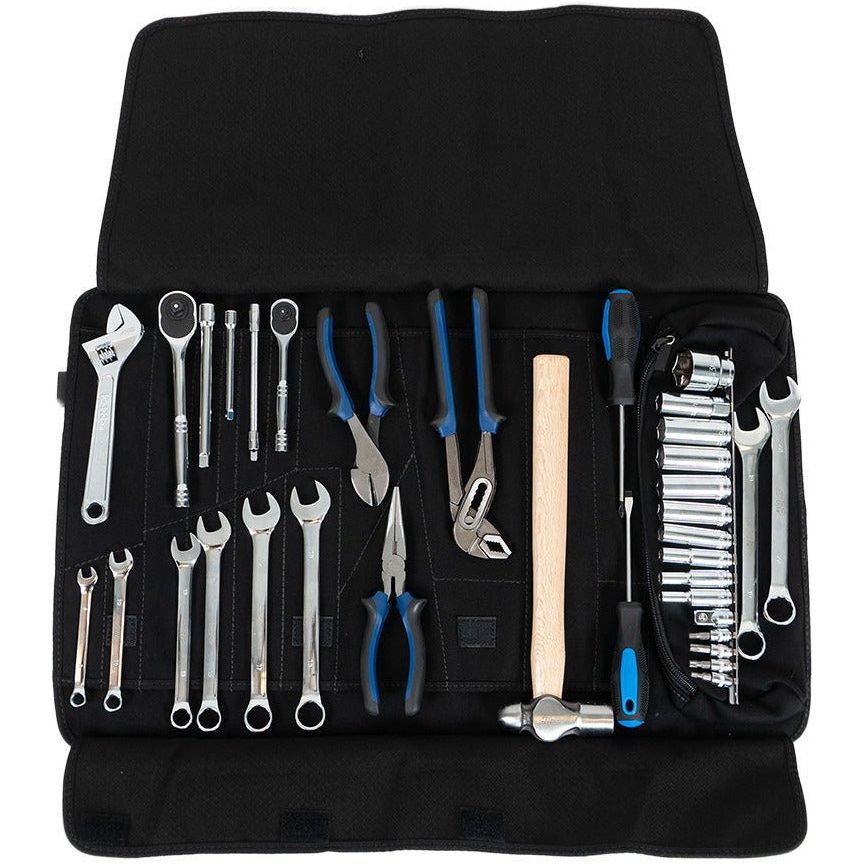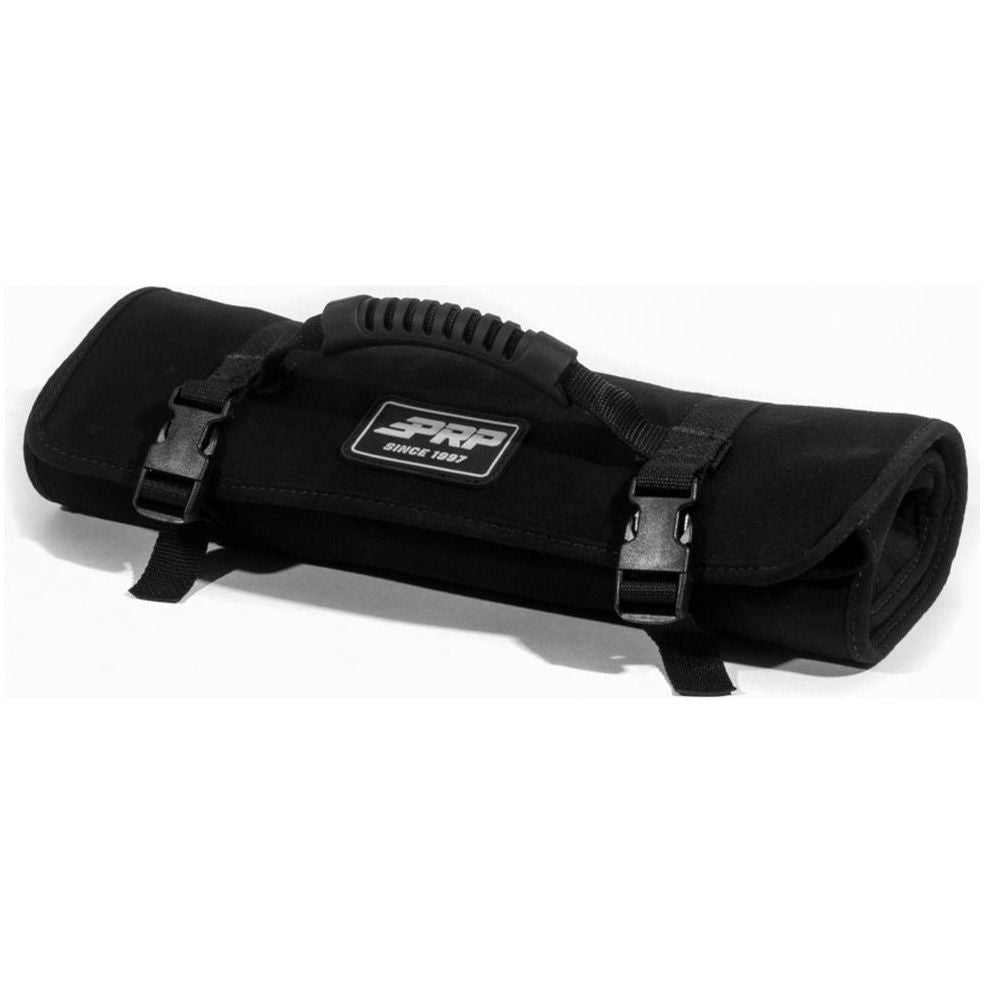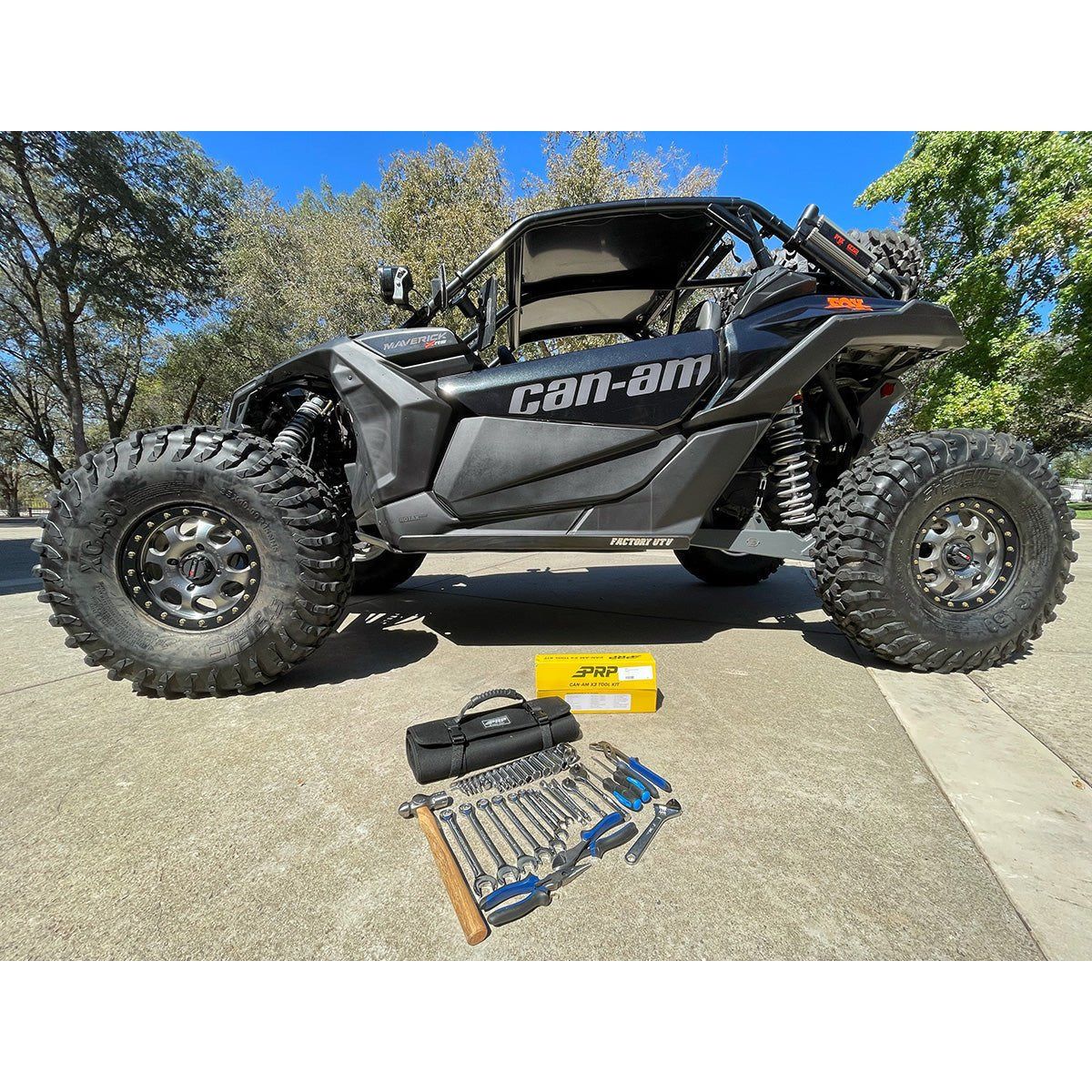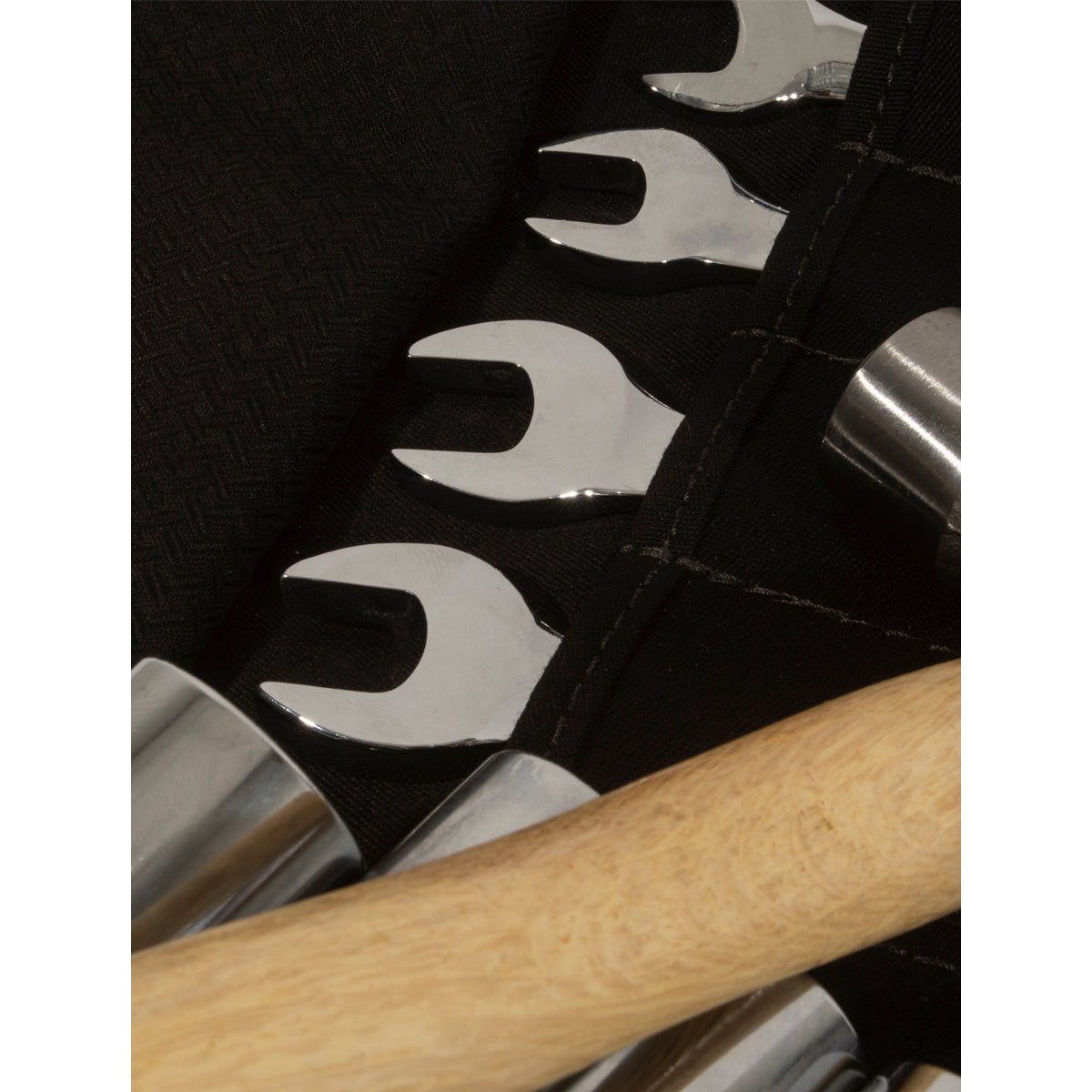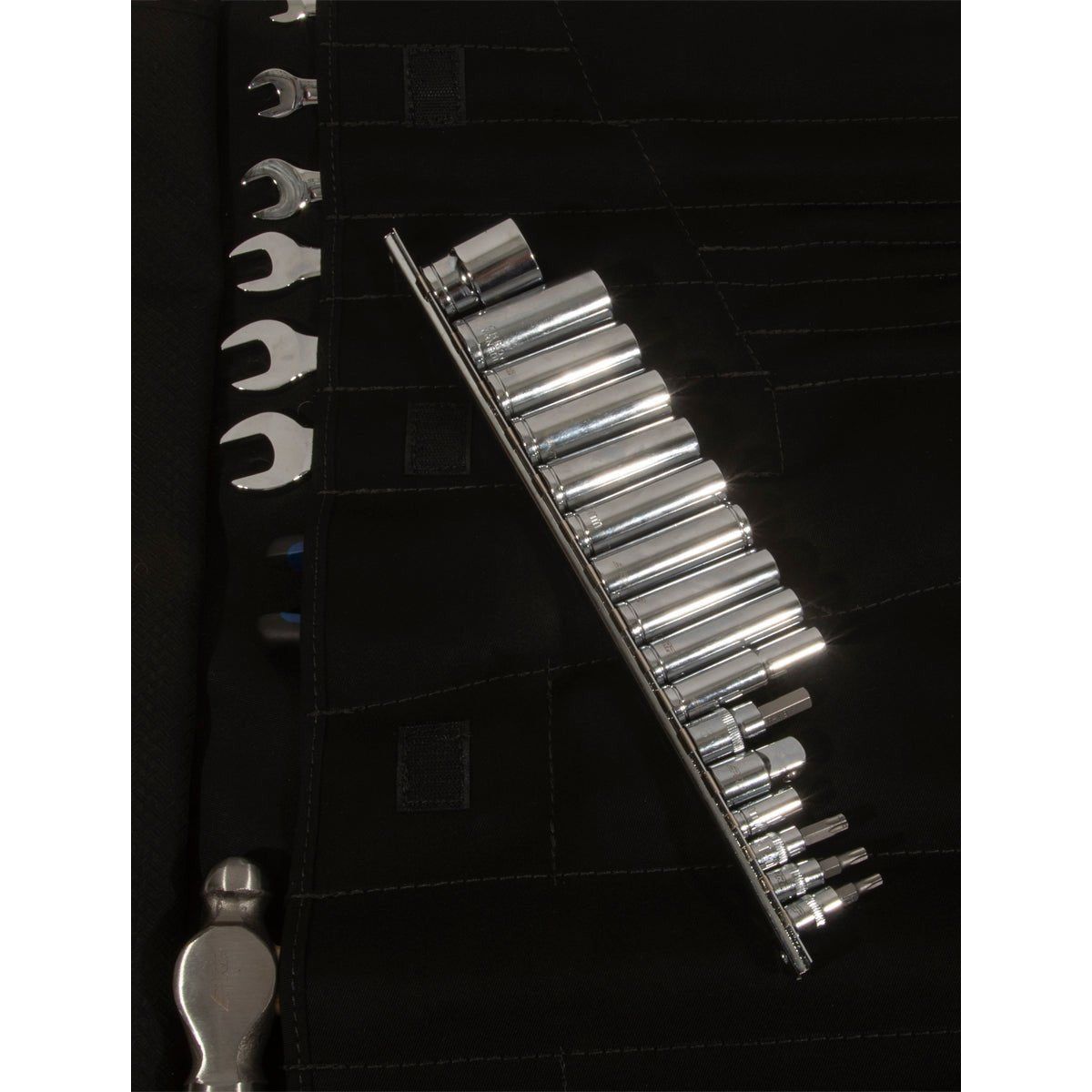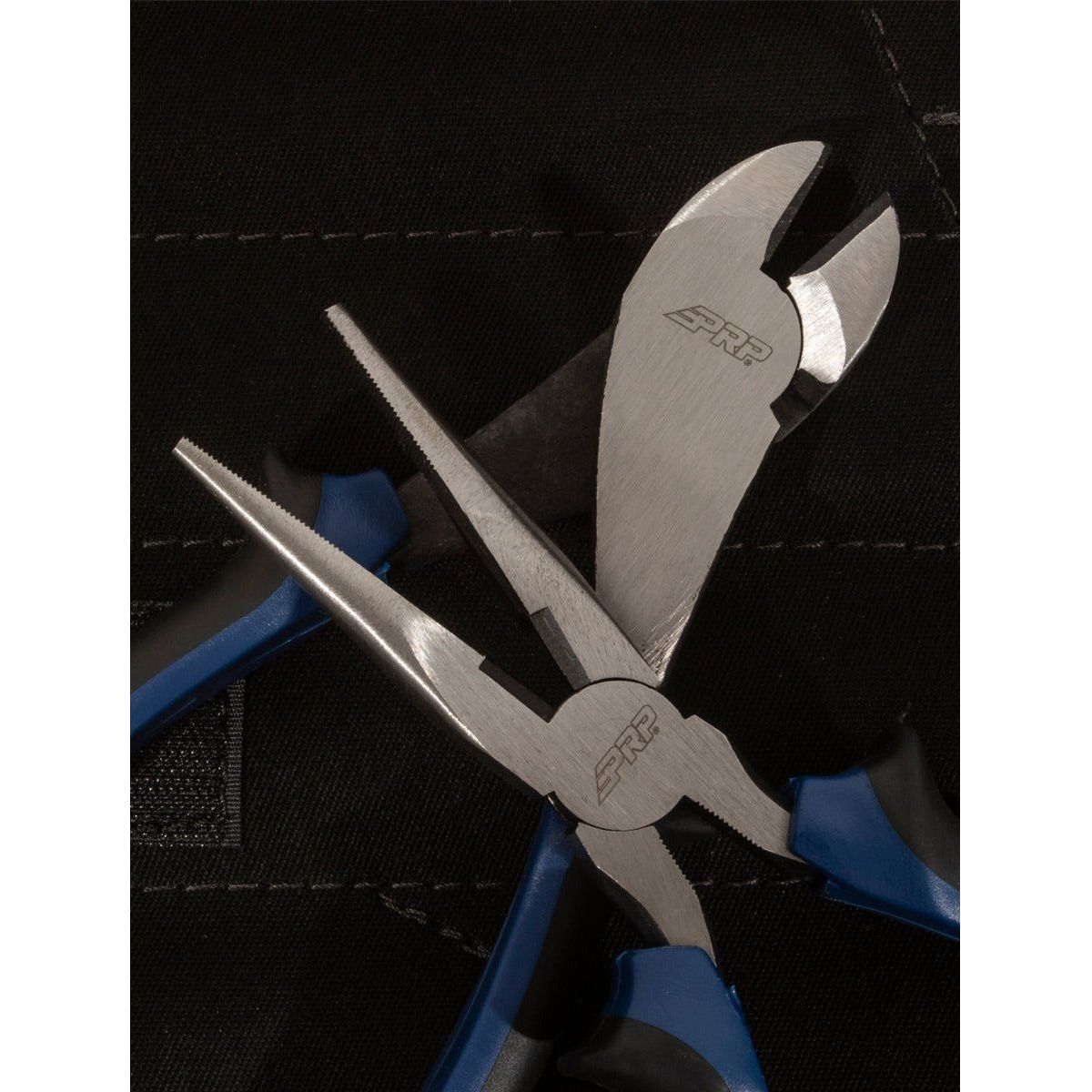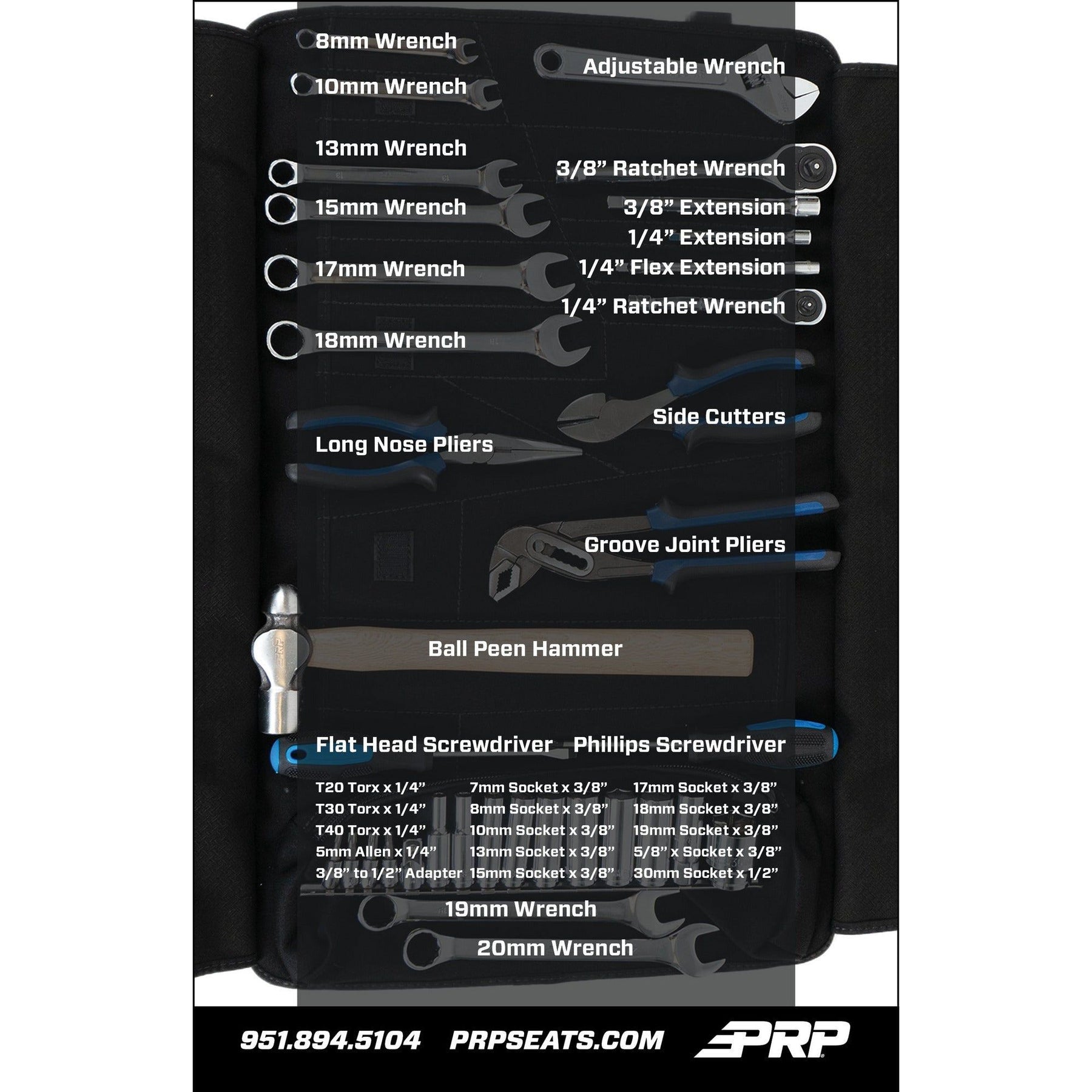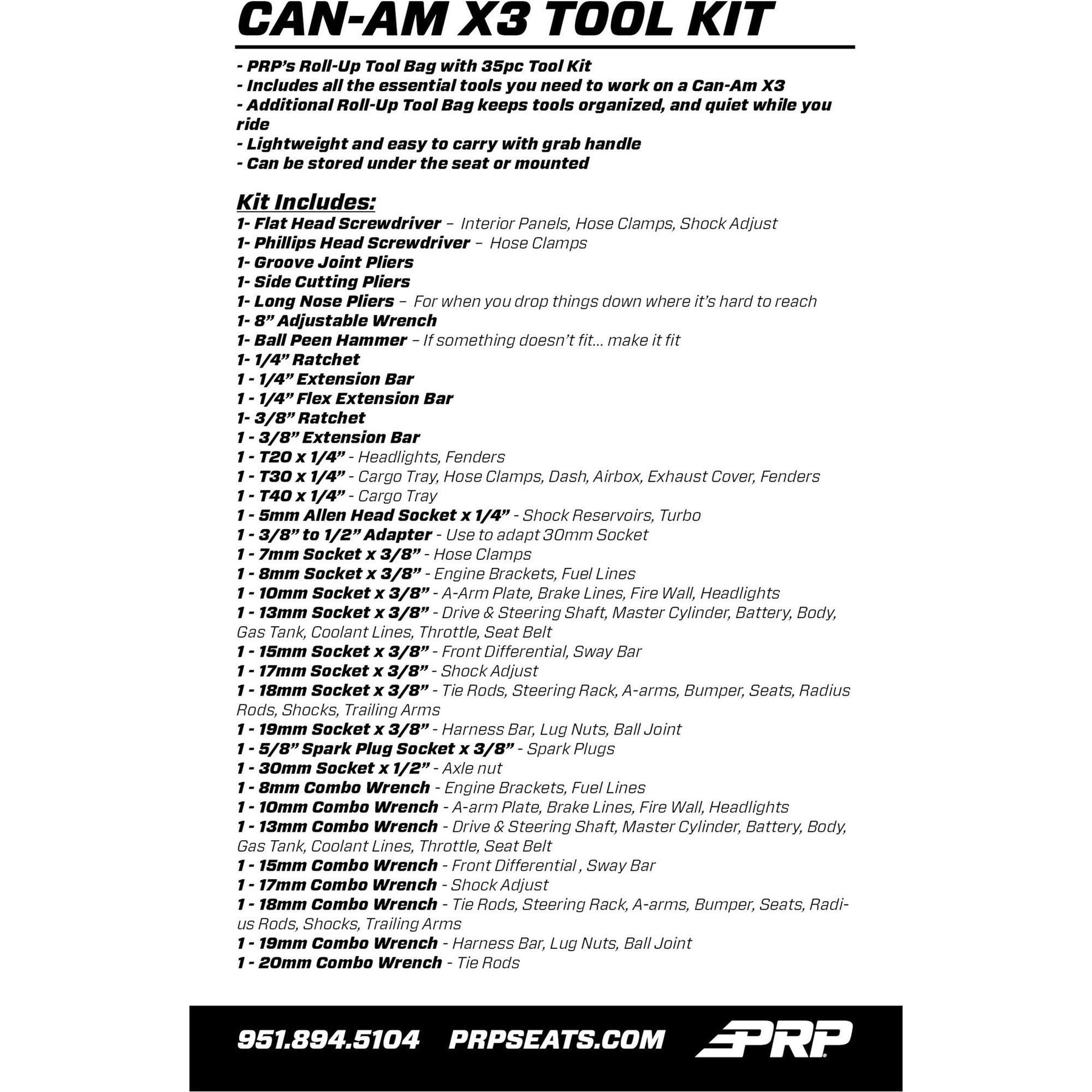 Can Am Roll-Up Tool Bag with 35 Piece Tool Kit
PRP's Can-Am Roll-Up Tool Bag with 35pc Tool Kit provides everything you need to fix your Can-Am Maverick X3, Sport, or Commander UTV out on the trail. This 35-piece kit includes a selection of high-quality ratchets, sockets, wrenches, extension bars, pliers, and a ball peen hammer (for when things get really fun). We've hand-picked the tools you'll need most when working on a Can-Am so you can carry only the essentials!
The Roll-Up Bag makes it easy to keep everything neat and organized. It features dedicated sleeves for all the tools included in the kit, as well as a zippered pocket to hold the sockets and any other tools you want to bring with you.
Our Roll-Up Tool Bag is made from extremely durable twill material and features heavy-duty buckles and an easy-to-carry grab handle. It can be mounted, or stored securely inside the vehicle. The roll-up style bag makes it quick and easy to grab out of the vehicle when you need it, and the tools won't make noise when you're bouncing around the trails. See below for a complete list of tools included, along with a handy guide to the most common uses for each tool. Each tool also includes a Limited Lifetime Warranty.
Don't get caught out on the trail unprepared, with PRP's Roll-Up Tool Kit you'll have everything you need to get your Can-Am UTV going!
Features:
PRP's Can-Am Roll-Up Tool Bag with 35pc Tool Kit
Includes all the essential tools you need to work on a Can-Am X3, Sport, Trail, or Commander
Save extra weight and space by only having the tools you will actually need
Roll-Up Tool Bag keeps tools organized, and quiet while you ride
Lightweight and easy to carry with grab handle
Can be mounted
Includes:
1- Flat Head Screwdriver – Interior Panels, Hose Clamps, Shock Adjust
1- Phillips Head Screwdriver – Hose Clamps
1- Groove Joint Pliers
1- Side Cutting Pliers – Snip Snip
1- Long Nose Pliers – For when you drop things down where it's hard to reach
1- 8" Adjustable Wrench
1- Ball Peen Hammer – If something doesn't fit… make it fit
1- 1/4" Ratchet
1 – 1/4" Extension Bar
1 – 1/4" Flex Extension Bar
1- 3/8" Ratchet
1 – 3/8" Extension Bar
1 – T20 x 1/4" – Headlights, Fenders
1 – T30 x 1/4" – Cargo Tray, Hose Clamps, Dash, Airbox, Exhaust Cover, Fenders
1 – T40 x 1/4" – Cargo Tray
1 – 5mm Allen Head Socket x 1/4" – Shock Reservoirs, Turbo
1 – 3/8" to 1/2" Adapter – Use to adapt 30mm Socket
1 – 7mm Socket x 3/8" – Hose Clamps
1 – 8mm Socket x 3/8" – Engine Brackets, Fuel Lines
1 – 10mm Socket x 3/8" – A-Arm Plate, Brake Lines, Fire Wall, Headlights
1 – 13mm Socket x 3/8" – Drive & Steering Shaft, Master Cylinder, Battery, Body, Gas Tank, Coolant Lines, Throttle, Seat Belt
1 – 15mm Socket x 3/8" – Front Differential, Sway Bar
1 – 17mm Socket x 3/8" – Shock Adjust
1 – 18mm Socket x 3/8" – Tie Rods, Steering Rack, A-arms, Bumper, Seats, Radius Rods, Shocks, Trailing Arms
1 – 19mm Socket x 3/8" – Harness Bar, Lug Nuts, Ball Joint
1 – 5/8" Spark Plug Socket x 3/8" – Spark Plugs
1 – 30mm Socket x 1/2" – Axle nut
1 – 8mm Combo Wrench – Engine Brackets, Fuel Lines
1 – 10mm Combo Wrench – A-arm Plate, Brake Lines, Fire Wall, Headlights
1 – 13mm Combo Wrench – Drive & Steering Shaft, Master Cylinder, Battery, Body, Gas Tank, Coolant Lines, Throttle, Seat Belt
1 – 15mm Combo Wrench – Front Differential, Sway Bar
1 – 17mm Combo Wrench – Shock Adjust
1 – 18mm Combo Wrench – Tie Rods, Steering Rack, A-arms, Bumper, Seats, Radius Rods, Shocks, Trailing Arms
1 – 19mm Combo Wrench – Harness Bar, Lug Nuts, Ball Joint
1 – 20mm Combo Wrench – Tie Rods
VEHICLE FITMENT
Can Am Commander
Can Am Maverick Sport
Can Am Maverick Trail
Can Am Maverick X3