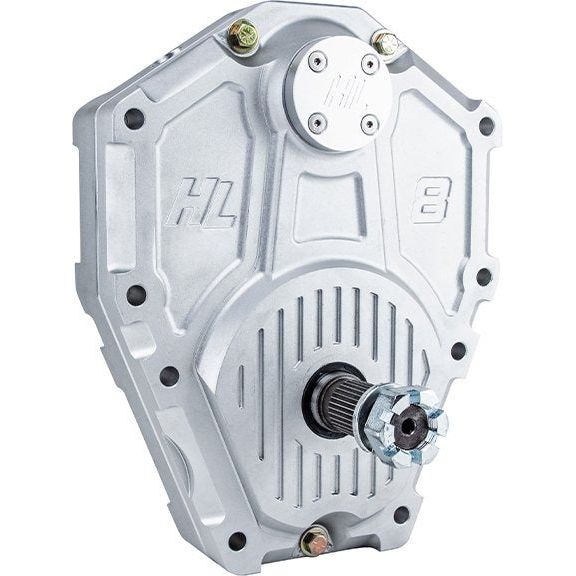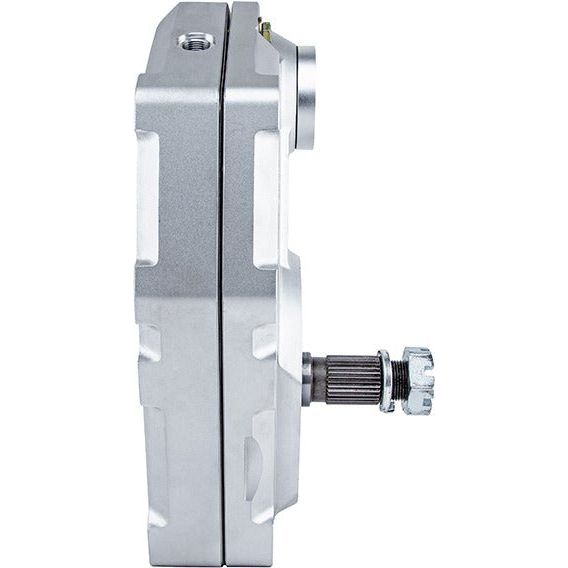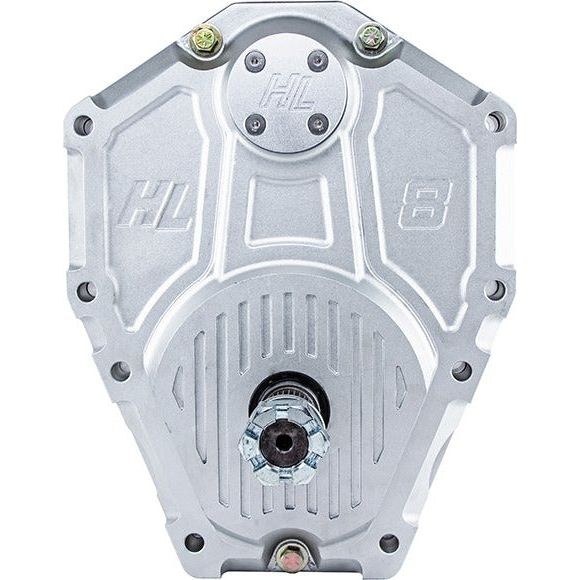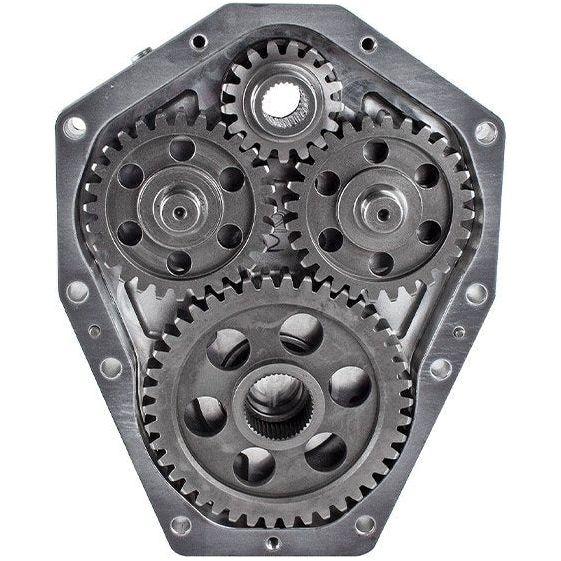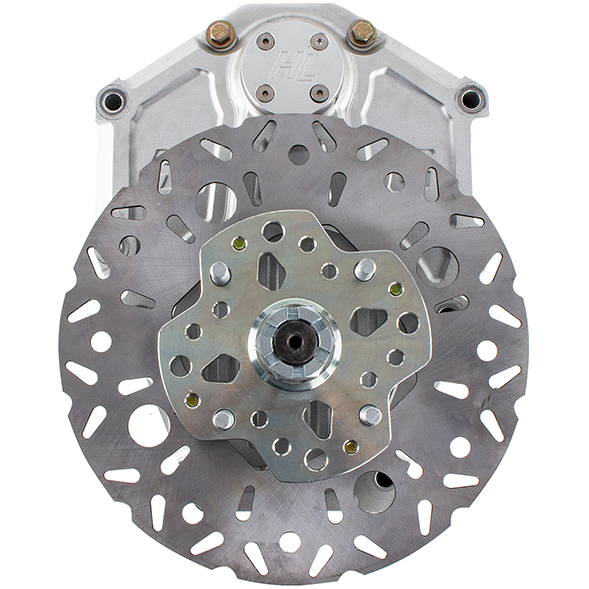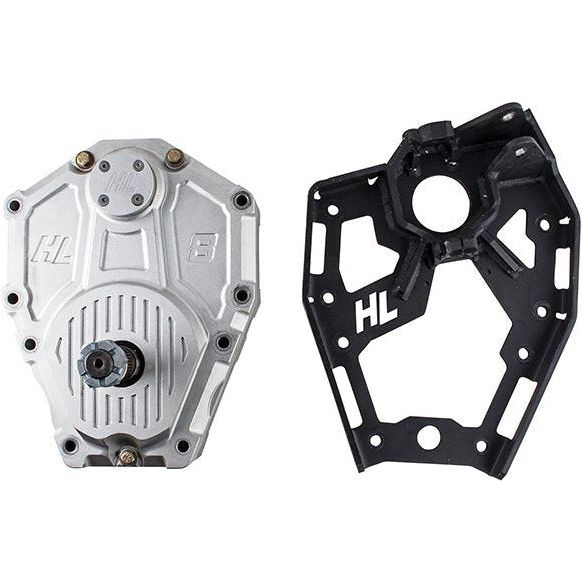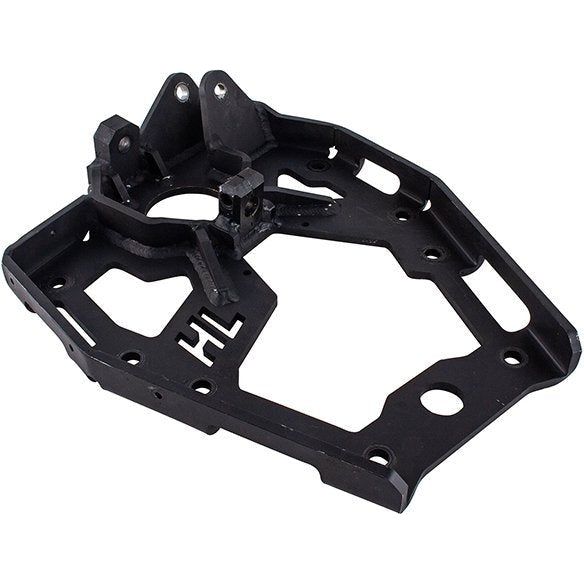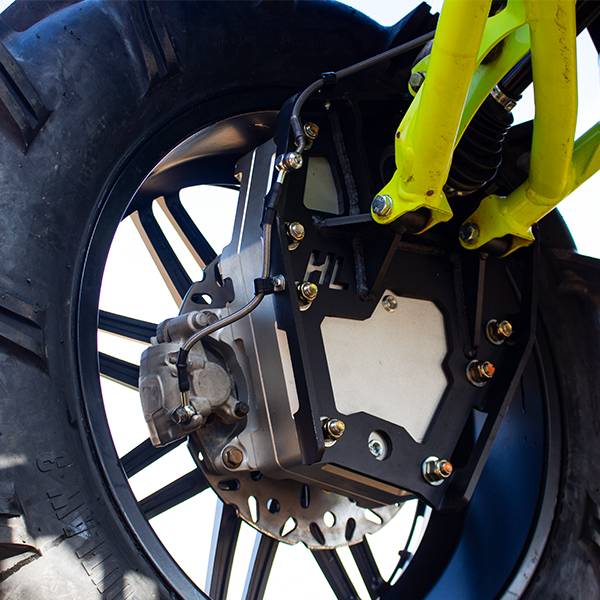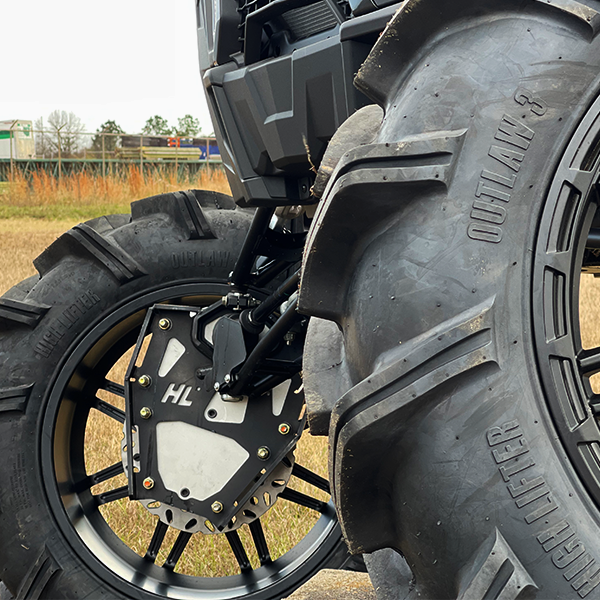 Can Am 8" Portal Gear Lift 60% Dual Idler
If you've ever been called a dare devil, risk taker or bad ass, you need High Lifter's latest and greatest addition to the portal family. Lift, power and performance is made possible with the High Lifter 8" Dual Idler Portals! The all NEW 8" Dual Idler portals were designed with a strategically clocked backing plate that allows for big tires and additional fender clearance to keep you moving through anything that comes your way!
Forged Gear Boxes
The High Lifter Engineers chose forged gear boxed over billet because the process of forging eliminates the occurrence of porosity and cavities that can reduce strength in a part. With 8" portals, you want them to be strong; the tight grain structure in our gear boxes makes them mechanically stronger than the alternative! Take on any terrain because these boxes will handle the impact!
These portal boxes are extremely robust and give you more worry-free miles than any other portal – a badass portal deserves a badass box!
Strongest boxes on the market because forging produces a tougher piece of metal – It is what it is!
Forging is stronger than both cast and billet aluminum which is used by the competitor.
Brake lines
No need to replace factory brake lines, a brake line extension gives you an easier install and saves a lot of time!

Large advantage for Can-Am owners!
Gear Box Venting
Customers asked for box venting, and we give you the option
Our box design offers a plug for venting with an optional easy to install kit that will be available soon
Vent kits allow an advantage of cooling which reduces early deterioration of the gaskets and seals
Gasket Material and Design
High density Kevlar fiber gaskets plus no additional sealant is needed
Gasket material is creep resistant plus oil and coolant resistant
Seals
Two oil seals on the spindle shaft for 100% more sealing area
Dual seals prevent water intrusion and oil leaks
True triple seal on the input shaft which includes a wiper seal that provides a significant extra layer of protection
Backing Plate
These are the strongest backing plates on the market
5/16" steel plate with bent flanges for strength and durability
Welded gusset brackets and designed to factory off-set
Works with all control arms that are built to factory hub specifications
Backing plates have an offset or "CLOCKED" 5" forward & rearward so you can run BIG tires and not interfere with your clearance!
13" Rotor
Precision ground stainless steel rotors (this is a big deal for brake performance)
Access holes for ease of assembly and disassembly
Slotted rotor allows for heat dissipation and cooling
Gear Profile
Alloy steel heat treating process increases overall internal and external strength
CNC precision ground machining ensures excellent fitment and increased strength
Controlled gear lapping for ease of installation and a quieter performance
NOTE: Minimum wheel size is 22"; however, we recommend running a 24" wheel when installing 8" portals.
VEHICLE FITMENT
2022 Can-Am Commander 1000R DPS

2022 Can-Am Commander 1000R XT

2022 Can-Am Commander 1000R XT-P

2022 Can-Am Commander 1000R XMR

2022 Can-Am Commander MAX 1000R DPS

2022 Can-Am Commander MAX 1000R XT

2022 Can-Am Commander MAX 1000R XT-P

2022 Can-Am Maverick Sport 1000

2022 Can-Am Maverick Sport 1000R DPS

2022 Can-Am Maverick Sport 1000R XXC

2022 Can-Am Maverick Sport 1000R XMR

2022 Can-Am Maverick Sport 1000R XRC

2022 Can-Am Maverick Sport MAX 1000R DPS

2022 Can-Am Maverick X3 XRS Turbo RR w/Smart-Shox 72

2022 Can-Am Maverick X3 MAX XRS Turbo RR Smart Shox

2022 Can-Am Maverick X3 DS Turbo 64

2022 Can-Am Maverick X3 DS Turbo RR 64

2022 Can-Am Maverick X3 XDS Turbo RR 64

2022 Can-Am Maverick X3 RS Turbo RR 72

2022 Can-Am Maverick X3 XRS Turbo RR 72

2022 Can-Am Maverick X3 XRC Turbo RR 64

2022 Can-Am Maverick X3 XRC Turbo RR 72

2022 Can-Am Maverick X3 XMR Turbo RR 64

2022 Can-Am Maverick X3 XMR Turbo RR 72

2022 Can-Am Maverick X3 MAX DS Turbo 64

2022 Can-Am Maverick X3 MAX DS Turbo RR 64

2022 Can-Am Maverick X3 MAX XDS Turbo RR 64

2022 Can-Am Maverick X3 MAX RS Turbo RR 72

2022 Can-Am Maverick X3 MAX XRS Turbo RR 72

2022 Can-Am Maverick X3 MAX XMR Turbo RR 72

2017 Can-Am Maverick X3 STD

2017 Can-Am Maverick X3 XDS

2017 Can-Am Maverick X3 XRS

2017 Can-Am Maverick X3 MAX STD

2017 Can-Am Maverick X3 MAX XDS

2017 Can-Am Maverick X3 MAX XRS

2018 Can-Am Maverick X3 Turbo

2018 Can-Am Maverick X3 Turbo R

2018 Can-Am Maverick X3 Turbo R XRS

2018 Can-Am Maverick X3 Turbo MAX

2018 Can-Am Maverick X3 Turbo R MAX

2018 Can-Am Maverick X3 Turbo R MAX XDS

2018 Can-Am Maverick X3 Turbo R MAX XRS

2018 Can-Am Maverick X3 Turbo R XRC

2018 Can-Am Maverick X3 Turbo XRC

2018 Can-Am Maverick X3 Turbo XMR

2018 Can-Am Maverick X3 Turbo R XMR

2018 Can-Am Maverick X3 900 HO

2019 Can-Am Commander MAX 1000 LTD

2019 Can-Am Commander MAX 1000 XT

2019 Can-Am Maverick Sport 1000R DPS

2019 Can-Am Maverick Sport 1000 BASE

2019 Can-Am Maverick X3 Turbo

2019 Can-Am Maverick X3 Turbo XRC

2019 Can-Am Maverick X3 Turbo XMR

2019 Can-Am Maverick X3 Turbo MAX

2019 Can-Am Maverick X3 Turbo R

2019 Can-Am Maverick X3 Turbo R XDS

2019 Can-Am Maverick X3 Turbo R XMR

2019 Can-Am Maverick X3 Turbo R XRC

2019 Can-Am Maverick X3 Turbo R XRS

2019 Can-Am Maverick X3 Turbo R MAX

2019 Can-Am Maverick X3 Turbo R MAX XDS

2019 Can-Am Maverick X3 Turbo R MAX XRS

2019 Can-Am Maverick Sport 1000 DPS

2019 Can-Am Maverick Sport 1000R XRC

2019 Can-Am Maverick Sport 1000R MAX DPS

2019 Can-Am Maverick Sport 1000R XMR

2020 Can-Am Commander MAX 1000 LTD

2020 Can-Am Commander MAX 1000 XT

2020 Can-Am Maverick Sport 1000R DPS

2020 Can-Am Maverick Sport 1000 BASE

2020 Can-Am Maverick Sport 1000 DPS

2020 Can-Am Maverick Sport 1000R XRC

2020 Can-Am Maverick Sport 1000R MAX DPS

2020 Can-Am Maverick Sport 1000R XXC

2020 Can-Am Maverick Sport 1000R XMR

2020 Can-Am Maverick X3 Turbo

2020 Can-Am Maverick X3 Turbo XRC

2020 Can-Am Maverick X3 Turbo XMR

2020 Can-Am Maverick X3 Turbo MAX

2020 Can-Am Maverick X3 Turbo R XDS

2020 Can-Am Maverick X3 Turbo R XRS

2020 Can-Am Maverick X3 Turbo R MAX XDS

2020 Can-Am Maverick X3 Turbo R MAX XRS

2020 Can-Am Maverick X3 Turbo RR XDS

2020 Can-Am Maverick X3 Turbo RR XRS

2020 Can-Am Maverick X3 Turbo RR XRC

2020 Can-Am Maverick X3 Turbo RR XMR

2020 Can-Am Maverick X3 Turbo RR MAX XDS

2020 Can-Am Maverick X3 Turbo RR MAX XRS

2020 Can-Am Maverick X3 Turbo RR MAX XMR

2020 Can-Am Maverick X3 Turbo R

2020 Can-Am Maverick X3 Turbo R MAX

2021 Can-Am Maverick Sport 1000 BASE

2021 Can-Am Maverick Sport 1000R DPS

2021 Can-Am Maverick Sport 1000R MAX DPS

2021 Can-Am Maverick Sport 1000R XMR

2021 Can-Am Maverick Sport 1000R XRC

2021 Can-Am Maverick Sport 1000R XXC

2021 Can-Am Maverick X3 Turbo DS

2021 Can-Am Maverick X3 Turbo XRC

2021 Can-Am Maverick X3 Turbo XMR

2021 Can-Am Maverick X3 Turbo R DS

2021 Can-Am Maverick X3 Turbo R RS

2021 Can-Am Maverick X3 Turbo RR XDS

2021 Can-Am Maverick X3 Turbo RR XRS

2021 Can-Am Maverick X3 Turbo RR XRS Smart-Shox

2021 Can-Am Maverick X3 Turbo RR XMR

2021 Can-Am Maverick X3 Turbo RR XRC

2021 Can-Am Maverick X3 Turbo MAX DS

2021 Can-Am Maverick X3 Turbo MAX R DS

2021 Can-Am Maverick X3 Turbo MAX R RS

2021 Can-Am Maverick X3 Turbo MAX RR XDS

2021 Can-Am Maverick X3 Turbo MAX RR XRS

2021 Can-Am Maverick X3 Turbo MAX RR XRS Smart-Shox

2021 Can-Am Maverick X3 Turbo MAX RR XMR

2021 Can-Am Commander 1000 XT

2021 Can-Am Commander 1000 DPS

2021 Can-Am Commander 1000 XT-P

2021 Can-Am Commander 1000 MAX XT

2021 Can-Am Commander 1000 MAX DPS
INSTALLATION