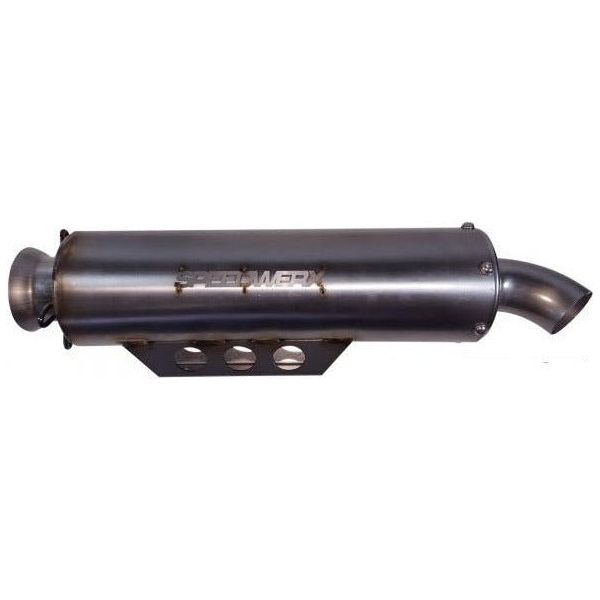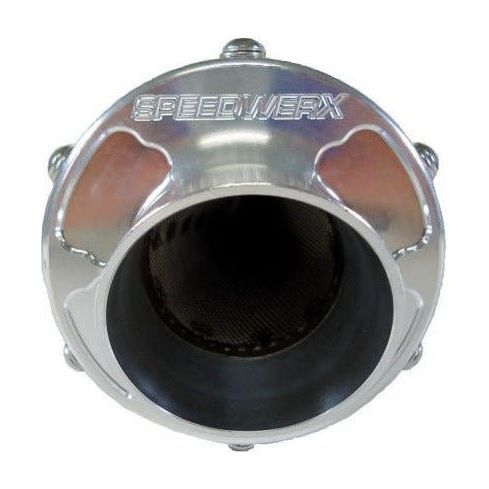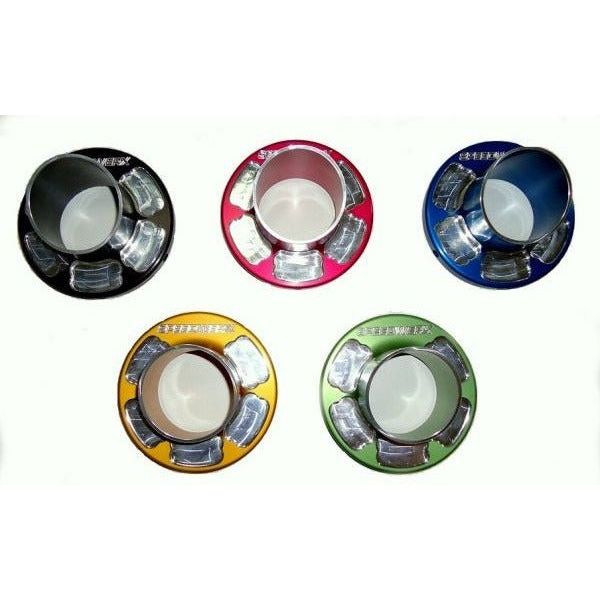 Arctic Cat Wildcat XX L2 Series Slip On Exhaust
Speedwerx L2 Series Stainless Steel Slip-On Exhaust
This L2 (Light n' Loud) Series Stainless Steel Slip-On Exhaust is designed to increase power, add acceleration and throttle response, lose weight and give your machine a new deeper, throatier sound. With this exhaust, you are also eliminating the catalytic converter that is inside the OEM muffler- that means more air flow for better performance, and less heat retention for cooler engine compartment temps.

These mufflers have a brushed stainless steel shell with a welded inlet end cap, and a steel core with packing material and a built-in spark arrestor. They are 100% rebuildable with all inner parts being removable. They come standard with a stainless steel turn down, but aluminum endcaps with a natural finish or anodized black, red, blue, gold, or green are available as an upgrade as well. These are assembled as ordered due to these options, so please allow 2-3 business days before shipment. 
The stock muffler weighs in at 16.5lbs, and the L2 comes in at just 6.2lbs- that's a weight loss of 10.3lbs, plus you will lose an additional 4.3lbs by removing the stock head shield and guards for a total of 14.6lbs less than stock! No EFI changes are required with our slip-on exhausts, but a Speedwerx ECU Reflash or Power Commander Fuel Controller will allow you to tune your machine for optimum performance. Check out our Stainless Steel Header for even more power and performance, or our Exterminator Kits for a complete performance package!
Muffler Comparison: 
Stock 97dB @4500 rpm - 112dB @9000rpm - 20.8lbs with heat shields 
   L2 106dB @4500 rpm - 114dB @9000 rpm - 6.2lbs installed = 14.6 lbs savings
  Q6 102dB @4500 rpm - 111dB @9000 rpm - 9.9lbs installed = 10.9 lbs savings
The difference in the dB readings at 4500 on the Stock and Q6 parts can be misleading as the sound of the Q6 is much more friendly and tolerable compared to stock. The Q6 also has a different tone compared to stock- the stock rattle / vibration sound is gone with the Q6- this does not show up on the decibel meter but anyone who is sensitive to this sound will notice the difference right away.
VEHICLE FITMENT
Arctic Cat Wildcat XX