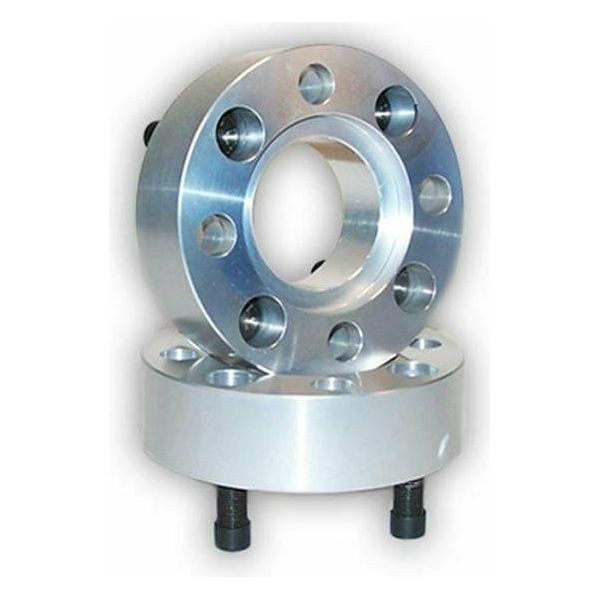 1" Wheel Spacers 4/137 10mmx1.25 (Pair)
Move your wheels out and get the room needed for bigger tires and more traction in any terrain with High Lifter's Wide Trac Wheel Spacers! One pair.
If you're looking for a wider stance, a safer ride, and the ability to bite through the ruts, you need wheel spacers. Wheel spacers will give you a more aggressive look and increase your stability. If you've recently installed a lift and your suspension drew up which resulted in your width decreasing, wheel spacers may be needed to reposition your wheels back to the factory stance.
There are several major benefits provided by installing wheel spacers:
They extend wheel width for greater stability and increased safety. Riders of tall ATVs will feel much more comfortable on side hills with the wider base.
They provide mud tires a fresh "bite" at the side of ruts instead of the ATV simply driving down the deepest part of the center of the ruts where previous riders have been. So, the problem of getting stuck by being "high centered" is reduced.
They allow the installation of larger, aftermarket tires without rubbing shocks, struts, or exhaust systems.
High Lifter's wheel spacers are machined from aircraft grade 6061 billet aluminum and use grade 8 studs. No OEM studs are required to be removed from the ATV and stud extenders are not used. Wheel spacers bolt to existing studs and the wheel is then bolted to the grade 8 wheel spacer stud furnished. This design is the strongest available to ATVs and are comparable to automotive grade wheel adapters.
Spacer Width: 1"
Applications: Kawasaki Spacers 4/137 (1 pair). These spacers will not work on the "IRS" Kawasaki 650i/750i Brute Forces or the Kawasaki Mules, but they do work on the Kawasaki 650 "SRA" Brute Force.
NOTE: Spacers have 10mmx1.25 thread pitch studs and spacer lug nuts.
VEHICLE FITMENT
2016 Can-Am Commander 800

2016 Can-Am Commander 800 DPS

2016 Can-Am Commander 1000 DPS

2016 Can-Am Commander 800 XT

2016 Can-Am Commander 1000 XT

2016 Can-Am Commander 1000 XT-P

2016 Can-Am Commander 1000 LTD

2016 Can-Am Commander MAX 1000 DPS

2016 Can-Am Commander MAX 1000 XT

2016 Can-Am Commander MAX 1000 LTD

2016 Can-Am Maverick 1000

2016 Can-Am Maverick 1000 DPS

2016 Can-Am Maverick 1000 XC

2016 Can-Am Maverick 1000 XXC

2016 Can-Am Maverick 1000 XMR

2016 Can-Am Maverick 1000 XDS

2016 Can-Am Maverick 1000 XDS Turbo

2016 Can-Am Maverick 1000 XRS Turbo

2016 Can-Am Maverick MAX 1000 DPS

2016 Can-Am Maverick MAX 1000 XDS

2016 Can-Am Maverick MAX 1000 XDS Turbo

2016 Can-Am Maverick MAX 1000 XRS Turbo

2016 Kawasaki Mule 610 4x4 XC

2016 Kawasaki Mule 610 4x4 XC SE

2016 Kawasaki Mule 610 4x4 SE

2016 Kawasaki Mule 610 4x4

2016 Kawasaki Mule 600

2016 Can-Am Defender HD8

2016 Can-Am Defender HD10

2016 Can-Am Defender HD8 DPS

2016 Can-Am Defender HD10 DPS

2016 Can-Am Defender HD8 XT

2016 Can-Am Defender HD10 XT

2016 Can-Am Defender HD10 CAB

2022 Can-Am Defender HD10 DPS

2022 Can-Am Defender HD10 XT

2022 Can-Am Defender HD10 XMR

2022 Can-Am Defender MAX HD10 DPS

2022 Can-Am Defender MAX HD10 XT

2022 Can-Am Defender MAX HD10 Lone Star

2022 Can-Am Defender MAX HD10 XMR

2022 Can-Am Defender HD10 6x6 DPS

2022 Can-Am Defender HD10 6x6 XT

2022 Can-Am Defender PRO HD10 DPS

2022 Can-Am Defender PRO HD10 XT

2022 Kawasaki Mule SX

2022 Kawasaki Mule SX 4x4 FI

2022 Kawasaki Mule SX 4x4 XC FI

2022 Kawasaki Mule SX 4x4 XC LE FI

2011 Can-Am Commander 800

2011 Can-Am Commander 1000 XT

2011 Can-Am Commander 1000 X

2011 Can-Am Commander 1000

2011 Kawasaki MULE 610 4x4

2010 Kawasaki MULE 610 4x4

2009 Kawasaki MULE 610 4x4

2008 Kawasaki MULE 610 4x4

2007 Kawasaki MULE 610 4x4

2006 Kawasaki MULE 610 4x4

2005 Kawasaki MULE 610 4x4

2009 Kawasaki MULE 600

2008 Kawasaki MULE 600

2007 Kawasaki MULE 600

2006 Kawasaki MULE 600

2005 Kawasaki MULE 600

2010 Kawasaki MULE 600

2011 Kawasaki MULE 600

2021 Can-Am Commander 1000

2012 Can-Am Commander 1000 X

2012 Can-Am Commander 1000 XT

2012 Can-Am Commander 1000

2012 Can-Am Commander 800

2012 Can-Am Commander 800 XT

2012 Kawasaki MULE 610 4x4 XC

2012 Kawasaki MULE 600

2013 Can-Am Commander 1000 XT-P

2013 Can-Am Commander 1000

2013 Can-Am Commander 800

2013 Can-Am Commander 1000 DPS

2013 Can-Am Commander 1000 XT

2013 Can-Am Commander 800 XT

2013 Can-Am Commander 1000 X

2013 Can-Am Commander 800 DPS

2013 Kawasaki MULE 610 4x4

2013 Kawasaki MULE 610 4x4 XC

2013 Kawasaki MULE 600

2012 Kawasaki Mule 610 4x4

2013 Can-Am Maverick 1000 Xrs

2013 Can-Am Maverick 1000

2014 Can-Am Maverick 1000

2014 Can-Am Maverick 1000 XRS

2014 Can-Am Maverick 1000 XRS-DPS

2014 Can-Am Maverick 1000 XXC

2014 Can-Am Maverick MAX 1000

2014 Can-Am Maverick MAX 1000 XRS

2014 Can-Am Maverick MAX 1000 XRS-DPS

2014 Can-Am Commander 800

2014 Can-Am Commander 800 DPS

2014 Can-Am Commander 800 XT

2014 Can-Am Commander 1000

2014 Can-Am Commander 1000 DPS

2014 Can-Am Commander 1000 XT

2014 Can-Am Commander 1000 XT-P

2014 Can-Am Commander 1000 LTD

2014 Kawasaki Mule 610 4x4 XC

2014 Kawasaki Mule 610 4x4

2014 Kawasaki Mule 600

2015 Can-Am Maverick 1000

2015 Can-Am Maverick 1000 XRS-DPS

2015 Can-Am Maverick 1000 XXC-DPS

2015 Can-Am Maverick MAX 1000

2015 Can-Am Maverick MAX 1000 XRS-DPS

2015 Can-Am Maverick 1000 XMR-DPS

2015 Can-Am Commander 800

2015 Can-Am Commander 800 DPS

2015 Can-Am Commander 800 XT

2015 Can-Am Commander 1000 DPS

2015 Can-Am Commander 1000 XT

2015 Can-Am Commander 1000 XT-P

2015 Can-Am Commander 1000 LTD

2015 Can-Am Commander MAX 1000 DPS

2015 Can-Am Commander MAX 1000 XT

2014 Can-Am Commander MAX 1000 DPS

2014 Can-Am Commander MAX 1000 XT

2015 Kawasaki Mule 600

2015 Kawasaki Mule 610 4x4

2015 Kawasaki Mule 610 4x4 XC

2013 Can-Am Maverick 1000 XRS

2014 Can-Am Maverick 1000 XMR

2015 Can-Am Maverick 1000 XRS

2015 Can-Am Maverick 1000 XDS-DPS TURBO

2015 Can-Am Maverick MAX 1000 XDS-DPS TURBO

2017 Kawasaki Mule 610 4x4 XC

2017 Kawasaki Mule 610 4x4 XC SE

2017 Kawasaki Mule 610 4x4 SX

2017 Kawasaki Mule 610 4x4 SX SE

2017 Kawasaki Mule 610 SX

2017 Can-Am Commander 1000 DPS

2017 Can-Am Commander 1000 LTD

2017 Can-Am Commander 1000 XT

2017 Can-Am Commander 1000 XT-P

2017 Can-Am Commander 800

2017 Can-Am Commander 800 DPS

2017 Can-Am Commander 800 XT

2017 Can-Am Commander MAX 1000 DPS

2017 Can-Am Commander MAX 1000 LTD

2017 Can-Am Commander MAX 1000 XT

2017 Can-Am Commander MAX 800 DPS

2017 Can-Am Defender HD10

2017 Can-Am Defender HD10 CAB

2017 Can-Am Defender HD10 DPS

2017 Can-Am Defender HD10 XT

2017 Can-Am Defender HD8 BASE

2017 Can-Am Defender HD8

2017 Can-Am Defender HD8 DPS

2017 Can-Am Defender HD8 XT

2017 Can-Am Defender MAX HD10 DPS

2017 Can-Am Defender MAX HD10 XT

2017 Can-Am Defender MAX HD8 DPS

2017 Can-Am Defender MAX HD8 XT

2017 Can-Am Maverick 1000 DPS

2017 Can-Am Maverick 1000 XC

2017 Can-Am Maverick 1000 XC DPS

2017 Can-Am Maverick 1000 XDS Turbo

2017 Can-Am Maverick 1000 XDS-STD Turbo

2017 Can-Am Maverick 1000 XMR

2017 Can-Am Maverick 1000 XXC

2017 Can-Am Maverick MAX 1000 DPS

2017 Can-Am Maverick MAX 1000 DPS Turbo

2017 Can-Am Maverick MAX 1000 XDS Turbo

2017 Can-Am Maverick MAX 1000 XMR

2017 Can-Am Maverick MAX 1000 XRS Turbo

2018 Can-Am Commander 1000 DPS

2018 Can-Am Commander 1000 LTD

2018 Can-Am Commander 1000 XT

2018 Can-Am Commander 800

2018 Can-Am Commander 800 XT

2018 Can-Am Commander MAX 1000 DPS

2018 Can-Am Commander MAX 1000 LTD

2018 Can-Am Commander MAX 1000 XT

2018 Can-Am Commander MAX 800 DPS

2018 Can-Am Defender HD10

2018 Can-Am Defender HD10 DPS

2018 Can-Am Defender HD10 XT

2018 Can-Am Defender HD10 CAB XT

2018 Can-Am Defender HD8

2018 Can-Am Defender HD8 DPS

2018 Can-Am Defender HD8 XT

2018 Can-Am Defender HD8 CAB XT

2018 Can-Am Defender HD5

2018 Can-Am Defender HD5 DPS

2018 Can-Am Defender MAX HD10 DPS

2018 Can-Am Defender MAX HD10 XT

2018 Can-Am Defender MAX HD10 CAB XT

2018 Can-Am Defender MAX HD8 DPS

2018 Can-Am Defender MAX HD8 XT

2018 Can-Am Defender MAX HD8

2018 Can-Am Maverick 1000 DPS

2018 Can-Am Maverick 1000 XC

2018 Can-Am Maverick 1000 XC DPS

2018 Can-Am Maverick 1000 XMR

2018 Can-Am Maverick 1000 XXC

2018 Can-Am Maverick MAX 1000 DPS

2018 Can-Am Maverick MAX 1000 XMR

2018 Kawasaki Mule XC 4x4

2018 Kawasaki Mule XC SE 4x4

2018 Kawasaki Mule SX 4x4

2018 Kawasaki Mule SX SE 4x4

2018 Kawasaki Mule SX

2018 Can-Am Defender HD10 XMR

2018 Can-Am Defender Lone Star MAX

2019 Can-Am Commander 1000 DPS

2019 Can-Am Commander 1000 LTD

2019 Can-Am Commander 1000 XT

2019 Can-Am Commander 800

2019 Can-Am Commander 800 DPS

2019 Can-Am Commander 800 XT

2019 Can-Am Commander MAX 1000 LTD

2019 Can-Am Commander MAX 1000 XT

2019 Can-Am Commander MAX 800 DPS

2019 Can-Am Defender HD10 DPS

2019 Can-Am Defender HD10 XT

2019 Can-Am Defender HD10 XTP

2019 Can-Am Defender HD10 XMR

2019 Can-Am Defender HD10 CAB

2019 Can-Am Defender HD8

2019 Can-Am Defender HD8 DPS

2019 Can-Am Defender HD8 XT

2019 Can-Am Defender HD8 CAB

2019 Can-Am Defender HD5

2019 Can-Am Defender HD5 DPS

2019 Can-Am Defender MAX HD10 DPS

2019 Can-Am Defender MAX HD10 XT

2019 Can-Am Defender MAX HD10 CAB

2019 Can-Am Defender MAX HD10 Lone Star

2019 Can-Am Defender MAX HD8 DPS

2019 Can-Am Defender MAX HD8 XT

2019 Can-Am Defender MAX HD8

2019 Can-Am Defender HD10 MAX XMR

2019 Kawasaki Mule SX 4x4

2019 Kawasaki Mule SX SE 4x4

2019 Kawasaki Mule SX

2020 Can-Am Commander 1000 DPS

2020 Can-Am Commander 1000 LTD

2020 Can-Am Commander 1000 XT

2020 Can-Am Commander 800

2020 Can-Am Commander 800 DPS

2020 Can-Am Commander 800 XT

2020 Can-Am Commander MAX 1000 LTD

2020 Can-Am Commander MAX 1000 XT

2020 Can-Am Commander MAX 800 DPS

2020 Can-Am Defender HD10 DPS

2020 Can-Am Defender HD10 XT

2020 Can-Am Defender HD10 XTP

2020 Can-Am Defender HD10 XMR

2020 Can-Am Defender HD10 CAB XT

2020 Can-Am Defender HD10 6x6 DPS

2020 Can-Am Defender HD8

2020 Can-Am Defender HD8 DPS

2020 Can-Am Defender HD8 XT

2020 Can-Am Defender HD8 CAB XT

2020 Can-Am Defender HD5

2020 Can-Am Defender HD5 DPS

2020 Can-Am Defender MAX HD10 DPS

2020 Can-Am Defender MAX HD10 XT

2020 Can-Am Defender MAX HD10 CAB XT

2020 Can-Am Defender MAX HD10 Lone Star

2020 Can-Am Defender MAX HD10 XMR

2020 Can-Am Defender MAX HD8 DPS

2020 Can-Am Defender MAX HD8 XT

2020 Can-Am Defender MAX HD8

2020 Kawasaki Mule SX

2020 Kawasaki Mule SX 4x4

2020 Kawasaki Mule SX SE 4x4

2020 Kawasaki Mule SX XC SE 4x4

2020 Kawasaki Mule SX XC LE 4x4

2020 Can-Am Defender HD10 Mossy Oak Edition

2020 Can-Am Defender PRO HD10 XT

2020 Can-Am Defender PRO HD10 DPS

2021 Can-Am Defender HD10 DPS

2021 Can-Am Defender HD10 LTD CAB

2021 Can-Am Defender HD10 XMR

2021 Can-Am Defender HD10 XT

2021 Can-Am Defender HD8

2021 Can-Am Defender HD8 CAB DPS

2021 Can-Am Defender HD8 DPS

2021 Can-Am Defender HD8 XT

2021 Can-Am Defender HD5

2021 Can-Am Defender HD5 DPS

2021 Can-Am Defender MAX HD10 LTD CAB

2021 Can-Am Defender MAX HD10 DPS

2021 Can-Am Defender MAX HD10 Lone Star

2021 Can-Am Defender MAX HD10 XMR

2021 Can-Am Defender MAX HD10 XT

2021 Can-Am Defender MAX HD8

2021 Can-Am Defender MAX HD8 DPS

2021 Can-Am Defender MAX HD8 XT

2021 Can-Am Defender HD10 6x6 DPS

2021 Can-Am Defender HD10 6x6 XT

2021 Can-Am Defender PRO HD10 DPS

2021 Can-Am Defender PRO HD10 XT

2021 Kawasaki Mule SX

2021 Kawasaki Mule SX 4x4 FI

2021 Kawasaki Mule SX 4x4 SE FI

2021 Kawasaki Mule SX 4x4 XC FI

2021 Kawasaki Mule SX 4x4 XC Camo FI

2021 Kawasaki Mule SX 4x4 XC LE FI