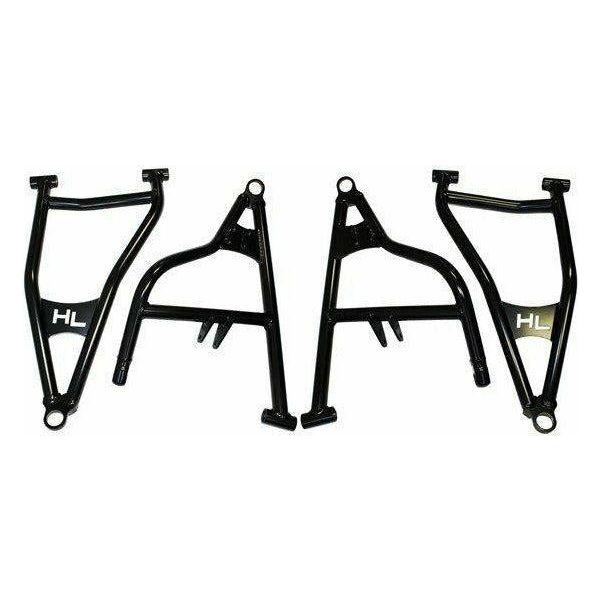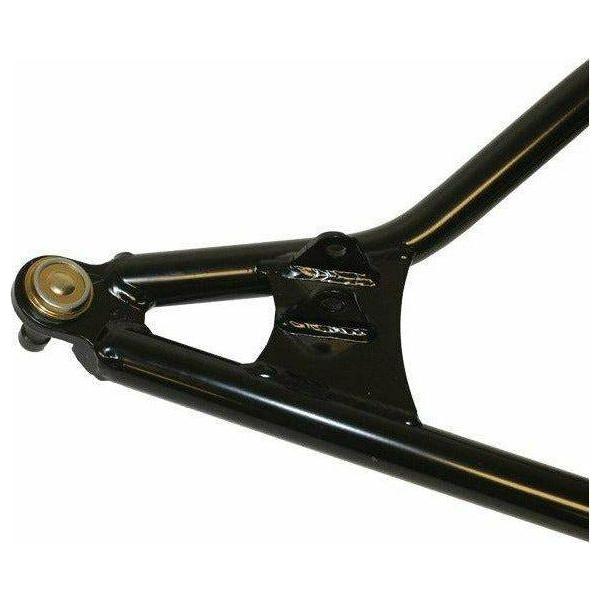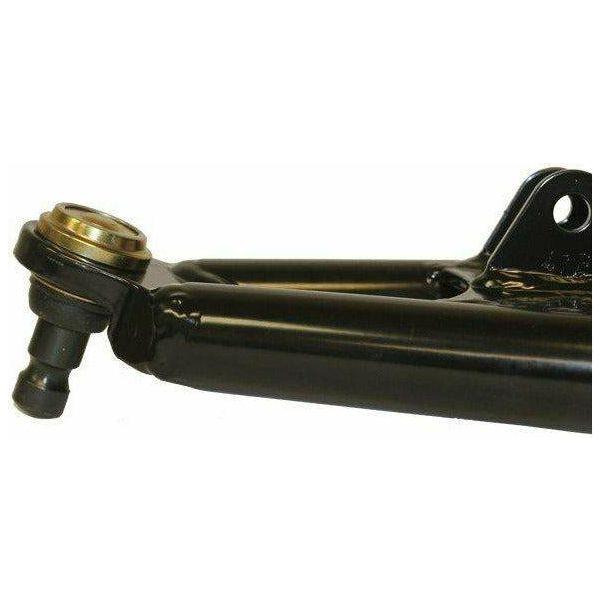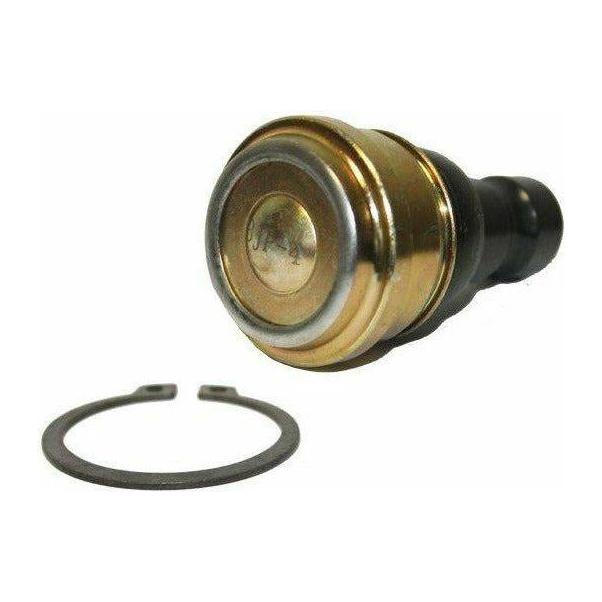 Polaris RZR XP 1000 / Turbo (2017+) Front Forward Offset Control Arms
Whether you ride in deep mud or over rocky trails, the need for stronger control arms with added ground clearance is extremely important. Most stock arms are too weak to withstand what you put your bike through and lack the added ground clearance needed for challenging trails. High Lifter has solved your problem by designing tough control arms, twice as strong as your stock arms, with the added ground clearance you need for all terrains and bigger tires. Optional preinstalled ball joints.
High Lifter's service team uses a hydraulic press to install the ball joint with the correct pressure and alignment, also making sure the clip is fully seated and secured. Purchasing control arms with the ball joints already installed prevents damage due to improper installation, which is not covered by High Lifter's Lifetime Warranty.
The ball joints preinstalled in this kit are BJP-4. 
Our arms maximize ground clearance by strategically arching the lower control arms while following the angle of the axle for maximum clearance, axle protection, and visual appeal. Don't be fooled with too much arch that puts your axles into greater risk of damage. Our precision manufacturing process ensures each control arm installs exactly like the factory arm. Depending on the model, most kits will have the High Lifter logo precision cut into the bracing.
Installation is made easy with our step by step and multi-image instructions. During installation, you can use stock bushings and ball joints for easy installation. Even better, High Lifter will install your ball joints before shipping. (See our control arms with preinstalled ball joints.)
Always check for bearings, bushings, ball joints, and brake wear before installation and replace if needed. We always recommend checking these parts before you start your installation to save time and get back on the trail sooner. See the Replacement Parts Tab to purchase replacement parts as needed.
Features:
Moves arms 1 1/2" forward
25% larger than average stock arms - Crafted from 1 1/4" DOM steel
Up to 2.5x the wall thickness of an average stock arms
Grease fittings included for most models
Added ground clearance featuring bends that maximize clearance and axle protection
Most stock powder coat colors available in stock
Easy to install and maintain
Limited Lifetime Warranty
Tire Fitment:

Up to 32"
With Lift Kit - Up to 35"
Our tire fitment guide is a general fitment and is in no way guaranteed. Tires and lifts vary by manufacture and tire fitment can be affected by other modifications such as, but not limited to, wheel offset, actual tire diameter and actual tire width. Always verify your brand of tires, lift, and other modifications prior to making a buying decision.
This kit comes with control arms only, no ball joints.


VEHICLE FITMENT
2017 Polaris RZR 1000 XP 4 EPS

2017 Polaris RZR 1000 XP 4 High Lifter Edition

2017 Polaris RZR 1000 XP EPS

2017 Polaris RZR 1000 XP High Lifter Edition

2017 Polaris RZR 1000 XP SE EPS

2017 Polaris RZR TURBO 4 XP EPS

2017 Polaris RZR TURBO XP EPS

2018 Polaris RZR 1000 XP 4 EPS

2018 Polaris RZR 1000 XP 4 High Lifter Edition

2018 Polaris RZR 1000 XP 4 Ride Command

2018 Polaris RZR 1000 XP EPS

2018 Polaris RZR 1000 XP High Lifter Edition

2018 Polaris RZR 1000 XP Ride Command

2018 Polaris RZR 1000 XP Trail and Rocks

2018 Polaris RZR TURBO XP 4 EPS

2018 Polaris RZR TURBO XP 4 FOX Edition

2018 Polaris RZR TURBO XP DYNAMIX Edition

2018 Polaris RZR TURBO XP EPS

2018 Polaris RZR TURBO XP FOX Edition

2019 Polaris RZR 1000 XP 4 DYNAMIX

2019 Polaris RZR 1000 XP 4 EPS

2019 Polaris RZR 1000 XP 4 High Lifter Edition

2019 Polaris RZR 1000 XP 4 Ride Command

2019 Polaris RZR 1000 XP DYNAMIX

2019 Polaris RZR 1000 XP EPS

2019 Polaris RZR 1000 XP High Lifter Edition

2019 Polaris RZR 1000 XP Ride Command

2019 Polaris RZR 1000 XP Trail and Rock

2019 Polaris RZR TURBO XP 4 DYNAMIX Edition

2019 Polaris RZR TURBO XP 4 EPS

2019 Polaris RZR TURBO XP 4 LE

2019 Polaris RZR TURBO XP DYNAMIX Edition

2019 Polaris RZR TURBO XP EPS

2019 Polaris RZR TURBO XP LE

2020 Polaris RZR 1000 XP

2020 Polaris RZR 1000 XP 4

2020 Polaris RZR 1000 XP 4 High Lifter Edition

2020 Polaris RZR 1000 XP 4 Limited Edition

2020 Polaris RZR 1000 XP 4 Premium

2020 Polaris RZR 1000 XP High Lifter Edition

2020 Polaris RZR 1000 XP Limited Edition

2020 Polaris RZR 1000 XP Premium

2020 Polaris RZR 1000 XP Trail and Rock

2020 Polaris RZR TURBO XP

2020 Polaris RZR TURBO XP 4

2021 Polaris RZR 1000 XP 4

2021 Polaris RZR 1000 XP 4 High Lifter Edition

2021 Polaris RZR 1000 XP 4 Premium

2021 Polaris RZR 1000 XP 4 Sport

2021 Polaris RZR 1000 XP High Lifter Edition

2021 Polaris RZR 1000 XP Premium

2021 Polaris RZR 1000 XP Sport

2021 Polaris RZR 1000 XP Trails and Rocks

2021 Polaris RZR Turbo XP

2021 Polaris RZR Turbo XP 4

2022 Polaris RZR 1000 XP 4 High Lifter Edition

2022 Polaris RZR 1000 XP 4 Premium

2022 Polaris RZR 1000 XP 4 Sport

2022 Polaris RZR 1000 XP High Lifter Edition

2022 Polaris RZR 1000 XP Premium

2022 Polaris RZR 1000 XP Sport

2022 Polaris RZR 1000 XP Trails and Rocks

2023 Polaris RZR 1000 XP 4 Premium

2023 Polaris RZR 1000 XP 4 Sport

2023 Polaris RZR 1000 XP 4 Ultimate

2023 Polaris RZR 1000 XP Premium

2023 Polaris RZR 1000 XP Sport

2023 Polaris RZR 1000 XP Ultimate
INSTALLATION