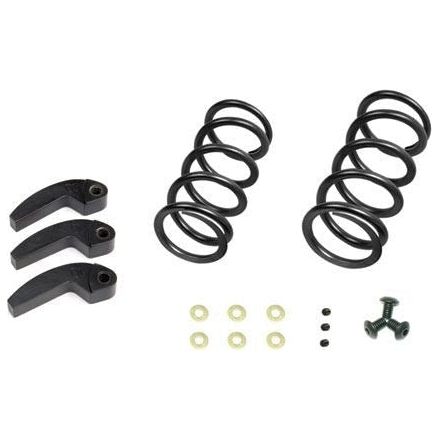 Polaris RZR 570 (2012-2015) Hypershift Clutch Kit
Our Hypershift Clutch Kits are one of the most valuable products available when it comes to enhancing the performance of your ATV/UTV. Each kit is designed and rigorously tested by the staff @ Speedwerx to insure that it will increase your machine's acceleration, back shift and all around performance. We offer kits for most applications. We have kits for stock machines, piped or slightly modified machines, stock machines with oversized tires, piped or slightly modified machines with oversized tires and kits for higher elevations as well. Most kits but not all include: primary spring, secondary spring, machined clutch weights and a compound radius helix. All of the proper ingredients to get your machine ahead of the competition and keep it there. Before ordering take a look at the application charts below to make sure you get the proper kit for your application. If you have a complete custom unit built for mudding, drags or whatever, let us know. Our clutching experts can help put a kit together for just about anything.
One of the most popular mods for ATVs today is larger tires. We here at Speedwerx & Hot Seat Performance are aware of this and understand why you want larger tires. But when installing larger tires 9 out of 10 times your machine will be slower and/or less responsive. The way to make up for this drastic loss in power and response is to change your clutching so it matches the tires you're running. So if you're planning on installing larger tires on your machine, DON'T FORGET TO CHANGE YOUR CLUTCHING! If you have any questions please call our tech line.
Speedwerx & Hot Seat Performance have a full line of big wheel clutch kits available for 27" and larger tire sizes. However, some units with 29" or larger tires may require additional changes. If you have 29" or larger tires on your machine, please let us know and we will match your tire size with your other mods and assemble a kit that will put a smile on your face!
VEHICLE FITMENT
Polaris RZR 570 (2012-2015)