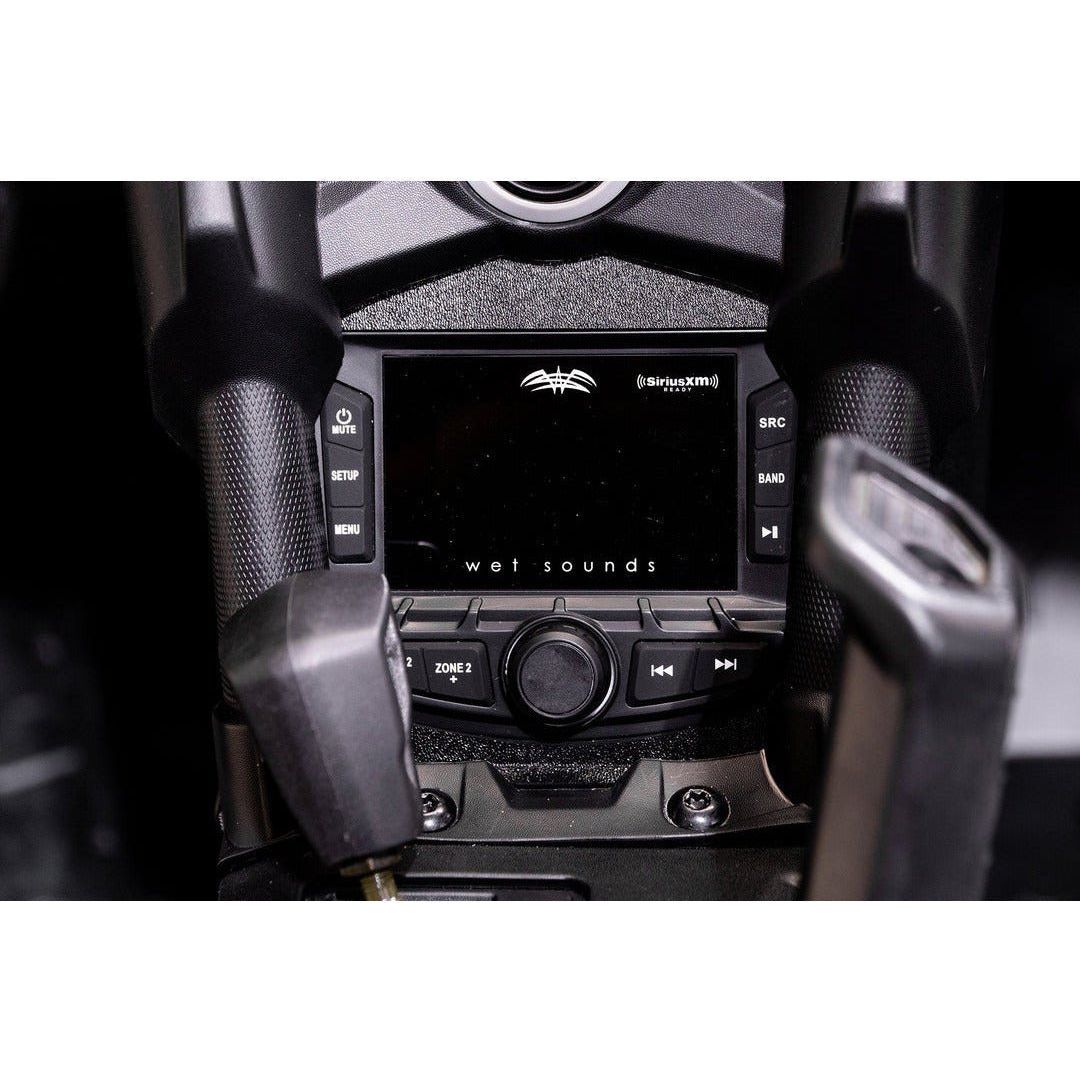 Can Am X3 Stage 6 Stereo System
NOT YOUR AVERAGE ENTRY-LEVEL SYSTEM

The Can-Am® X3 Stage 6 Stereo kit is our "entry-level" kit but don't let that fool you. Like all our kits, it has been masterfully crafted and with 1000-Watts, it simply blows ANYTHING else on the market out of the water.
COMPLETE CONTROL
The Wet Sounds® MC-2® provides you with complete front and rear speaker control as well as subwoofer adjustments right at your fingertips. It features a full LCD interface, rotary volume dial, and tactile buttons. The MC-2® is both SiriusXM-Ready® and Bluetooth® capable so you can play music directly from your phone or access hundreds of radio channels wherever your adventures take you. We offer two mounting options for your X3, a lower mount and an upper mount, both designed to provide unrestricted access to the MC-2® receiver.
A SINGLE HIGH-POWER AMPLIFIER
Our powerful 1000-Watt Signature Series amplifier is the heart of the system. It features an engraved billet aluminum chassis that has been engineered to keep the elements out and the electronics safe using sealed connections & controls. We have specifically designed this amplifier to run off your smaller Can-Am® X3 battery and stator which is possible due to its extremely low current draw. Tuning your system to perfection is simple with the built-in clipping indicators. Thanks to the small footprint and quick-connect plugs, installation is a breeze. The included CNC precision-cut lower amplifier mount is designed to be a perfect fit and won't compromise interior space. Best of all, with the integrated Can-Am® X3 smart-lok mount, you can get that perfect factory fit.
FOUR HIGH-FIDELITY SPEAKERS
Our Signature Series 6.5" speakers provide you with professional high-fidelity audio at maximum volume, offering ample mid-bass and treble. We designed them to have an indestructible weather-resistant one-piece grille and basket so that you can have peace of mind while out tearing up the trails, mud bogging or enjoying the dunes. The speakers feature built-in RBG LED lighting which, when combined with the included UTV Stereo RGB Bluetooth® Controller, unlocks limitless color and music sync options right at your fingertips.
REAR CAGE-MOUNT SPEAKER PODS
Our 6.5" cage-mount pods feature a premium, lightweight, sleek and durable design perfectly molded for our 6.5" Signature Series Speakers. They are secured to your cage using our custom UTV Stereo Axia Alloys® billet aluminum cage mounts which feature a 360-degree swivel design allowing you to maneuver them to achieve an optimal sound stage. We know you are going to add accessories so we designed these pods to not impede your ability to add a chase light, cooler, particle separator or any other accessory you may want. Show off your cans with the exclusive black and brushed aluminum UTV Stereo badges.
FRONT DASH PANEL ENCLOSURES
Our 6.5" dash panel enclosures were designed to put the speakers up at eye level so that you get the best sound stage possible. They are a direct factory/OEM fit so they will not interfere with any aftermarket cage bars or windshields. They feature the same textured finish and color as the factory interior.
10" LOW PROFILE SUBWOOFER ENCLOSURES
Our low profile (Low-Pro) subwoofer enclosures fit perfectly under the front seats regardless of the bolt position or brand of seat you own. They are tuned for the Kicker® CompRT® Subwoofers and we have optimized the usable airspace for maximum subwoofer output. They are water-resistant, sealed enclosures so you can rest assured they will be protected against the worst conditions.
 Features:
RGB Bluetooth Speaker Lighting
Front/Rear + Sub Independent Control
Stereo Power Rocker Switch
Dash Mountable USB/AUX Inputs
AM/FM Antenna Included
Sealed Marine High Powered Amplifiers
Strongest & Lightest Cage Pods Available
Deep Bass with Clean Loud Highs
SUBWOOFER ENCLOSURE COMPATIBILITY 
LOW-PRO ENCLOSURE (FRONT): 2017+ 2 SEATER & 4 SEATER - THIS SUBWOOFER ENCLOSURE HAS BEEN SPECIFICALLY DESIGNED TO ALLOW ANY MODEL OF SEAT TO MOVE INTO ANY BOLT POSITION.

UP-FIRE ENCLOSURE (FRONT): 2017+ 2 SEATER & 4 SEATER - THIS ENCLOSURE ONLY ALLOWS X3 STOCK SEATS TO BE IN THE TOP BOLT POSITION AND DOES NOT ALLOW YOU TO LOWER THE SEATS TO A LOWER BOLT POSITION. THIS SUBWOOFER ENCLOSURE HAS BEEN SPECIFICALLY DESIGNED TO GIVE MORE AIRSPACE THAN THE LOW-PRO ENCLOSURE.

LOW-PRO ENCLOSURE (REAR): 2017+ 4 SEATER - 'THE LOW-PRO REAR ENCLOSURE' THIS SUBWOOFER ENCLOSURE HAS BEEN SPECIFICALLY DESIGNED FOR THE REAR SEATS IN AN X3. IT FEATURES A LOW PROFILE DESIGN.
*Use Low-Pro Subwoofer Enclosures if you have seat lowering bases.
UTV Stereo Signature Stage 6 Stereo System for Can-Am X3 Includes:
(1) UTV STEREO Signature Series 1000.5D Amplifier
(4) UTV STEREO 6.5" Signature Series Speakers
(2) 10" Kicker® Comp-RT® Sub Woofers
(2) UTV STEREO 6.5" Dash Mount Speaker Enclosures With Smart-Lok
(2) UTV STEREO 6.5" Rear Cage Mount Speaker Enclosures
(2) UTV STEREO 6.5" Speaker Spacer Rings
(1) UTV STEREO Bluetooth® RGB Controller Kit
(1) UTV STEREO Front Low-Pro Driver Sub Woofer Enclosure
(1) UTV STEREO Front Low-Pro Passenger Sub Woofer Enclosure
(1) UTV STEREO X3 Lower Amp Mount
(1) UTV STEREO Lower MC-2® Mount
(1) UTV STEREO Source Unit Harness + Rocker Switch
(1) WET SOUNDS® MC-2® Head Unit 
(1) UTV STEREO USB / AUX
(1) UTV STEREO X3 Center Console Covers (Pair)
(1) UTV STEREO AM / FM Antenna
(1) UTV STEREO 86" Power Harness (80Amp Fused) [UTVS-HRN-AMP-PWR-86]
(1) UTV STEREO 6 Conductor Speaker Wire (50')
(1) UTV STEREO Stage 6 Install Kit
UTV Stereo Signature Rear Seat Subwoofer Upgrade (4 Seat X3 Models) Includes:
(1) UTV STEREO Signature Series 1000.1D Amplifier
(1) UTV STEREO Rear Low-Pro Driver Sub Woofer Enclosure
(1) UTV STEREO Rear Low-Pro Passenger Sub Woofer Enclosure
(1) UTV STEREO Lower Amplifier Mount
(1) UTV STEREO 86" Power Harness (80Amp Fused) [UTVS-HRN-AMP-PWR-86]
(2) 10" Kicker® Comp-RT® Sub Woofers
(1) UTV STEREO Install Kit
VEHICLE FITMENT
Can Am Maverick X3