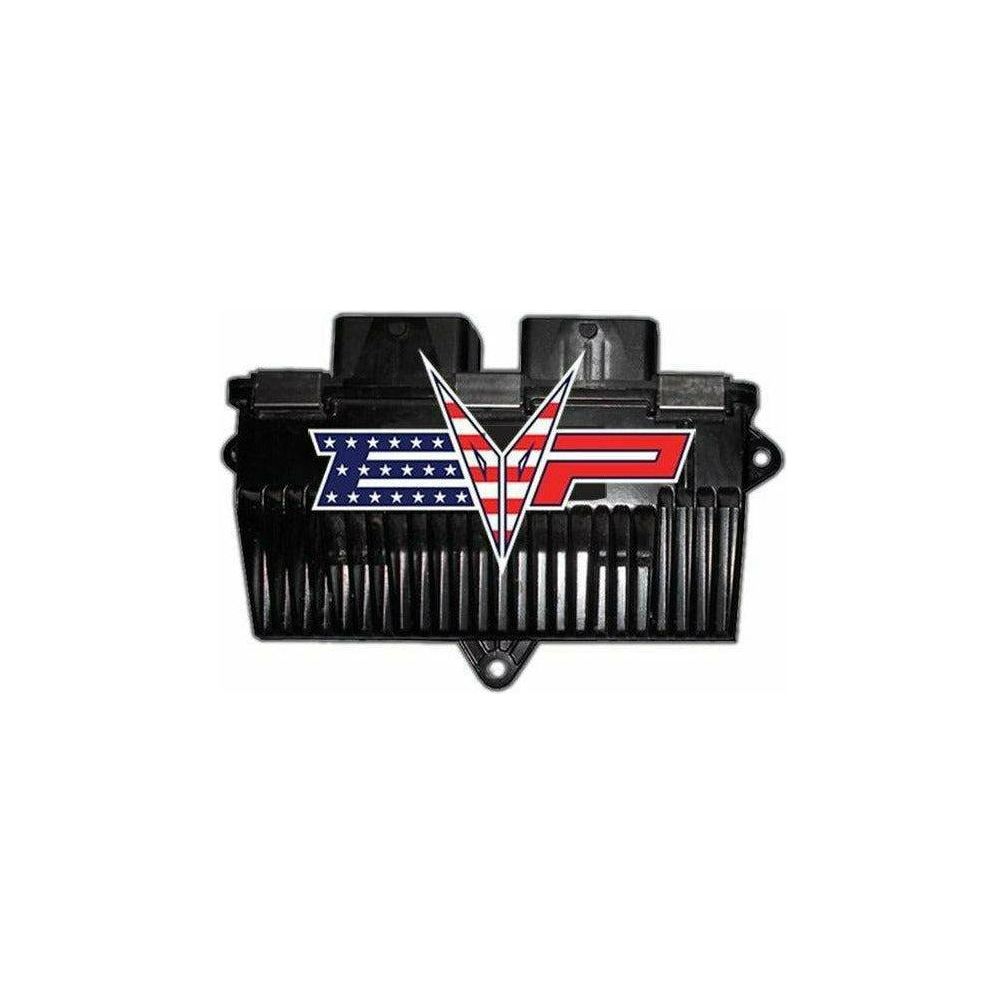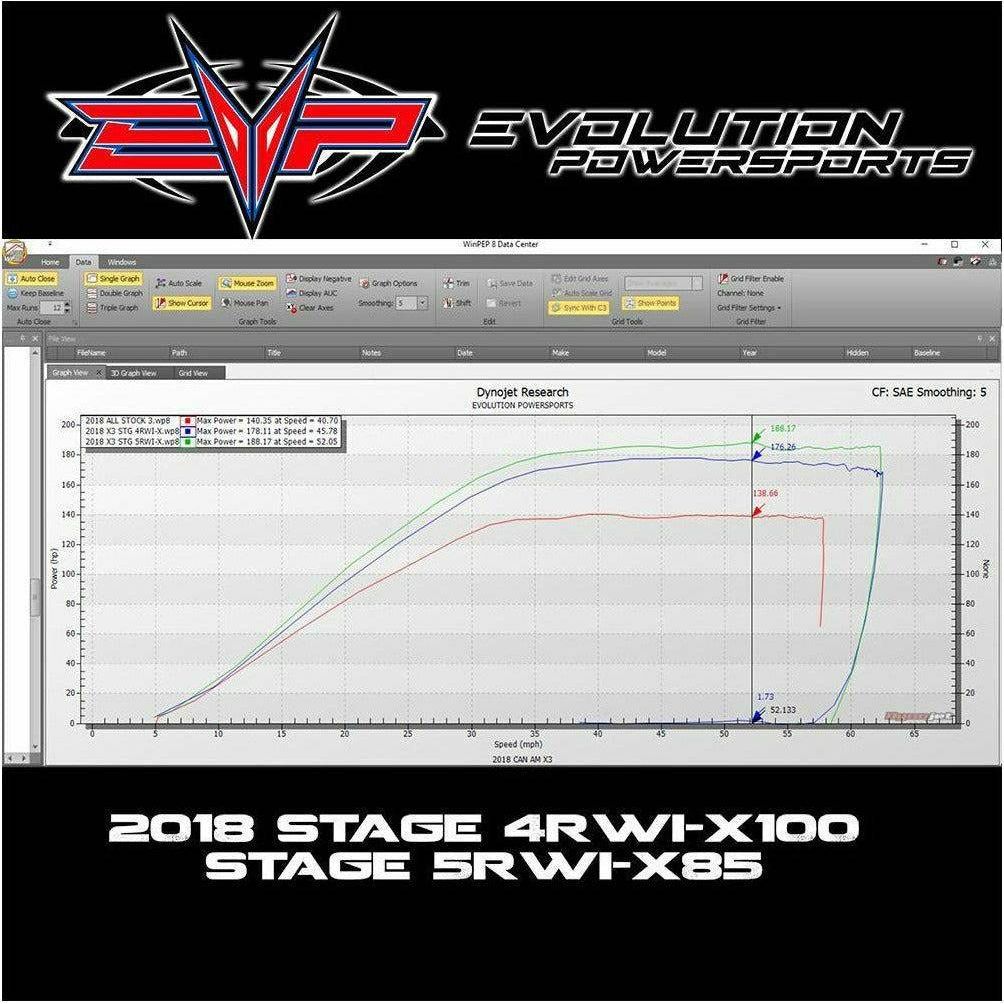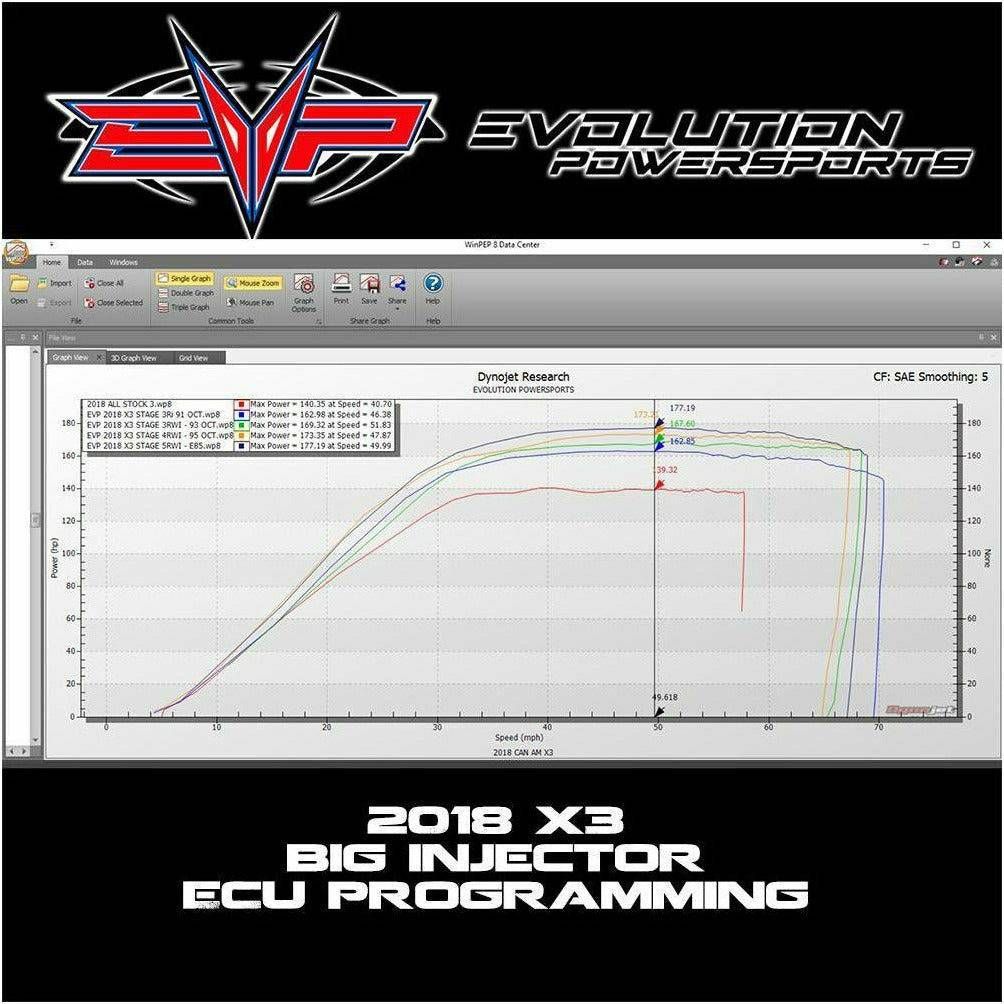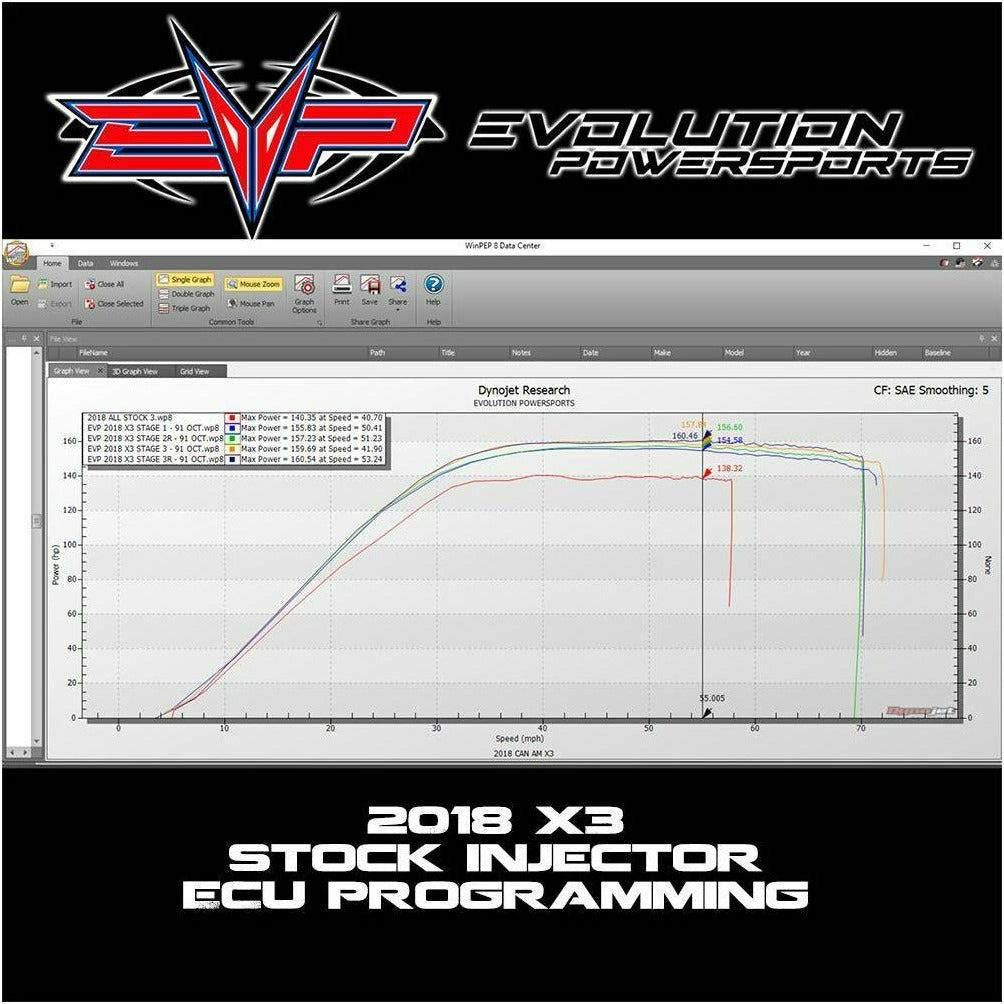 Can Am X3 (2018-2021) 172 HP Turbo R ECU Send-In Bench Flash
Purchasing this EVP Bench Flash (ECU Tune) requires you to remove your vehicle's ECU and ship it to our headquarters at: 6162 S 350 W Murray, UT 84107. You must fill out, print and submit this ECU Send in Form for proper order processing. Please print out and include it with your ECU shipment. Typical turnaround time for flashing is 24-48 hours (this does not include transit time). Please note Fedex is not guaranteeing overnight or expedited shipping methods. In no instance will EVP refund shipping costs due to carrier shipping delays.
Features:
Revised Intercooler Fan Settings - Makes the OEM Intercooler Far More Effective
Left Foot Braking Enabled for 2-Foot Operation
Improved Boost Response / Low-to-Mid Range Power Improvements
Speed Limits Raised / TQ Limits Removed in Low & High Gear
Low & High Gear Rev Limit Increased from 8300 to 9000 RPMS
V-Max Raised
Improved Throttle Response in all Modes (E-Gas Settings Improved) - Linear Throttle Rather than the Factory Programmed Lazy Pedal
Fans Set to Activate at 165 Degrees
Race Start – No Need to Press the Brake to Start Vehicle
Fueling is Corrected for the Various Stages so No Fuel Controllers are Needed
Stage Tune Suffix Identifiers:
R: The Turbo Wastegate Crack Pressure Must Be Adjusted for Higher Boost
W: A Replacement Wastegate Actuator Is Included with The Tune
i: This Is a Big Injector Tune and Includes Flow Matched Injectors
MM: This tune allows you to run both 91 & 95 Octane with the flip of a switch for those circumstances where you just can't get 95 Octane, you can still ride with 91 Octane with no other adjustments.
X: EXTREME Power! The Maximum Performance that Can Be Achieved with the Stock Turbocharger
For all Stage 4 Tunes and higher (22+ lbs of boost) we highly recommend our Plenum Reinforcement Brace or Torrent-F Intake Plenum!
We don't throw around terms like industry leading without the winning proof. We own a constantly evolving fleet of cars which allows us to do parallel development on stock turbo consumer tunes and race-prepped vehicles to develop only the best engineered and designed products and software.
Our in-house race team, EVP Racing, not only competes with our own shop-built cars (ever heard of the Desert Storm & Hustler?) which consistently bring home wins, but the team also works as Race Support to many top racers in the industry such Marc Burnett, Dustin Jones, Kyle Chaney, Tim Farr, Lonestar, Matt Burroughs, Elliot Burns, Casey Scherer and others. 6 out of the top 10 drivers in the Lucas Oil Midwest series used EVP tunes & products to help get them to the podium. EVP programming and products are also used by top drivers in GNCC, BITD and SCORE race series with countless podiums.
VEHICLE FITMENT
Can Am Maverick X3 172 HP TURBO R (2018-2021)