Razorback Offroad Ruff Rider Padded Heat Shield - Polaris RZR 1000
$128.09
SKU: RBO1060
*SUBJECT TO BACK ORDER - Please contact for availablity 
The staff at RBO is very proud to offer our Ruff Rider UTV Dog Pad with Heat Shield for the Polaris RZR1000. This passion comes from our love of animals and the joy that we get from sharing our Side X Sides with them.  2 Years ago, we started trying to figure out a way to reduce the extreme heat generated in the bed of our side x sides. Many machines generate so much heat that it would be unbearable to a dog. We worked hard to find a solution and after 2 years of development and testing, we are proud to offer our Ruff Rider Heat Pad. We feel we have designed the best Dog Pad, Animal Pad and Heat Deflector on the market for use in your Side X Side UTV. We designed our Ruff Rider Pet Pad to not only keep pets cool and comfy we designed it to help keep your cooler, colder.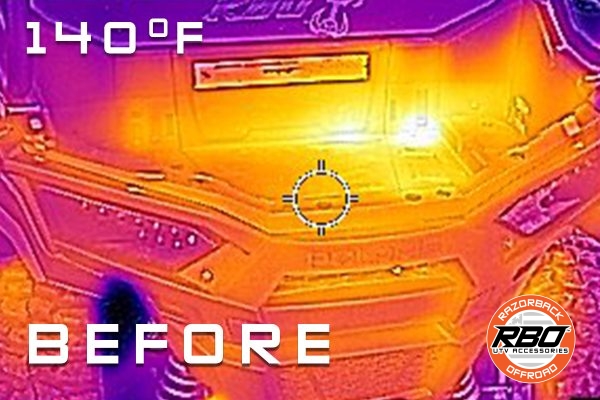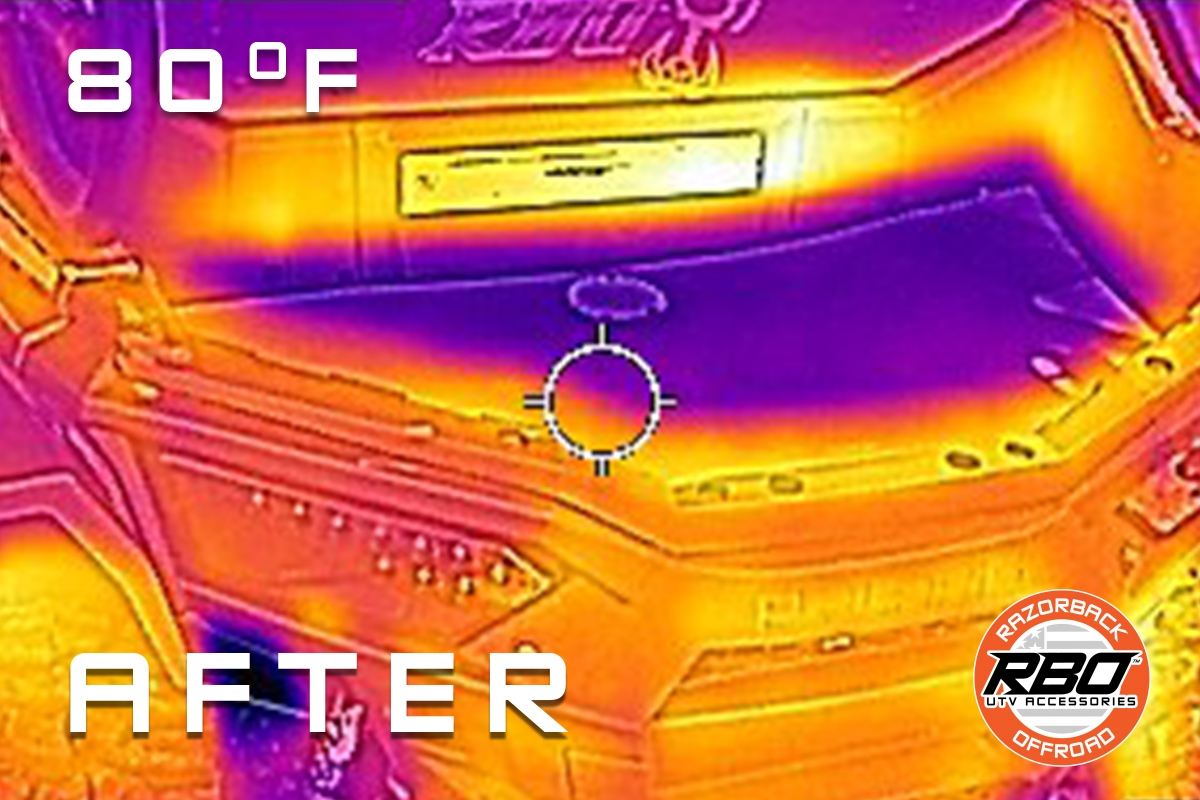 Did you know that UTV beds can reach temperatures of over 140 degrees? To keep that heat down, we used Military Grade Heat Deflection material on the bottom of the Polaris RZR Dog Pad and then sew a mildew resistant Foam Padding inside then cover it with Cordura® Fabric that is mildew resistant, rip tear, and abrasion-resistant. Not only does The RZR Ruff Rider Heat Shield Pad keep the heat down in the bed, but it also works great to help quiet things down and help keeps items from bouncing all over your Side X Side Bed. Cleaning the pad can easily be done by using spray cleaners or mild detergents. Please avoid using Chlorine or Bleach Based products (Air Dry) The Ruff Rider Polaris RZR Heat Shield is the perfect pet pad for your Side X Side UTV. Designed to be a perfect fit as a Polaris RZR XP1000 Pet Pad, RZR XP Turbo 1000 Dog Pad, RZR XP Turbo Fox Edition Pet Pad, RZRXP1000 Turbo Dynamix Pet Pad and Heat Shield. You can take pride in knowing that this is a product that we make right here in Idaho and put the highest level of attention to the construction that we can. We're so confident that you and your pet will love this product that we give it our 30-day money-back guarantee*
Backordered until further notice
The Ruff Rider UTV & Side X Side Dog Pad is Padded to give your pet the ultimate ride.
Helps keep animals, coolers, and just about everything else cooler when in the bed of your Side X Side.
The bottom of our Ruff Rider Pet Pad uses our Heat Shield Deflection System comprised of a Thermal Fabric that Meets Military spec for constant operation under high temperature.
Helps to lower temperature from machine to your pet by up to 50 Degrees.
Reduces noise and pads items from bouncing around when on the trail.
Top Pad is made from 1000 Denier Cordura® Fabric that is extremely durable.
Rip and Tear Resistant as well as Mold and Mildew Resistant.
Stain and soil resistant that is easy to clean with water and light detergent. (Air Dry)
Made in The USA
Comes with the RBO Money Back Guarantee.