Razorback Offroad 2012+ Polaris RZR 570/800 Expedition Rack -6 week lead time
$1,042.64
SKU: RBO5140-G Razorback Offroad
This Expedition Rack for the Polaris RZR 570 or Polaris RZR 800 is designed to give you extra cargo capacity while out with your UTV.  Want to take everything including the kitchen sink on your next adventure? Then this expedition rack is for you. Our RZR Cargo Rack allows you to increase the cargo capacity in your Side x Side. The RZR Storage Rack also allows you to store items on in the back and on the top cargo tray of your rzr. The swing-out tailgate allows you to Pad-a-lock valuables in the RZR Cargo Rack while trailering or traveling down the trail.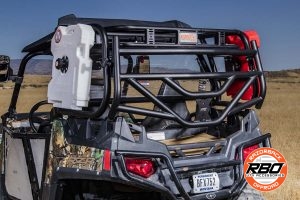 Think of the peace of mind you will have when going into a restaurant or when you hike down a trailhead knowing your helmets and coolers are locked away safely in your RZR's Storage Rack. You can also mount your RZR Spare Tire to our It Fits Mount on your RZR Cargo Rack Tailgate.
The RBO Expedition RZR Rack™ is made from 1.5" Diameter Steel Tubing. It has a rugged powder-coated finish and is manufactured right here in IDAHO. The removable Tailgate can be locked with a Pad-Lock and has a gas strut to hold the tailgate open. The Expedition Rack also has our "It Fits" ™ RBO Mounting system. With the "It Fits" ™ mounting system you can quickly and easily install any RBO accessory with the "It Fits" ™ icon. This rzr rack comes with everything you need to install it on your machine without drilling or modifying your machine. When it comes to satisfaction, we believe in backing up our products. That's why we offer a 30-day money-back guarantee*. Experience today why so many people are installing an RBO brand RZR Storage Rack on their Polaris RZR's.
Tailgate can be Pad-Locked
(3) "It Fits" ™ mounting locations for RBO accessories.
Multiple Tiedown Points in the Top Rack so you can secure Cargo from every direction
Mounts without Modifying your UTV using basic hand tools
All Mounting Hardware included
Maximum Combined Capacity of Cargo Rack 160 lbs. (Limited by Vehicle Capacity)
Load Capacity of Top Rack is 60 lbs. (Limited by Vehicle Capacity)
Load Capacity of Side Rack is 30 lbs. per side (Do Not Recommend Mount Spare Tires on Side Racks)
MAX Tailgate Load Capacity is 40 lbs. *Spare tire should not exceed 40lbs. or 29″ in diameter.*
Made in USA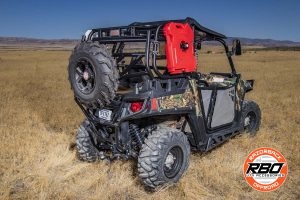 This Cargo Rack Fits: 
2012 – 2018 Polaris RZR 570, Polaris RZR 570 EPS
2012 – 2014 Polaris RZR 800